Westport Innovations Inc. (NASDAQ:WPRT), with a market cap of $1.56B, is a provider of engine and fuel system technologies, engaged in the research, development and marketing of low-emission engine and fuel injection systems that utilize alternative gaseous fuels such as natural gas, propane or hydrogen. WPRT was down 0.14% and closed at $28.24 on March 26, 2013. WPRT had been trading in the range of $21.93-$45.85 in the past 52 weeks. WPRT is currently 38.41% below its 52-week high and 28.77% above its 52-week low.
EPA Certificate
As reported by Zacks, Cummins Westport, a joint venture between Cummins Inc. (NYSE:CMI) and Westport, revealed that its ISX12 G engine had received a certificate from the U.S. Environmental Protection Agency. The engine met both the EPA 2013 regulations and the new greenhouse gas and fuel-efficiency rules that are about to take effect next year. Limited production of the ISX12 G engine will be started next month, and full production of the engine will start in August.
WiNG Power Ready on Ford F-Series
Westport announced that the Ford F-Series Super Duty trucks with the Westport WiNG Power System will soon be available to Canadian customers and be ready for delivery to customers by late June 2013. As quoted from Alicia Milner, President of Canadian Natural Gas Vehicle Alliance [CNGVA],
Westport's product entry into the Canadian market demonstrates an increasing awareness of the tremendous potential of natural gas transportation technologies to reduce carbon emissions and contribute to Canada's economic prosperity. With Westport's bi-fuel trucks now available in Canada , fleets will have an increasing selection of natural gas vehicles to choose from that reduce their operating costs and lower fleet emissions.
Analysts' Calls and Estimates
On March 8, 2013, Northland Capital resumed an outperform rating and increased its target price from $30 to $32 for WPRT. Analysts currently have a mean target price of $34.93 and a median target price of $36.00 for WPRT, suggesting 23.69%-27.48% upside potential. Analysts, on average, are estimating an EPS of -$0.46 with revenue of $38.93M for the current quarter ending in March, 2013. For 2013, analysts are projecting an EPS of -$1.48 with revenue of $185.15M, which is 47.60% lower than 2012. However, for 2014, analysts are predicting an EPS of -$0.98 with revenue of $287.47M, which is 55.30% higher than 2013.
By the end of March, 2014, WPRT's EPS is estimated to be -$0.25 for the quarter, as seen from the chart below.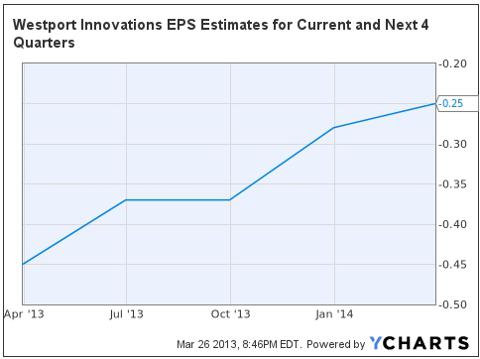 Source: YCharts.com
Fundamentally, there are a few positive factors for WPRT:
Higher revenue growth (3-year average) of 9.4 (vs. the industry average of 4.5)
Lower debt/equity of 0.2 (vs. the average of 0.6)
WPRT has a total cash of $215.86M and a total debt of $80.72M with a book value of $6.08
Technically, the MACD (12, 26, 9) indicator is showing a bearish trend, and the MACD difference continues to diverge. The momentum indicator, RSI (14), is indicating a bearish lean at 42.81. WPRT is currently trading below its 200-day MA of $30.53 and 50-day MA of $28.81. The next support is $26.00, the S1 pivot point, followed by $23.05, the S2 pivot point, as seen from the chart below.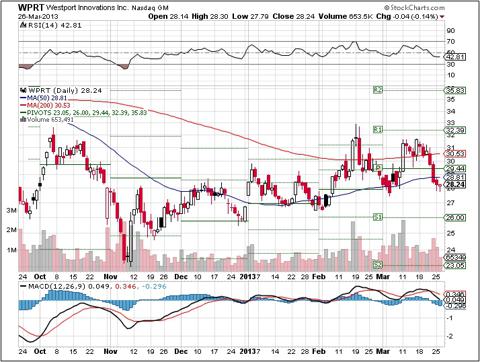 Source: StockCharts.com
How to Invest
Although Westport is still not generating profit, the outlook remains optimistic. Westport, as a leader in alternative fuel and low-emissions technologies, is well positioned to benefit from new emission standards and fuel economy improvement. In the near term, WPRT is bearish, technically. Investors can wait until seeing further sign of price stabilization (reversing MACD trend and increasing RSI) to establish the long-term position. Upon further price stabilization, bullish investors can review the credit put option spread of July 20, 2013 $23/$25 put, which will allow investors to gain some upside credit premium or to acquire WPRT shares at a price below $25 upon options expiration.
Note: All prices are quoted from the closing of March 26, 2013. Investors and traders are recommended to do their own due diligence and research before making any trading/investing decisions.
Disclosure: I have no positions in any stocks mentioned, and no plans to initiate any positions within the next 72 hours. I wrote this article myself, and it expresses my own opinions. I am not receiving compensation for it (other than from Seeking Alpha). I have no business relationship with any company whose stock is mentioned in this article.