Last December, I wrote an article that explained the concept of duration and what happens to the Net Asset Value NAV of bond funds in times of rising interest rates. Last month, I wrote another article describing a warning FINRA published to all long-term bond investors. As an update, it is important for all bond fund investors to understand and act on their portfolio in an attempt to mitigate the risk to your principal invested in bond funds.
In today's bond market, investors have only one of two choices -- return OF principal or return ON principal. The days of having both are quickly ending.
I had a client come to me with the comment, "My previous advisor lost money for me in bonds. I thought bonds were safe? How could this be?" The answer is actually pretty simple, especially when interest rates are rising.
For example, you buy a new 10-year bond for $1,000 with an interest payment, or coupon, of 2.0%. Your $1,000 bond will pay $20 a year in interest. If 10-year interest rates increase to 3.0%, newly issued bonds would pay $30 for every $1,000 invested. To be competitive with the higher interest payment, the price of your bond with its $20 payment will decline in the marketplace to $667 to generate the same 3.0% yield. The same is true when interest rates decline. A $1,000 bond with a 3.0% coupon will rise in value to $1,500 in the marketplace if rates decline to 2.0%. While in both instances investors will receive their principal of $1,000 upon maturity, the value if sold before maturity will fluctuate.
Bond mutual funds do not have specific maturities and will roll-over proceeds from maturing bonds in their portfolio. With no specific maturity dates, open-end bond mutual funds are more susceptible to interest rate changes. Unit investment trust, on the other hand, will distribute maturity proceeds as they are collected.
Below is the most frequently used graph for a history of interest rates. It becomes obvious that rates peaked in 1981 and have been in a downward trend since, dropping from almost 17.5% to 0.25%.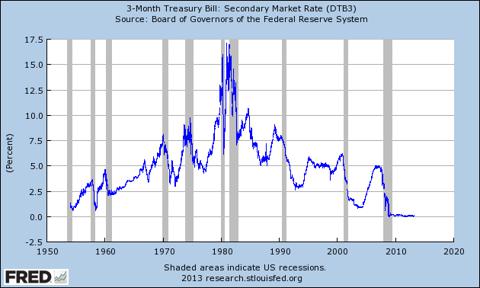 The chart below tracks the 10-year Treasury over the past three years. Notice the 200-day (blue) and 600-day (red) moving averages. With approximately 252 trading days in a year, the 200-day moving average represents 9.5 months and the 600-day is about 2.3 years. Currently the 10-year Treasury is trading at 1.97% yield, the 200-day ma is 2.68% and the 600-day ma is 3.72%.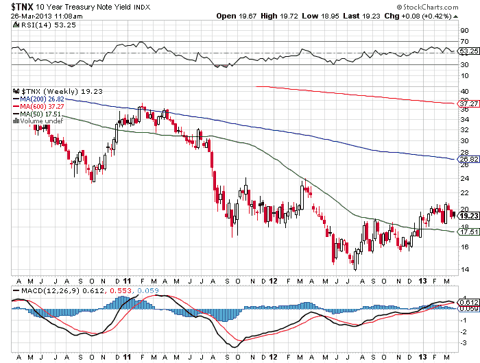 There are as many interest rate forecasts as Carter has little liver pills. However, they all have one aspect in common - rates will rise eventually. Even the CBO, Congressional Budget Office, forecasts 10-year Treasury notes at 3.2% in 2015 and 4.1% in 2016.
Below is the quarterly interest rate forecast (pdf) from the economists at Royal Bank of Canada (NYSE:RY) going out to the 4th quarter 2014:
| | | |
| --- | --- | --- |
| Year | Quarter | 10-Yr Treasury |
| 2013 | 1st | 1.95% |
| 2013 | 2nd | 2.10% |
| 2013 | 3rd | 2.25% |
| 2013 | 4th | 2.40% |
| 2014 | 1st | 2.55% |
| 2014 | 2nd | 2.65% |
| 2014 | 3rd | 2.95% |
| 2014 | 4th | 3.25% |
Source: rbc.com
Based on the FRED chart above, the long-term trend line from the high in 1981 to the current low puts a breakout level at about 2.5%. When rates cross this threshold, the 32-year declining trend line will be broken and the bond rally will officially end - for a long time. Unlike stocks, the underlying trends in bond movements are much slower and last longer. The trend line should be broken by this time next year, according to RBC forecasts.
As interest rates rise, bond prices decline. This is a fact of life just as certain as the "birds and the bees." Bond fund investors can easily determine the extent their bond fund may decline as interest rates go up. The method to calculate the risk is called the "duration" and is usually expressed in years. For example, The Templeton Global Bond Fund has a duration of 1.56 and the Vanguard Long-term Bond Fund has a duration of 14.77. This means that for every 1% rise in interest rates, the Templeton Global should decline by 1.56% while the Vanguard Long-term Fund should decline by 14.77%.
Below are the durations and maturities of 10 of the most popular bond funds.
| | | | |
| --- | --- | --- | --- |
| Bond Fund | Ticker | Duration | Maturity |
| Templeton Global Bond | TPINX | 1.56 | 2.50 |
| DoubleLine Total Return | DBLTX | 2.20 | 3.70 |
| Vanguard Short Term Bond Fund | VBISX | 2.70 | 2.80 |
| Vanguard GNMA Fund | VFIIX | 3.60 | 5.50 |
| American Funds Bond Fund of America | ABNDX | 4.30 | na |
| PIMCO Total Return | PTTAX | 4.77 | 6.10 |
| Vanguard Intermediate-Term Tax-Exempt | VWITX | 5.00 | 5.50 |
| Vanguard Total Bond Market Index II | VTBIX | 5.15 | 7.00 |
| Vanguard Total Bond Index | VBMFX | 5.18 | 7.10 |
| Vanguard Inflation-Protected Securities | VIPSX | 8.50 | 9.30 |
| Vanguard Long-Term Bond | VBLTX | 14.77 | 22.10 |
Source: Morningstar.com
Under each fund description, Morningstar.com offers the duration and average maturity for most all bond funds -- free. There should be no excuse for bond fund holder not to know their risk.
Using the highest and lowest duration numbers along with the RY forecast of rates rising by 1.35% by the end of next year, the Vanguard Long-term Bond Fund could lose 19.9% of its current value while the Templeton Global Bond Fund could lose 2.1% of its current value.
Guggenheim Funds has developed date specific bond ETFs called BulletShares. These ETFs hold a variety of bonds with maturities in a specific year. For instance the 2014 BulletShares Corporate ETF (NYSEARCA:BSJE) holds 97 bonds with maturities in 2014. At the end of the year, the ETF distributes the proceeds of these bond maturities and the ETF dissolves. These ETFs are available in both corporate investment grade and High Yield. iShares has similar ETFs for municipal bonds, with its 2014 date specific muni bond ETF using the ticker MUAC. BulletShares has ETFs going out to 2020 and iShares to 2018. More information on Guggenheim ETFS can be found here and iShares here.
Duration is just one consideration when researching bond fund volatility. The specific bond segment also impacts volatility, but the easiest method for investors to get a handle on their risk is by using the duration.
There are several ways to reduce the duration of your bond portfolio, with the most common being to shorten the maturity date. Longer maturities historically have higher volatility, as shown by the maturity and duration differences listed above.
There is time to restructure your bond fund portfolio, but do not wait too long. The threshold whereby investors start feeling the pinch will be when 10-year Treasuries reach 2.35%, or by the end of this year according to RBC.
Consider yourself forewarned.
Author's Note: Please review important disclaimer in author's profile.
Disclosure: I am long BSJE. I wrote this article myself, and it expresses my own opinions. I am not receiving compensation for it (other than from Seeking Alpha). I have no business relationship with any company whose stock is mentioned in this article.