By Cagdas Ozcan
Traditional landline companies are extremely attractive to investors due to the high dividend yields. Frontier Communications (NYSE:FTR) is one of those high-yield landline telecom service providers. The company provides telecom services in 27 states, and it caters to domestic and business customers. Frontier had to slash its dividends last year due to declining revenues and cash flows. However, after the dividend cuts, the company looks to be doing well.
We have used our free cash flows model on the company to gauge the dividend stability, and to measure the trends in free cash flows and some important debt metrics. Results of the analysis are discussed below.
Free Cash Flows
Free Cash Flows

2012

2011

2010

Net Income

$153

$158

$156

Depreciation

$1,267

$1,403

$894

Funds from Operations (FFO)

$1,420

$1,561

$1,050

Change in noncash current assets

$41

$42

$84

Change in noncash current liabilities

$125

$15

$75

Operating Cash flows

$1,504

$1,588

$1,209

Capital Expenditures

$803

$825

$578

Free Operating Cash Flow

$701

$763

$631
Source: SEC Filings
Over the past three years, net income of the company has shown a mixed trend. At the end of 2010, net income stood at $156 million, which went up to $158 million in 2011 before falling to $153 million in 2012. Frontier's funds from operations and depreciation have followed the trend in net income over the past three years.
Furthermore, operating cash flows have also shown improvement over the last three years. At the end of 2010, cash flows from operations stood at just over $1.2 billion, which went up to $1.5 billion by the end of 2012. Capital expenditures are a significant element on the books of the company, and in each of the previous three years, the company has spent between $575 and $825 million in capital expenditures. Over the past 12 months, Frontier spent $803 million in capital expenditures, which shows a decline of $22 million compared to the previous year. As a result of solid cash flows from operations, the company has impressive free cash flows. Free cash flows of the company have shown a varied trend over the past three years. Free cash flows in the last 12 months have gone down by $62 million.
Essential Metrics
Essential Ratios

2012

2011

2010

Funds from Operations(FFO)/Total Debt

0.17

0.19

0.13

FFO/Capital spending requirements

1.77

1.89

1.82

(Free Operating Cash Flow + interest expense)/ Interest expense

2.02

2.15

2.21

Debt Service coverage

1.11

1.88

1.44
We have used four ratios for our analysis. These ratios will help us understand the trend in the debt and cash flows of the company. First ratio shows that coverage provided to debt by FFO is extremely slim. Despite an overall improvement over the past three years, the ratio still remains incredibly weak. However, total debt is usually not completely paid from the cash flows, which should allow the company some breathing space. Nonetheless, coverage provided by FFO to the total debt of the company is weak. The second metric in the table (FFO to capital spending requirements) shows that the capital spending requirements of the company has been appropriately covered through internally generated funds. Frontier's capital expenditures have been varying over the past three years.
Frontier's free operating cash flows have shown a mixed trend during the last three years, and interest expense has been increasing. As a result, interest coverage ratio has shown a slight decline over the period of evaluation. Nonetheless, interest coverage ratio is incredibly strong for the company, and it should not face any trouble meeting its interest obligations. Finally, the debt service coverage ratio for the company has also shown a mixed trend over the past three years, and currently, it stands slightly above "1". At the moment, debt service coverage ratio is not very strong, and a small decline in cash flows can bring this ratio below "1." However, the main reason for this ratio to fall over the past 12 months is an increase in short-term debt.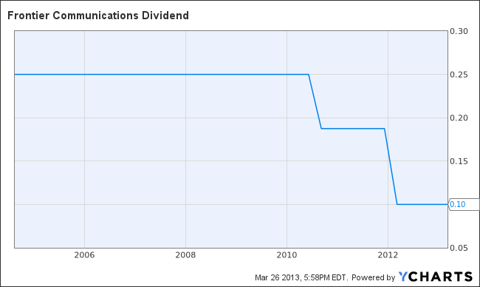 FTR Dividend data by YCharts
Summary
After the free cash flows analysis, we have come to a conclusion that while the ratios are still adequate, there is less cushion in cash flows and debt compared with the last year. All the ratios have shown a decline over the past 12 months. Although these ratios are still adequate and the company will be able to maintain its dividends, there might be some trouble in the long term if the negative trend continues. The sector, in which the company is operating, is under pressure at the moment. As a result, Frontier might face some cash flow issues if the company does not find other ways to generate more revenue and cash flow in the future.
Disclosure: I have no positions in any stocks mentioned, and no plans to initiate any positions within the next 72 hours.
Business relationship disclosure: EfsInvestment is a team of analysts. This article was written by Cagdas Ozcan, one of our equity researchers. We did not receive compensation for this article (other than from Seeking Alpha), and we have no business relationship with any company whose stock is mentioned in this article.