Real-time Monetary Inflation (per annum): 8.4%

Nearby May crude oil futures dipped lower Tuesday night, extending Tuesday's decline below a key 20-day moving average. Book squaring ahead of the weekly U.S. Energy Information Administration [EIA] inventory report added some strength to prices prior to the opening of the NYMEX floor session, but all bets were off when the government data were actually released. The May contract opened $1.35, or 2.7%, lower.
EIA says U.S. commercial crude oil inventories increased 1.7 million barrels to 361.1 million barrels. Supplies were expected to climb by 1.5 million barrels, according to a recent Bloomberg survey of a dozen oil analysts.
Traders anticipated the build in oil stocks, as they sunk crude oil futures 1% over the past week. Refined product contract prices, however, rose over the week. Both heating oil and unleaded gasoline cracks, in fact, climbed to double-digit levels, a condition not seen since late February, when crude was $7 cheaper.
For the year, the barrel price of nearby crude oil futures has averaged $43.86.
Nearby NYMEX Futures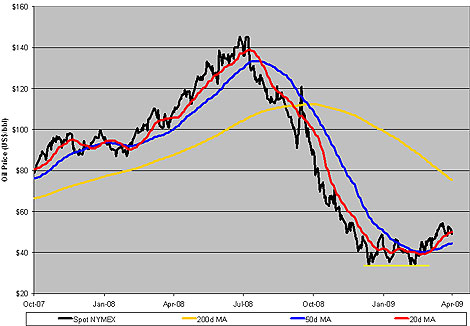 According to the U.S. Energy Department, refinery utilization remained flat last week, at 81.8% of capacity. Refinery outputs of gasoline cranked up, though, as total motor gasoline stocks increased by 600,000 barrels.
In contrast, EIA reported distillate fuel inventories – including supplies of diesel and heating oil – decreasing by a more-than-expected 3.4 million barrels.
NYMEX-Implied Refining Margins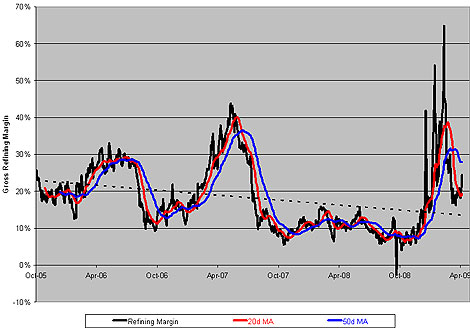 Brent oil has moved, once again, to a premium over West Texas Intermediate [WTI]crude. This past week, the North Sea benchmark has commanded an average barrel price $1.36 higher than the U.S. standard, reflecting the relative oversupply in the domestic market.
This time, however, the oversupply is backing up outside of the Cushing, Okla., NYMEX delivery terminus. Gulf and East Coast delivery points are now bulging with oil.
Technically, May NYMEX crude is in bearish mode. Near term, a close below the $47.26 low established last week would indicate a top is in. A rally above May's 20-day moving average at $50.63 would be bullish.