Agnico Eagle (NYSE:AEM) is a Canadian gold mining company with operating mines in Canada, Finland and Mexico. In 2012, Agnico Eagle produced in excess of 1M ounces for the first time in the company's history. Agnico Eagle follows a conservative low-risk business model with operations in safe jurisdictions and a preference for controlled organic growth. The market capitalization is $6.8B, the forward P/E is listed at 16.3 and the median analyst share price target is $55.00 comparing favorably to the present share price of around $40.00. Agnico Eagle has been paying a dividend for 31 years, and it currently yields 2.1%. The share price has been providing good leverage to the gold price in recent years and has held up strongly throughout the recent correction.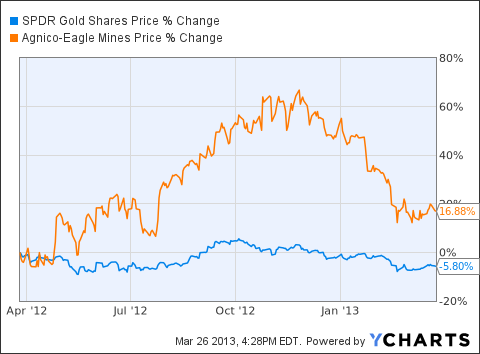 Agnico Eagle has followed a strategy of buying early stage prospects in order to develop them internally. This has kept a lid on dilution setting Agnico Eagle apart from many fellow gold mining companies. During the past week, two investments by AEM have been announced that comply with this strategy:
Agnico Eagle subscribed for a share placement valued $12.96M for a 8.48% non-diluted interest in ATAC Resources.
Agnico Eale entered into a definitive agreement to purchase all outstanding shares of Urastar Gold Corp for a total consideration of approximately $10.7M, representing a 43% premium.
ATAC Resources (OTCPK:ATADF) is an exploration company with a large prospective land package in the Yukon. Published discoveries point to a large system in the so-called Rackla Gold Belt north-east of Keno City that has been described as 'Carlin type'. ATAC made the grassroots discovery in 2006, and has since staked 160km of the prospective structure. To date, there are two documented trends within the property: the Rau trend and the Nadaleen trend. Outstanding drill results include 4g/t over 96m from the Rau trend or 10.5g/t over 14.9m from the Nadaleen trend.
Agnico Eagle have told investors that the interest in ATAC is for investment purpose. However, the stake in the company also positions Agnico Eagle for further action should the high grade results continue to flow from the 2013 drilling season. Considering Agnico Eagle's experience with mining in northern climate conditions, the project may well grow into a complimentary asset for Agnico Eagle at some time in the future.
Risk-seeking investors may interpret Agnico Eagle's investment as a tick of approval from a knowledgeable party and also consider an investment in ATAC Resources.
Urastar Gold Corp (OTC:URNRF) controls a number of former gold producing areas in the state of Sonora, Mexico. Its flagship project is called El Antimonio. Drill results from this project indicate a promising possibility for a bulk mineable gold deposit centered on previously mined veins and new areas discovered through recent field work. The largest producing gold mine in Mexico, La Heradura, is situated only 50km from this project along the same structure.
Exploration is still in its early stages, and it will take several years to evaluate and develop this project. However, Agnico Eagle have experience with operations in Mexico and have shown that they can bring Mexican projects into production efficiently.
We believe that both investments represent good long-term value for Agnico Eagle investors. The Mexican project provides another exploration target to be developed over the coming years. The stake in ATAC Resources represents a foot in the door to one of the most exiting development projects in the Yukon.
Agnico Eagle currently trades at relatively low prices. However, as we have indicated in a recent article, we believe that it might be worth waiting for the coming summer months which we hope will provide even more attractive buying opportunities for gold-related investments.
Disclosure: I am long AEM. I wrote this article myself, and it expresses my own opinions. I am not receiving compensation for it (other than from Seeking Alpha). I have no business relationship with any company whose stock is mentioned in this article.