When creating a list of stocks to invest in for the long haul, investors need to adequately diversify their holdings, meaning they need exposure to all of the major sectors. One of the toughest sectors to invest in for income and retirement purposes is the financial sector. Most financial stocks come with one or more red flags, or reasons why I wouldn't want to just buy them and hold on.
Some are just downright unstable. While I admit that it is definitely possible for Bank of America (NYSE:BAC) to double in value over the next couple years, it could just as easily sink down to the $6 level again after some bad news. Others don't pay significant dividends. I don't consider the 1 cent per share Citigroup (NYSE:C) pays its shareholders an "income stream."
What I have found is that if investors want bank stocks that are safe, responsible, and pay a good dividend, it is best to look international. I don't mean Europe, especially not now. The best places to look are in Canada or South America, and I'll share my favorites in these areas. This is by no means an exhaustive list, just my personal preferences. There are several others worth a look as well.
Royal Bank of Canada (NYSE:RY) - The largest bank in Canada with assets of $840 billion, Royal Bank of Canada has over 1,100 branches and 3,900 ATM's. The bank has an excellent history of increasing revenues and earnings. The company has outstanding fundamentals and an extremely low rate of non-performing loans on its balance sheet at just 0.5% (compared to almost 3% for Bank of America). Royal Bank of Canada currently pays a 4.12% dividend yield and has a fantastic history of raising the payout, with the last several years shown below.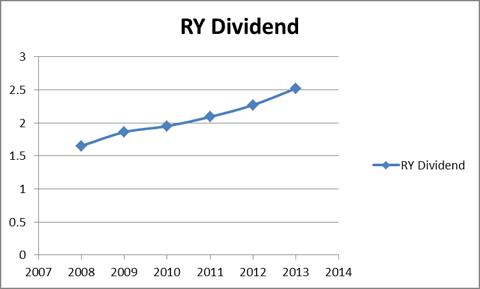 Bank of Nova Scotia (NYSE:BNS) - Another Canadian bank, BNS is the 3rd largest in Canada with assets of $736 billion. Just like RY, this one has an excellent record of raising earnings, and has only had one year of declining earnings in the past decade (2008). This bank has an even higher-quality loan portfolio, and in 2012 had chargeoffs on just 0.27% of their loans. BNS recently acquired the Canadian banking operations of ING for $3.1 billion, which added 2 million customers and $30 billion in deposits to their books. BNS pays a dividend of just over 4%, and has an almost identical record of raises to RY. Both of these are great choices, and you can't go wrong either way, which is why I included both.
Banco Santander Brasil SA (NYSE:BSBR) - With a market cap of $23.3 billion, BSBR is the Brazilian subsidiary of Spain's Banco Santander SA. This bank has done a great job of raising its earnings, from $937 million in 2008 to almost $4 billion last year. Brazil has been one of the best emerging economies to invest in for some time, and lending activity should increase for the next several years. This bank currently pays a dividend of 4.88% annually, and I think this will go up for years to come, especially since the current payout ratio is just 43.5%.
Administradora de Fondos ADR (NYSE:PVD) - One of the oldest private pension fund administrators in Chile, this is possibly the riskiest name in the list, but investors are paid 7.88% for the extra risk. After having a bad, but not awful 2008, PVD has grown its earnings nicely and shareholders have been nicely rewarded. One of my favorite things about PVD is that it has no long term debt and a great 30.5% return on equity. Also, an interesting fact about Chile is that Chilean companies do not offer pensions, and those offered by the government are very limited, which almost forces citizens to save and invest in private pensions, which should be great for PVD as the economy in Chile continues to grow.
With a great variety of international banks and financial services companies to choose from, there is no reason to take unnecessary risks in the portfolio you depend on for income. By all means, if you want to buy Citigroup with your discretionary money, go ahead. These choices, however, are more appropriate if you want to be able to rely on your investments for growth and income over the next few decades and beyond.
Disclosure: I am long RY. I wrote this article myself, and it expresses my own opinions. I am not receiving compensation for it (other than from Seeking Alpha). I have no business relationship with any company whose stock is mentioned in this article.