By Jason Napodano, CFA
On March 27, 2013, Aastrom Biosciences (ASTM) dropped a bombshell on investors, announcing a strategic change in research and development focus to dilated cardiomyopathy. The news means that Aastrom will discontinue enrollment in its Phase III critical limb ischemia (CLI) trial, REVIVE, a trial that has been painfully slow to enroll over the past 13-plus months. Instead, management plans to dramatically reduce staff (and operating expense) as it narrows the company's focus to dilated cardiomyopathy (DCM) and the recently initiated Phase IIb ixCELL-DCM study. Below we provide some background on the opportunity for Aastrom in DCM, discuss the previous preclinical and Phase IIa data with ixmyelocel-T that gives management confidence in this new direction, and attempt to value the shares based on this surprising, albeit necessary, shift in focus.
A Tough Decision
Shift back 13 months ago and things were very different for Aastrom. Until the announce above, Aastrom has been valued based on the opportunity in CLI. Data from the Phase IIb RESTORE trial was solid, and clearly warranted moving forward into Phase III. On Feb. 29, 2012, Aastrom announced it had begun patient recruitment in REVIVE designed to assess the efficacy and safety of ixmyelocel-T in the treatment of patients with CLI. It was a landmark trial -- the largest planned study of CLI patients to date. Full data from the Phase IIb RESTORE trial was published a month later in the Journal of Molecular Therapy (doi:10.1038/mt.2012.52). Things were going relatively well for the company.
But it took a total of six weeks to enroll the first patient. Four and a half months later, when on the company's second quarter update call on Aug. 7, 2012, Aastrom noted that only 10 patients had been enrolled. On the third quarter call on Nov. 8, 2012, the number grew to only 26 patients. Last week, on March 18, 2013, we learned enrollment stood at only 40 patients to date. This despite 13 months of effort and nearly 70 clinical sites online. At this pace, it would take Aastrom some nine years to enroll the targeted 594 patients for REVIVE. Meanwhile, Aastrom was burning far too much cash.
In the press release above, Aastrom's new CEO, Nick Colangelo, noted, "We completed our strategic review of the CLI program, including an evaluation of the challenges in enrolling patients in the REVIVE study and a recent determination that the CLI program would not be supported by a partner in a time frame that would impact the pace of enrollment of the study." To summarize, Aastrom was going to have to continue to fund REVIVE on its own, diluting shareholders to the tune of another $30 or $40 million in capital needs, all while REVIVE crawled along. That simply did not make sense. The decision to discontinue REVIVE was clearly a tough but understandable one.
Enter DCM
Instead, Aastrom will shift focus to dilated cardiomyopathy, or more specific, ischemic DCM, and the company's recently initiated Phase IIb ixCELL-DCM study (NCT01670981). The trial is a randomized, placebo-controlled program using the MyoSTAR transendocardial catheter and NOGA mapping system, seeking to enroll 108 ischemic DCM patients at around 30 sites all in the U.S.
The primary endpoint of the study will be major adverse cardiovascular events (OTCPK:MACE), with 80% powering for statistical significance. Secondary endpoints are expected to include cardio-pulmonary function through imaging, exercise capacity, six-minute walk test, and safety. We view this as a "registration quality" study, as the data should give Aastrom -- and potential partners -- a clear sign on the profile of ixmyelocel-T before proceeding into Phase III. We expect 12 months to enroll, with top-line data expected early 2015.
DCM Background
DCM is a condition in which the heart becomes weakened and enlarged, and cannot pump blood efficiently. The expansion of the heart and the decreased function results in poor blood circulation and affects the lungs, liver, and other body systems. In patients with DCM, the left or right ventricular systolic pump function of the heart becomes impaired, leading to progressive cardiac enlargement and hypertrophy, a process called remodeling.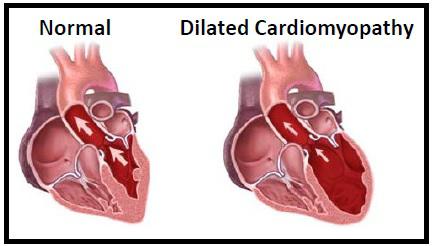 According to the American Heart Association (AHA), there are an estimated 250k people living (prevalence) in the U.S. with DCM, with roughly 20,000 new cases (incidence) each year. Roughly 65% are of ischemic origin. About one in three cases of congestive heart failure (CHF) is due to DCM. The one-year survival rate for a patient diagnosed with DCM is roughly 75%. The five-year survival rate drops to only 30% because many patients with DCM go un-diagnosed until the disease has progressed to the most severe stages (source).
Standard of care for patients with DCM is often to treat secondary co-morbid conditions such as hypertension or renal failure. As such, patients with DCM are often prescribed angiotensin-converting enzyme (ACE) inhibitors, diuretics, beta-blockers, and sometimes digitalis. Anticoagulants may also be used. Artificial pacemakers and left ventricular assist devices (LVADs) may be used in patients with intra-ventricular conduction delay, and implantable cardioverter-defibrillators in those at risk of arrhythmia. These forms of treatment have been shown to improve symptoms and reduce hospitalization. They can cost upward of $75,000 each, and many patients will require re-implantation or an upgraded or new device in a year. The long-term costs are upward of $225,000.
However, for patients with advanced disease who are refractory to medical therapy, cardiac transplantation is the only option. LVADs are commonly known as a "bridge to transplantation." The problem, however, and the reason this is such a significant medical problem is that only about 2,000 heart transplants are done in the U.S. each year. Plus, the mortality rate after a LVAD remains high, at an estimated 50% after year two. That means of the estimated 125,000 NYHA Class III or IV ischemic DCM patients with dilation, over 95% will never get a transplant. Accordingly, this is why mortality rates start to rise dramatically after a patient has been diagnosed with DCM.
Preclinical and Phase IIa Data
On May 7, 2012, Aastrom Bio presented the 12-month follow up results from the Phase IIa dilated cardiomyopathy study at the Society for Cardiovascular Angiography and Interventions (SCAI) Scientific Sessions. The data presentation, entitled "Safety and Efficacy of Ixmyelocel-T, An Expanded Patient-Specific Mixed Cell Therapy, in Dilated Cardiomyopathy" highlighted injection of Aastrom's expanded multicellular therapy using the NOGA/MyoSTAR transendocardial catheter.
The Phase IIa program enrolled 22 patients with ischemic or idiopathic DCM that had no other options available for revascularization (meaning the next available options are surgical -- a heart transplant or LVAD). The study took place at three centers all in the U.S. Patients were randomized 2:1 to receive Ixmylocel-T + standard of care vs. standard of care alone. Below we highlight some of the more important baseline characteristics of these 22 patients:
Click to enlarge images.

The primary endpoint of the study was safety, with a planned interim analysis conducted when all subjects completed six months. There was also a planned final analysis conducted when all subjects completed 12 months, with control patients being able to crossover to the Ixmyelocel-T group after six months.
As noted above, a total of 22 subjects were randomized. One subject in the control with idiopathic DCM withdrew prior to day one, so was not included in the safety assessment. One subject in the ixmyelocel-T group with idiopathic DCM discontinued due to heart failure on day 322.

Investigators concluded that transendocardial injection of Ixmyelocel-T was well tolerated in patients with DCM. In fact, management noted that the tolerability of the procedure was significantly better than the previous study (IMPACT-DCM) conducted by Aastrom in which patients received the cells via a minithoracotomy. Adverse events were similar between the Ixmyelocel-T and control group, a clear positive considering the control group underwent no transendocardial injection procedure.
Secondary objectives were included to investigate signs of efficacy, including:
Major Adverse Cardiovascular Events (MACE) -- The key clinical endpoint
Cardiopulmonary stress and 6-minute walk -- Key functional endpoints
Echo and left-ventricle ejection fraction (LVEF) -- Key structural endpoints
New York Heart Associate (NYHA classification) -- Subjective / Quality of Life endpoints
Proof-of-concept was clearly evident by analyzing the data. Given the small size of the trial, no results are statistically significant, but the signs point to a reduction in MACE and improvement in quality of life measures with Ixmyelocel-T. Also, similar to the IMPACT-DCM results, the data shows an improved outcome for the ischemic DCM patients far greater than for the idiopathic DCM patients. We believe that efficacy observations related to structural and functional end points including MACE, New York Heart Association (NYHA) functional classification, 6-minute walk distance were consistent with improved function of impaired myocardium.
The key clinical endpoint was MACE. Below (Figure 1) is a graphical representation of the Time to First Occurrence of MACE. The results show an observational benefit in favor of the Ixmyelocel-T group, although not statistically significant due to the small number of patients (n=19) completing the study.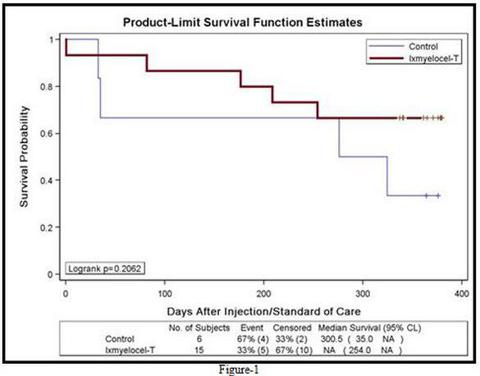 The data in Figure 2 shows the clear separation of benefit for patients with ischemic DCM vs. idiopathic DCM.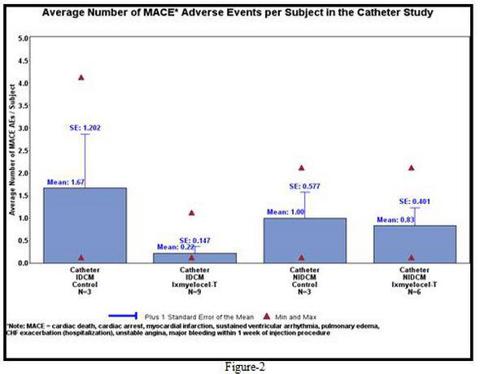 Additional functional and quality of life benefits also trended in favor of the ixmyelocel-T group, specifically in patients with ischemic DCM. However, no noticeable benefit in ejection fraction was observed in either group.
The company has also presented preclinical data showing the ability of ixmyelocel-T to protect the heart from damage following left anterior descending (LAD) coronary artery occlusion. The data show treatment with ixmyelocel-T resulted in a trend towards a decrease in apoptotic nuclei in the border zone of hearts from animals compared to the vehicle (no cells) or the control.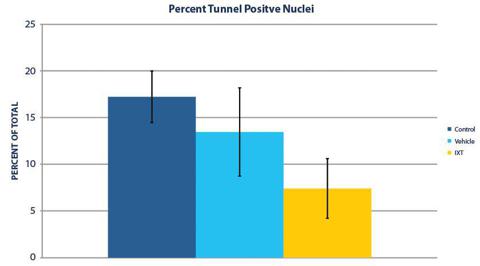 The results also indicate an increase in the bioavailability of nitric oxide with ixmyelocel-T treatment. An increase in NO bioavailability may contribute to the protective effects observed with ixmyelocel-T treatment.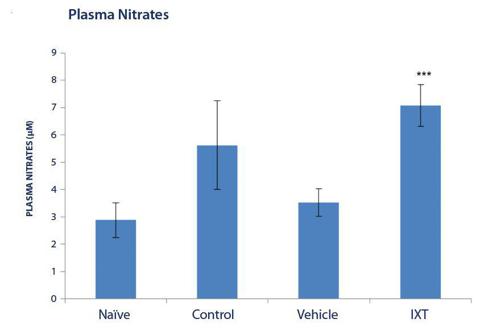 Aastrom's animal model data shows that treatment with ixmyelocel-T reduced tissue damage in the non-acute infarct model. Ixmyelocel-T treatment did not cause an increase in blood vessel density in the border zone of the infarct. Ixmyelocel-T demonstrates a trend towards reducing apoptosis as determined by TUNEL staining in the border of the infarct. Treatment with ixmyelocel-T resulted in an increase in NO bioavailability. An increase in NO bioavailability may contribute to the protective effects observed with ixmyelocel-T treatment. The protective effects of ixmyelocel-T were not due to the recruitment of cardiac stem cells to the infarcted area.
We believe the data above from both the IMPACT-DCM and the Cather-DCM studies, as well as the preclinical animal model data, provides excellent proof-of-concept for ixmyelocel-T in ischemic DCM. This is clearly a larger market opportunity for the company, and will cost around 1/3rd of the Phase III CLI study. We think the opportunity to partner in DCM is high. Aastrom is going after a subset of NYHA Class III / IV patients that have progressed to DCM. We believe this patient population is an excellent fit for the company's autologous cell therapy where safety and mechanism of action is paramount.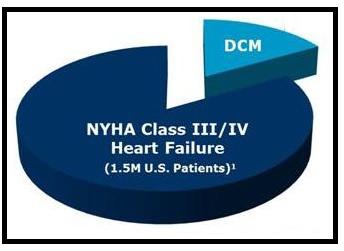 Given a potential population of 125,000 patients seeking an alternative treatment option, we see Aastrom's ixmyelocel-T as a potential $500 million opportunity. We remind investors that the FDA has granted Orphan Drug designation to Aastrom for use of its ixmyelocel-T in patients with DCM. We arrive at this opportunity as such:
Approximately 125,000 ischemic DCM patients in the U.S. + 5% market penetration for ixmyelocel-T at a cost of $75,000 per treatment = ~ $500 million U.S. sales.
Conclusion
Aastrom's stock is down 65% over the past 12 months, hitting a new 52-week low today on the restructuring and narrowing of focus from CLI and DCM to just DCM. We have made significant changes to our financial model. We have cut all expenses associated with the Phase III REVIVE study. We've slashed R&D from $27.5 million in 2013 down to $17.6 million. We've reduced G&A from $8.0 million to $6.2 million. Aastrom was burning around $7.5 million in cash per quarter. By the end of the year, we think the company's quarterly cash burn will be down to less than $4.0 million per quarter.
As of Dec. 31, 2012, Aastrom reported a cash position of $13.64 million. During the fourth quarter 2012, the company raised approximately $0.27 million through use of the company's At the Market sales agreement (ATM) with MLV, LLC. The ATM was set into place back in July 2011 for aggregate proceeds up to $20.3 million. Subsequent to the close of the fourth quarter, Aastrom raised net proceeds of $2.38 million by issuance of shares through the ATM agreement.
We expect the company to report approximately $9.0 million in cash as of March 31, 2013. We find this to be sufficient to fund operations into the fourth quarter 2013, assuming no additional use of the ATM. Discontinuing the REVIVE program was a tough decision, but Aastrom simply could not continue to fund both REVIVE and ixCELL-DCM without massive dilution to investors. That's little solace considering the shares are down 35% on the announcement. However, we have dramatically revamped our model around future funding needs given the restructuring. We previously believed Aastrom needed upward of $40 million over the next two years. We think the company can get to data from the ixCELL-DCM study now with around $15 million.
That's a big change, and could allow for significant upside over the next two years once funding has been achieved and the data are imminent. We think the company is worth more than $35 million in value (45.7 million basic shares x $0.75 per share). However, our advice to investors is to allow the shares to stabilize, then consider going long for a recovery back to the $1.00 level. In the meantime, we are reiterating our "Neutral" rating.
Disclosure: I have no positions in any stocks mentioned, and no plans to initiate any positions within the next 72 hours. I wrote this article myself, and it expresses my own opinions. I am not receiving compensation for it (other than from Seeking Alpha). I have no business relationship with any company whose stock is mentioned in this article.