Capitulation Signs
The recent decline in gold stocks has exhibited a number of classic capitulation signs – one of which was the late in the game decline of a number of leading stocks such as a number of royalty plays. As an aside here, there are two reasons why royalty stocks enjoy such favor and high valuations. The first is that they don't have to worry about mining costs – if their royalties are tied to anything, it is the gold price itself. The second is that in a zero interest rate environment, their business model is especially attractive.
To get back to our point though, the reason why these stocks in the end got clobbered as well is that investors began to flee gold funds in droves. Since these funds are trading in a sector that is not exactly the most liquid, it will have an outsized effect when they are forced to sell to meet redemption requests. Naturally they have a tendency to sell their big winners with the really good stories last. Once they do, it is a sign of capitulation. To wit, below is a weekly chart of the HUI compared to Sandstorm Gold (NYSEMKT:SAND):
---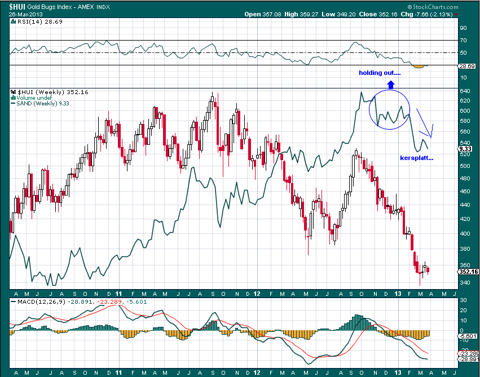 Click to enlarge
HUI weekly vs. SAND (green line); SAND at first held on, but then got clobbered as well. As an aside here: at the recent low, the HUI has hit the 61.8% retracement level of the 2008-2011 rally on the nose.

---
Looking at the chart above, one might be tempted to ask what's the big deal? SAND still outperforms by a mile, and that is certainly true. And yet, if one zooms in on the action, we can assure you that shareholders remember the week when it ceased to "hold out":
---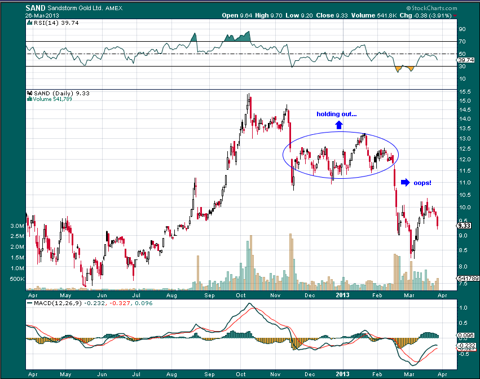 Click to enlarge
A daily chart of SAND showing the post hold-out plunge in greater detail.
---
So we know that there has been a degree of capitulation and we also know that sentiment has been stuck on "maximum bearish" for weeks. The table below is one we have shown several times already, but it's worth noting that nothing has changed:
---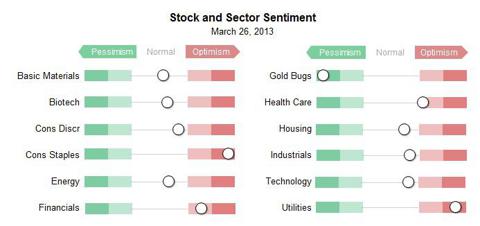 Click to enlarge
Sector sentiment via sentimentrader: the gold bugs have been stuck on maximum pessimism for weeks on end… it literally can't get any worse, unless that circle decides to wander off the chart.
---
The Lonely Buyers …
None of the above is exactly big news of course, but something has happened that actually is news. As our friend Ted Dixon from INK Research reports, insiders at gold companies have been buying hand over fist – and they haven't only begun doing so yesterday, but have been at it for months already. What's new is that their buying has now intensified so much that it is comparable to what happened at the 2008 crash low in the stock market.
"According to INK Research, there are now seven precious metals stocks on the TSX with insider buying for every one with selling. That's a near doubling of the ratio since mid-January – and represents a level of lopsided transactions that is usually only seen during major market peaks or valleys.

"That is the type of insider buying we saw in the broad market during the height of the great financial crisis in late 2008 and early 2009," points out Ted Dixon, CEO of INK Research. "A similar situation now seems to be in place among gold and silver miners."

Insiders are typically contrarian investors – buying shares when they perceive them to be undervalued. Right now, it appears many think the stocks are going for fire-sale prices. They are usually early, too. Historically, insider transactions often foreshadow market moves six- to 36-months in advance.

While that may be quite a wait, it's interesting to see insiders display this level of confidence in a sector that the broader investment community has been fleeing.

Mr. Dixon points out that while gold is well off highs near $1,900 (U.S.) an ounce in 2011, the macro backdrop hasn't radically changed. Central banks are working hard to keep real interest rates in negative territory, and the threat that bond-buying measures will eventually lead to inflation – gold's best friend – remains intact.

[…]

While gold stocks have significantly underperformed the bullion market recently for various reasons, including rising production costs, Mr. Dixon thinks miners have a lot of emerging factors working in their favour.

Several CEOs have recently been fired for investing in projects that ultimately hurt shareholder value, suggesting they'll be more prudent going forward. And technicals suggest gold stocks are cheap in relation to gold; last week, the NYSE Arch Gold Bugs index, made up of U.S.-listed gold companies, hit the lowest levels versus the SPDR Gold ETF – an investment in physical metal – since the Lehman Brothers collapse."
(emphasis added)
A few remarks to the above. The fact that "insiders are often early" should be of little concern. First of all, patience is a virtue investors cannot do without anyway. Secondly, even if they are early, they've been at it for many months. For instance, their buying also made the paper in December – at the time they were buying while prices were rising and a good deal higher than they are now. Insiders care little about chart squiggles (often to their own detriment as it turns out), they only care about the business fundamentals, how they see them playing out in the future and how they relate to current share prices. If they thought the shares were worth buying in December, they should think them all the more enticing now. And that is exactly what they do apparently think.
However, here is a word of caution: insiders at gold mining firms have no special insights into where the gold price may go next. They certainly know about gold's fundamental picture in principle, but they don't know more about it than we mere mortals do. We wouldn't make such a bold statement if we'd talk about insiders in other industries, but gold must analytically be treated like a currency and currencies have a tendency to often make widely unexpected moves. We have also heard otherwise well-respected gold company CEOs occasionally spout complete nonsense about the gold market. For instance, Barrick's (NYSE:ABX) executives once touted "peak gold". That is such abject nonsense, it is embarrassing. It may well be true that all the "easy to find and cheap to produce" gold is gone, but that is only true at the current level of mining technology. In 10 or 20 years, the picture may look completely different and grades that cannot be mined profitably today may become economically viable propositions (this has already once happened in the gold industry when cyanide leaching was discovered). Even more important though, is the fact that whether or not mining rates rise or decline (and we note they haven't declined, in spite of the peak gold tout in 2009), this has no influence on the gold price whatsoever. If the miners were to mine 20% less than they currently do, it would amount to a mere 0.28% of the total extant gold supply. How is that supposed to move the needle on the gold price? It's just nonsense (for details on how the gold price is actually formed, we once again point readers to Robert Blumen's excellent explanation).
So we can state here with some confidence that gold mining CEOs are not necessarily the world's greatest gold market analysts. In that sense, the increase in insider buying is perhaps a little less telling than it might be otherwise. However, we actually don't believe that these insiders are buying on account of their gold price forecasts. It is probably a good bet that their deliberations are running along the lines of "the business is undervalued right now," and presumably also "the business would even be undervalued at the current share price if the gold price were lower."
Add to that the fact that while the gold price looks somewhat weak in U.S. dollar terms at present, there are a number of currencies in which it looks either quite strong or as though it were about to bottom out. We generally see on the charts that there are numerous divergences, whether in the gold shares or gold itself. Moreover, while gold shares have broken down, gold appears to be in consolidation mode in most currencies on the long-term charts – including in dollar terms. Such divergences don't guarantee anything and neither do the chart formations – but they give one better odds.
Below is a gallery of gold priced in several currencies, and we will add one more in the addendum. Obviously, gold is strongest in the weakest currencies, such as the yen and the pound. In terms of the former, it has actually broken out to the upside.
---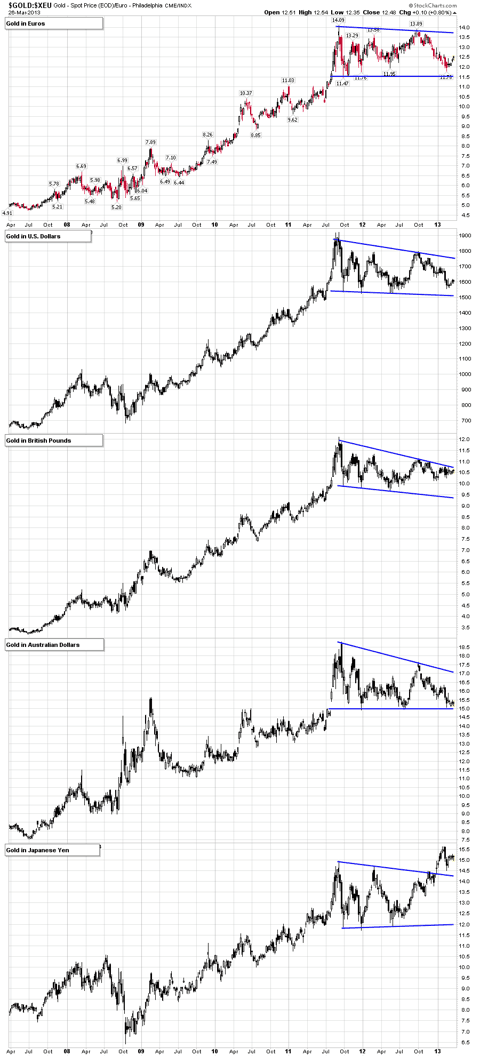 Click to enlarge
Gold in euro, U.S. dollar, pound sterling, Australian dollar, and yen terms.
---
One ratio we have recently looked at has done something interesting. This is the ratio of GDXJ to GDX (the junior gold miners to senior gold miners ETF): GDXJ has woefully underperformed during most of the downtrend, but recently, it has found a bit of relative strength. We happen to believe that this is also a sign that the market is, so to speak, sold out. The reason for this assessment is that when the juniors stop falling, we can safely assume they are in "strong hands," as any weak handed selling will immediately pressure prices disproportionately in this sub sector.
---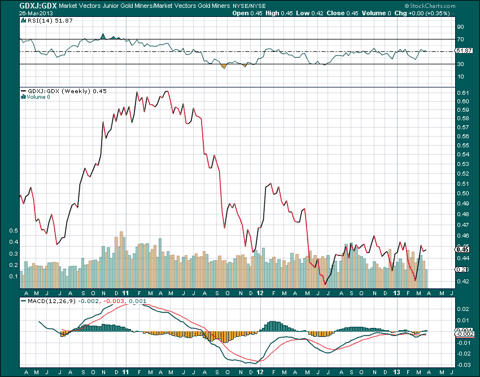 Click to enlarge
The GDX-GDXJ ratio – the juniors have found a bit of relative strength and have stabilized relative to the seniors after a period of severe underperformance.
---
Addendum: The Indestructible Gold Stock
The gold price looks especially strong in terms of the Rand. This hasn't helped the South Africa based gold miners one bit, as they have been among the very worst performers. This is mainly due to the heightened political risk premium following widespread wildcat strikes in South Africa last year involving a fight between competing mining unions (it's a case of communists poking each other's eyes). In South Africa, competing unions don't just call town hall meetings, they call for strikes to see who has the power to shut the mines down, and then their members go and toy-toy near the mines armed with knobkerries (a stick with a blunt end that you don't want to get hit with) and machetes to give putative strike breakers and members of the competing union hell. If the strikes happen to be illegal (because they are unannounced) as was the case last year, then the police also occasionally show up, and when they feel threatened, they shoot to kill. This understandably makes for very bad press. The mine managers are also none too happy when violence breaks out and tend to shutter the mines concerned until the problems are sorted out. This recently happened to HMY and its Kusasalethu mine.
---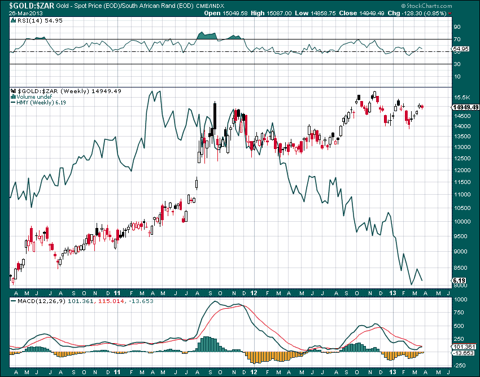 Click to enlarge
Gold in Rand terms versus HMY's share price (green line) – this is ignominy on a grand scale.
---
However, there has been one curious exception to both the strike mayhem and the bad share price performance, a company we've discussed in detail last year. It used to be the Cinderella of gold stocks for a long time, but recently it has been the top performer in the sector. Contrary to all other South African gold stocks, it has actually tracked the Rand gold price.
We are of course referring to DRDGold Limited (NYSE:DRD). In case anyone wonders what makes it different, as a pure surface tailings retreatment operation, it no longer has thousands of underground miners employed. Essentially its "miners" are five guys armed with a high pressure hose pipe standing on a mountain of sand and hosing it down with water. Other than that, it is just pipelines and treatment plants. It's not worth it for the unions to recruit this handful of employees and given their fairly relaxed job environment, it's also not so easy to get them riled up.
---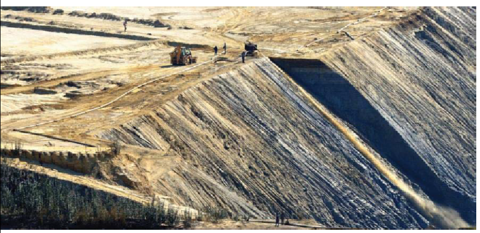 Click to enlarge
DRD's "mining crew" standing on a sand pile.
(Photo source: drd.co.za)

---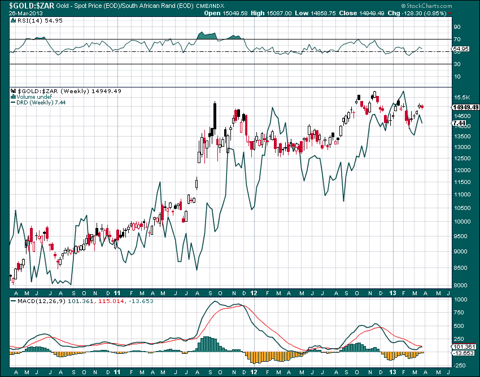 Click to enlarge
Rand gold price vs. DRD's share price – finally a gold stock that is at least tracking the price of gold.
---
It is no big secret that we like DRD, as we have said so before. It has a healthy margin, a healthy balance sheet and its biggest capex programs are about to wind down – thereafter, it becomes a steady state deliverer of high dividends (it already pays a reasonably good dividend, which has been raised a few times over the past two or three years).
And lest we forget, insiders are still buying the stock as well – for instance, the CEO. Of course, the stock is subject to the usual plethora of risks and its volatility may not be everyone's cup of tea (except the upside volatility, of course).
The chief risk is the gold price itself in our opinion, otherwise we see no great dangers lurking. The company also has about 18 million ounces of gold in underground reserves at the ERPM extension (at grades above 8 grams/ton), which it has put up for sale. It is hard to tell what it can get for this resource, as building a mine there will involve major capital expenditure by the buyer, but as underground resources in SA go, this is one of the better ones apparently (in terms of its grade, most definitely).
Charts by: Sentimentrader, StockCharts