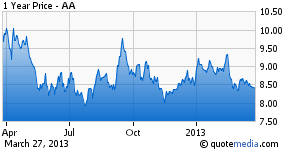 Although Alcoa (NYSE:AA) isn't scheduled to report their Q1 '13 financial results until Monday April 8th, 2013 (after the bell) we decided that a preview was in order early, since the stock continues to be an underperformer. Analyst consensus (per ThomsonReuters) is expecting $0.10 per share (versus $0.10 last year) on $5.934 billion in revenue ( versus $6 billion last year) for year-over-year growth of 0% and -1.1% respectively.
Estimates have slipped slightly over the last three months from $0.11 to the current $0.10 for EPS, while revenue estimates have fallen from $5,999 to $5,934, since the October '12 update. AA's biggest problem is aluminum pricing which has fallen from $0.95 to $0.85 per lb in the last month, looking at the charts on InvestmentMine.com. For the last 6 months the spot price of aluminum has gravitated between $0.85 and $1.00, and for the last year the range has been $0.80 to $1.00.
The cause of the excess supply could be that the shape of the aluminum spot curve is fortuitous for those who want to bring aluminum into inventory and earn the cost of carry. Thus aluminum supply keeps growing, (thanks to China supply too) and the pressure on pricing remains.
AA's valuation seems very compelling for a deep value investor, which is one reason we own the shares: with a tangible-book value of $9.71 per share AA is trading at 87% of tangible-book value, roughly 60% of book value, with a price to sales of 0.44(x). What is keeping us interested in AA is that despite earnings just $0.24 per share in 2012, AA generated $1.28 in operating cash-flow per share (OCFPS), so AA is trading at 7(x) cash-flow per share, versus the 15(x) p.e ratio on the stock.
In my opinion, Klaus Kleinfeld has a strong management team that is doing what they can operationally in a very tough pricing environment. Even though revenue growth hasn't been that bad, margins have been squeezed, but the company has been able to generate decent cash-flow from the revenue.
Morningstar values AA at $19 per share, while our internal model values AA near $14. Either way the stock appears cheap to intrinsic value.
AA peaked at $48 in July '07, after earning a peak $3 per share in 2006, but AA has 335 more shares outstanding today after the equity issuance in early 2009. In mid '07, fully diluted shares outstanding were 875 million, but today they are 1.1 billion, and with pricing soft, there isn't much free-cash-flow, so share repo's are small if at all, and the dividend is tiny as well ($0.03 per share).
The key question remains: will 2013 be the bottom for the stock ? The continued slow erosion in EPS estimates is worrisome, and makes it hard for the stock to find a bid. There is always an opportunity cost to sitting with an under-performer in client accounts. AA is down 5% - 6% in 2013 already versus the SP 500's +9% approximate return for Q1 '13. The stock has been a huge under-performer relative to the benchmark, and I wonder if Klaus and company have ways to "enhance" shareholder value given the current environment.
AA is a deep-value stock in a market where there aren't many names trading below tangible book-value with AA's market cap. Something has to give shortly, and it might be our patience and tolerance for holding a chronic underperformer.
Disclosure: I am long AA. I wrote this article myself, and it expresses my own opinions. I am not receiving compensation for it (other than from Seeking Alpha). I have no business relationship with any company whose stock is mentioned in this article.