Bank of America (NYSE:BAC) shares recently hit a new 52-week high at $12.94, but it has started to pullback to more interesting levels, although it is not there yet. This stock has become a popular way to play the rebound in housing and the economy in general, but with the shares now well above the 52-week low of $6.72, it makes sense to remain disciplined and wait for an even larger pullback in the short-term.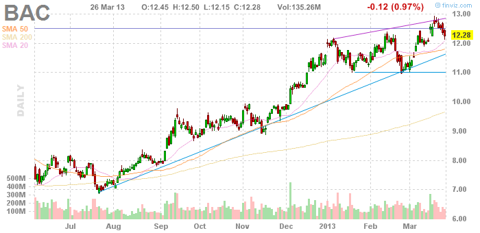 As the chart above shows, this stock has been in a major uptrend since July of last year. The stock market in general is also overbought and may need to consolidate or even have a correction before attractive buying opportunities return. Bank of America is one stock that investors should consider in a pullback. In the past few months, this stock has had strong support at about $11 per share, which is marked by the light blue line in the chart. That is the price level where I would consider the shares as attractive again and it is also where the stock could be heading if we see a short-term correction in the market or in bank stocks.
While housing has been improving, there are a number of macro issues that could create a market correction and take this stock lower. Some investors and analysts are concerned that the Chinese real estate market is in a bubble that might collapse in the future. Europe is still in a financial and banking crisis and the recent troubles in Cyprus could spread to other countries that have weak banks like Italy, Portugal, and Spain. Recent economic data from key European countries like France has been poor and unemployment remains very high, especially amongst the youth. That could eventually lead to social unrest and create even more market turmoil. Aside from these headline risks, Bank of America shares could also pull back due to company specific issues in the short term.
Bank of America has been settling lawsuits with Fannie Mae and other entities, but there is still litigation pending and that could lead to future charges. For example, in the fourth quarter of 2012, BofA earned only $367 million or about 3 cents per share, as results were impacted by settlement charges.
All these issues could lead to a short-term pullback in the stock. However, investors with a longer-term view should consider it as a buying opportunity. Eventually, the situation in Europe is likely to improve, and China may not see the real estate decline that many are expecting. Even if it does, it may not be deep enough to dampen the momentum that the U.S. housing market has generated in recent months. One well-known analyst is getting bullish on this company. Meredith Whitney recently stated that this stock is undervalued and she believes the shares could go "into the $20s." Ms. Whitney points out that Bank of America did very well in the stress tests and she and other investors seem to be focused on the fact that earnings are likely to grow in the coming years as the bank resolves the pending litigation. It's worth noting that the shares trade well below book value, which is around $20.24. Plus, management seems to find value in the stock as it recently announced a multi-billion dollar share buyback plan. For these reasons, investors should patiently wait for a pullback to about $11 and use that as a long-term buying opportunity.
Here are some key points for BAC:
Current share price: $12.30
The 52-week range is $6.72 to $12.94
Earnings estimates for 2013: $1
Earnings estimates for 2014: $1.30
Annual dividend: 4 cents per share, which yields .3%
Data sourced from Yahoo Finance. No guarantees or representations are made.

Disclosure: I have no positions in any stocks mentioned, and no plans to initiate any positions within the next 72 hours. I wrote this article myself, and it expresses my own opinions. I am not receiving compensation for it (other than from Seeking Alpha). I have no business relationship with any company whose stock is mentioned in this article.
Disclaimer: Hawkinvest is not a registered investment advisor and does not provide specific investment advice. The information is for informational purposes only. You should always consult a financial advisor.