The Sector
The arena of U.S hotel equity REITs is a sector appropriately regarded with caution. It boasts one of the lowest occupancy rates among all kinds of REITs and is largely subjected to fluctuations in both discretionary income and economic cycles. However, a closer examination of the hotel equity REIT sector reveals that the markets may be dramatically over-punishing these companies. Skepticism is indeed an important lens to apply when investing, but there are some compelling elements that suggest that hotel REITs are due for a strong rally.
Firstly, the overarching lodging industry has already recovered from the recession, and there are strong metrics to support this. Domestic lodging typically acts as a function of hotel supply and hotel demand and is perhaps most appropriately tracked by looking at occupancy rates and domestic travel numbers. The following two charts demonstrate the rebounding of these figures, which both trend in an extremely promising direction.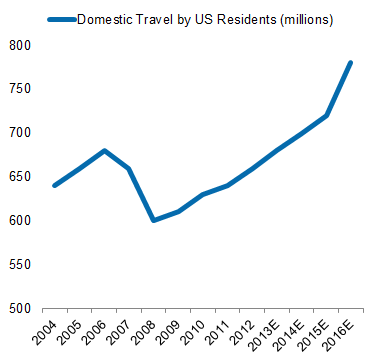 Source: IBISWorld US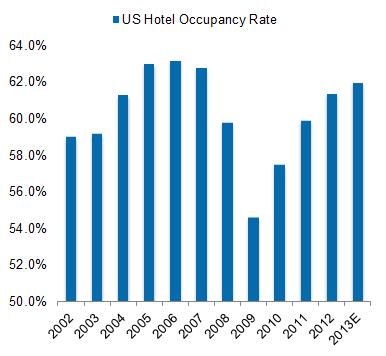 Source: PwC and Smith Travel Research
Domestic travel numbers have steadily increased since the trough in 2008, with figures now flirting with pre-recession numbers. The U.S hotel occupancy rate has also bounced back to pre-recession number, now healthily above 61%.
On top of this, a chart published by Wells Fargo Securities pinpoints the leading indicator of labor growth in the hotel industry. Over the last 20 years, labor growth that exceeds room revenue growth has strongly predicted corresponding bull runs of the hotel stock market. We've seen a substantial increase in this labor growth metric since 2011 with little to no response from the stock market just yet. Accordingly, I predict that we'll start to realize this value and undergo the start of a bull cycle in hotels within the coming year.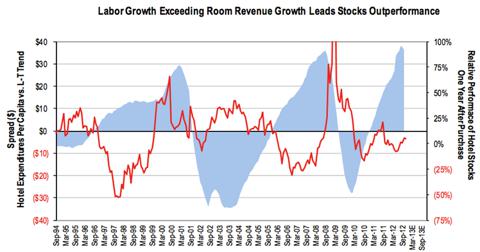 Source: Wells Fargo Securities. 2013 Lodging Outlook: Poised For Appreciation
The current P/FFO levels continue to reflect this value discrepancy, with the overall U.S Equity REIT trading at a multiple of 15.8x while the hotel equity REIT sector is trading in the neighbourhood of 12x - 13x. Although hotel REITs typically receive a discount for the aforementioned occupancy difficulties, the gap has rarely been this extreme.
With all that being said about the hotel industry and its current undervalued condition, I believe that there is one stock that is truly the best performer - Chatham Lodging Trust.
Chatham Lodging Trust
Chatham is a hotel equity REIT that holds property in the United States. Its share price closed at $17.46 with a market capitalization of $306.99 MM. It is a stock covered by very few analysts and had annual revenues in 2012 of $100.5 MM and an FFO of $17.8 MM.
Chatham Lodging Trust (NYSE:CLDT) is undoubtedly the best selection in an industry that is being unfairly overlooked. Chatham currently owns 19 hotels across the United States and has a focus on upscale and highly valued brands such as Doubletree, Residence Inn and Hampton Inn. It also possesses a 10.3% interest in a joint venture with Cerberus Capital Management of Innkeepers USA. This joint venture owns 64 hotels across the United States and was recently completed as of 2011. It should be mentioned that this deal was done at an extreme discount, as it was done when Innkeepers USA was facing bankruptcy. They purchased 64 hotels for just $1.02 billion, 63 of which are managed by Island Hospitality Management.
Now, equity REITs are legally obligated to outsource their hotel operations to a third-party management company. Chatham's main portfolio and its joint venture portfolio both employ the use of Island Hospitality Management to manage its operations. However, what's special about this relationship is that the CEO of Chatham Lodging Trust owns a 90% stake in Island Hospitality Management, which eliminates the typical agency problem you get when one outsources operations. Essentially, Chatham's CEO circumvents the risk of having misaligned operations by owning the operating company.
Chatham also has a large amount of extended-stay hotels, with many of its rooms offering a full kitchen and complete furnishings. This leads to an impressive occupancy rate that has historically outpaced the industry occupancy rate by 15-20% since its inception. Chatham's occupancy rate of 75% rivals that of other industries and is a good factor that contributes to its sustained cash flows.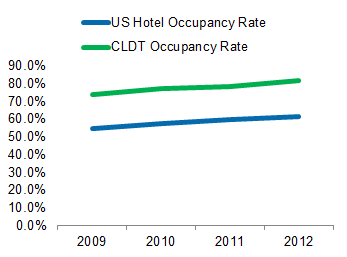 Source: PwC and Smith Travel Research, CLDT's 10-K
The stock has been unfairly punished for its underperformance in both 2010 and 2011, in which its RevPAR growth was lower than the industry average. However, this is a result of the extensive renovations that were being conducted, as 13 of CLDT's then 18 hotels were undergoing some element of rebranding or remodeling. This figure is not reflective of current operations, and the RevPAR growth in 2012 was an impressive 8% in comparison to an industry RevPAR growth of 6.8%. With only 1 new hotel opened during 2012, this represents a good sign of true organic growth. The projected industry RevPAR growth in the immediate years is forecast at 5-6%, which is based on continued economic growth, lack of new supply and increased business travel spending.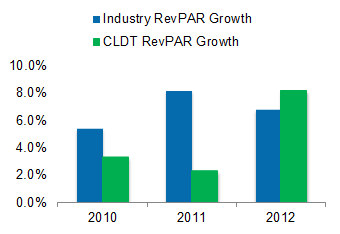 Source: CLDT'S 10-K
Additionally, Chatham has a strong debt schedule, with no real obligations due until 2015. As indicated in its most recent earnings call, Chatham's average yield on its debt is a comfortable 4.6%, and the management has aimed to keep its overall debt levels of less than 35% in hotel investments. Chatham has been more levered since its acquisition of Innkeepers USA and currently boasts a debt/equity ratio of about 1.11, but this is expected to return to its previous levels in accordance with a conservative management style. Chatham's management has been diligent in paying down debt and also has 10 of its 19 hotels not encumbered by any debt.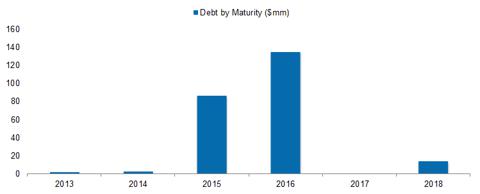 Comparables

Source: ThomsonONE and Google Finance
Chatham's extrinsic valuation continues to reflect the attractiveness of this stock. Let's take a look at the comparables table. I've selected other premium brand hotel companies in the United States with relative market caps.
We can observe here that Chatham's forward P/FFO is at 10.53x, below the average of 12.93x and its forward EV/EBITDA is 11.16x compared to an average of 13.06x. Despite having a fantastic occupancy rate, promising RevPAR and a solid management team, Chatham trades at the cheapest value. Additionally, Chatham's very low P/B ratio of 1.04 gives it extensive downside protection. Essentially, for every $1 you are investing into Chatham, you are almost receiving a full $1 back in pure balance sheet assets. I believe that this proves the unfair discounting of the market. Theoretically, if this company were to liquidate today, shareholders would get close to their current value. We should also remember that the book value of real estate tends to be understated on the balance sheet because of its tendency to appreciate.
Dividends and the Interest Rate
I'd also like to discuss Chatham's dividend. This is a dividend that has increased 140% since 2010. This dividend is expected to increase once more in 2013 to $0.85 and has also recently shifted from a quarterly payout to a monthly payout, which gives greater attractiveness to these distributions. Although I am more attracted to the potential for capital appreciation that Chatham offers, the high 5.4% dividend certainly doesn't hurt.
As a responsible investor, it's also important to recognize the inherent risk of holding a dividend yielding instrument such as a REIT. If interest rates were to theoretically rise, it would make these instruments relatively less attractive. Additionally, it would make it more difficult to raise capital in the financing of new acquisitions.
With regards to financing, I believe that Chatham's current favourable debt schedule, skilled management and large amount of unencumbered assets will allow it to still raise capital effectively. Its average 4.6% interest yield is a reflection of this.
I also ultimately believe that the likelihood of interest rates rising is very low until at least 2015. This is a school of thought echoed by the sentiment of both Bernanke and the U.S Fed. Even if Bernanke is to step down after this year, I sincerely doubt that interest rates will rise dramatically enough to prevent the realization of value in hotel equity REITs. Additionally, by 2015, these catalysts along with this investment thesis will have been completely realized.
Conclusion
In conclusion, I think there is a strong argument that points out the undervalued situation of the entire hotel equity REIT sector. Furthermore, Chatham Lodging Trust is currently poised to make the best possible gains in this sector's inevitable recovery. Its uniquely aligned management, attractive valuation and immense downside protection make Chatham a strong company and more importantly - a strong buy.
Disclosure: I have no positions in any stocks mentioned, but may initiate a long position in CLDT over the next 72 hours. I wrote this article myself, and it expresses my own opinions. I am not receiving compensation for it. I have no business relationship with any company whose stock is mentioned in this article.