Sunrise, sunset; sunrise, sunset; swiftly flow the days; seedlings turn overnight into sunflowers; blossoming even as we gaze

"Fiddler on the Roof"
These words, from a song in "Fiddler on the Roof," remind me of how quickly a person or a business can grow. The words sunrise, sunset, provides a vision of Facebook (NASDAQ:FB) stock, which has fallen and risen numerous times since its IPO, but has not broken out above the IPO closing price of $38. Facebook was launched in 2004, and now has over 1 billion monthly active users and 618 million daily active users. Facebook increased its monthly active users by 25% and its daily active users by 28% in 2012 over 2011.
Facebook has also significantly increased its mobile users. Worldwide mobile monthly active users increased 57% to 680 million in 2012 over 2011. The company anticipates that the rate of mobile usage will exceed the growth in usage through personal computers. The company now needs to successfully capitalize on these users for steady revenue and earnings growth.
The company obtains mostly all of its revenue from advertising and from fees associated with Facebook's Payments infrastructure that allows users to purchase virtual goods from Platform developers. Advertising revenue is generated from click-based ads, which are paid for by marketers. Games from Zynga have generated the majority of its Payments revenue. The company also generates revenue from Promoted Posts and to a lesser extent, Facebook Gifts.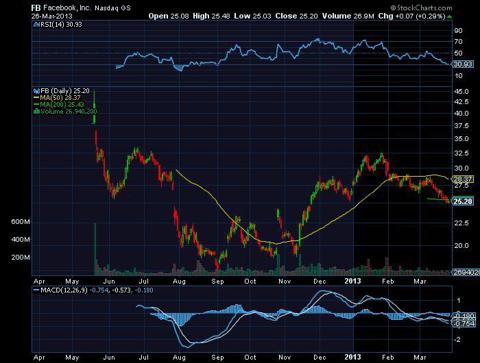 Click to enlarge
Overall revenue increased 37% to $1.38 billion year-over-year. Advertising revenue increased due to a 32% increase in the number of ads delivered during 2012 and to a 3% increase in the average price per ad. Payments and other fees revenue increased 45% to $253 million year-over-year.
Facebook has just announced that it will incorporate targeted ads into its News Feed section. These targeted ads were previously placed on the right hand column of the website. The company is aiming to capitalize on the growing amount of users accessing the site from mobile devices. About two-thirds of Facebook users accessed the site on a mobile device in December. By placing targeted ads in the newsfeed, Facebook is enabling the mobile users to view them. This looks like a good strategy, but it remains to be seen how the users interpret the extra ad messages.
Since advertising is the primary source of revenue for the company, a loss of money generated from marketers poses the primary risk to Facebook. The advertising on the site needs to be effective for the marketers to continue placing their ad money with Facebook. With that in mind, the company does have an effective way of targeting potential customers. I think that through trial and error, Facebook will find the sweet spot for the advertising dollars.
The tricky thing about Facebook's stock has been the valuation. The stock made its debut at an overvalued level and thus has remained below the IPO price ever since. Currently, the stock has a forward PE ratio of 32.31, a PEG ratio of 1.6, and a price-to-book ratio of 5.04. The PEG and the price-to-book ratio give the stock a fair valuation. If the company can meet or exceed its revenue and earnings expectations going forward, the stock should do well. Likewise, the valuation will improve with higher earnings. Thus far, investors have kept the stock mostly above $20, with a brief dip below that level last fall.
Facebook is expected to achieve earnings per share of $0.57 for 2013 and $0.78 for 2014. It is expected to grow earnings annually at 29% for the next five years. If this growth is achieved, I would expect the stock to outperform the S&P 500 over the next five years. I think that once investors see more clarity in the company's ability to increase advertising revenue, then the stock price will increase steadily over time.
Disclosure: I have no positions in any stocks mentioned, and no plans to initiate any positions within the next 72 hours. I wrote this article myself, and it expresses my own opinions. I am not receiving compensation for it (other than from Seeking Alpha). I have no business relationship with any company whose stock is mentioned in this article.