Select Comfort Corp. (NASDAQ:SCSS)
4Q12 Disappointed, Further Challenges in 1Q13; Expect Long-Term Benefit from R&D and Acquisition; Stock is Oversold
SCSS reported 4Q12 EPS of $0.22, an 8% decrease from 4Q11 adjusted EPS and $0.10 below consensus estimates of $0.32. The decrease was a result of 1) $0.05 impact from sales decline in the final two weeks of 4Q and lower-than-expected new store timing; 2) $0.03 from marketing deleverage in media testing, and investments in R&D and consumer insights. Total sales increased 17% YoY, including an 11% comp and 6% due to new store growth. Gross margin improved 52 bps to 63.5%; operating margin decreased 175 bps to 8.8%.
FY13 guidance was below expectations. During 4Q12 earnings call, management issued the following guidance for FY13:
EPS: $1.65 - $1.80 (15% - 26% YoY increase), vs. consensus estimates of $1.90
Comp: at least 10%
New Stores: 25 - 35 net openings
Operating Margin: up slightly YoY, despite a 70 bps negative impact from depreciation
Gross Margin: grow at a similar rate as experienced in 2012 (implying ~50 bps improvement)
CapEx: $70 million - $80 million
Tax Rate: 35%
Sign of slowing growth continued in 1Q13, with management announcing February sales "below-plan". Lagging sales was said to be caused by "short-term issue associated with accelerated changes made to media-buying strategy". Although the magnitude of the slowdown was not given, we expect sales miss in February (which includes President's Day event) to have a material impact on 1Q and FY performance; and we could see a downward revision of guidance in April. Additionally, 1Q12 had a YoY sales growth of 36%, which was helped by a 25% unit growth due to the closeout and re-introduction of the Classic Series. Since then, comp unit sales growth has weakened in each subsequent quarter. With disappointing sales in February and a difficult quarter to comp against, we expect -4% unit growth, 13% ASP growth, and 4% comp growth for 1Q13.

Click to enlarge
(Click to enlarge)
Select Comfort's main competitor in the non-innerspring mattress segment is moving into airbed. On January 28, 2013, the long-time memory foam mattress maker Tempur-Pedic (NYSE:TPX) unveiled its airbed collection, Tempur-Choice, at the Las Vegas Market trade show. Available data shows that the new line will offer superior features such as thicker toppers, Tri-Zone bladders, more settings, and a longer warranty when compared to its Select Comfort counterparts. Tempur-Pedic is a widely recognized brand with a reputation for high quality products, and at similar prices as the Sleep Number m and i Series, the new line will likely put pressure on Select Comfort's sales and margins. However, it's also possible that Tempur-Choice will raise overall consumer awareness of airbeds to a level that actually benefits Select Comforts, since consumer awareness of airbeds are still very low compared to traditional and foam mattresses.
Acquisition of Comfortaire should provide long-term benefit to product quality. Select Comfort announced that it recently acquired Comfortaire, an airbed maker, for $15.5 million, and management expect the majority of return on this investment to come from acquired intellectual property. We found several patents that might help Select Comfort address major product-related customer complaints. Because Select Comfort's new and younger target consumers are more computer-savvy and more likely to gather information online before going to a store, we believe minimizing customer complaints and improving product quality will be keys to penetrating target customers. While the adaptation of new designs could have adverse impact on gross margin, we expect significant boost to sales if the initiative proves to be successful. The table below shows selected patents and their main benefits.

Click to enlarge
(Click to enlarge)
Housing recovery is favorable to the bedding industry, and we believe the growth in non-innerspring purchase will continue to outpace traditional mattress. According to ISPA, sales of mattress greater than $2,000 grew at a CAGR of 18% from 2009 to 2011, while those less than $2,000 grew at a low single digit rate. During the same period, non-innerspring beds, which are generally priced higher, grew market share from 21.7% to 30.0% of the overall U.S. mattress industry. Select Comfort operates in the non-innerspring segment, with price range of $699 to $4,399. In FY2012, the company's average price per unit (including base and attachment) was $3,050, up 13.2% from prior year. Successful marketing and cheap financing both contributed to the boost in premium non-innerspring segment, and Select Comfort was a major beneficiary. ISPA forecasts U.S. mattress units shipped to increase 2.3% in 2013 and 4.5% in 2014. Values of these shipments are forecast to grow by 6.3% and 8.5%, respectively, in those years. Select Comfort has consistently outperformed the industry growth in the past three years, and we expect the outperformance to continue.

Click to enlarge
(Click to enlarge)

Click to enlarge
(Click to enlarge)
Management's goal of $1.5 billion sales, 15% operating margin by 2015 is called into question. To reach this goal, Select Comfort needs to grow sales by 17% and improve operating margin by 50 bps annually for next three years. Given the sales slowdown, new competition, higher CapEx, and increased media and R&D spending, we feel the current goal is too aggressive. Instead, our forecast calls for moderate margin improvements and a high single-digit to low double-digit growth rate.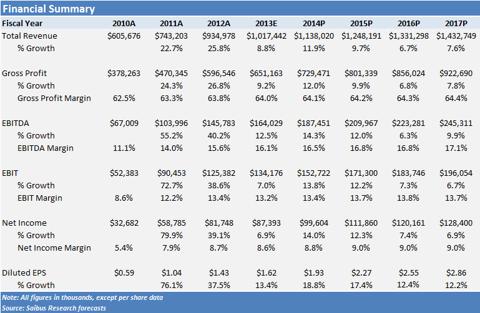 Click to enlarge
(Click to enlarge)
Stock Is Oversold; we reiterate a BUY rating. Despite the company's current challenges, we believe that medium and long-term outlooks remain positive and the stock is oversold. While another above-20% growth rates is unlikely, we expect Select Comfort to continue outperform the industry. At $19.67 per share as of March 15, 2013, Select Comfort traded at 1.0x EV/Revenue, 6.2x EV/EBITDA, 7.6x EV/EBIT, and 12.1x P/E multiple on our FY13 estimates, compared to peer average of 1.2x EV/Revenue, 9.1x EV/EBITDA, 11.4x EV/EBIT, and 18.7x P/E. Based on the relevant multiple range shown below, we estimate a fair value for Select Comfort at $23.80 - $30.04 per share, implying a 21% - 55% upside. We maintain our BUY rating, and establish a price target of $28 using a 17x multiple on FY13E EPS of $1.62.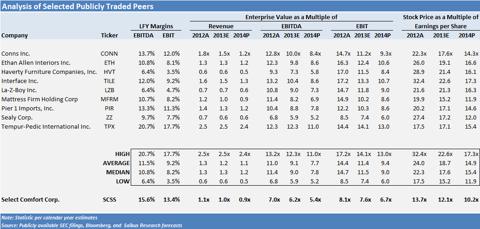 Click to enlarge
(Click to enlarge)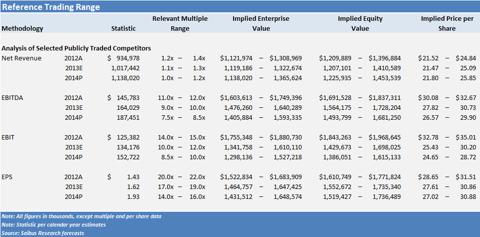 Click to enlarge
(Click to enlarge)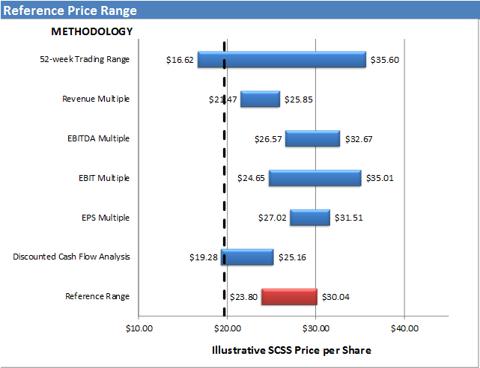 Click to enlarge
(Click to enlarge)
Disclosure: I have no positions in any stocks mentioned, and no plans to initiate any positions within the next 72 hours. I wrote this article myself, and it expresses my own opinions. I am not receiving compensation for it (other than from Seeking Alpha). I have no business relationship with any company whose stock is mentioned in this article. This article was written by an analyst at Saibus Research. Saibus Research has not received compensation directly or indirectly for expressing the recommendation in this article. We have no business relationship with any company whose stock is mentioned in this article. Under no circumstances must this report be considered an offer to buy, sell, subscribe for or trade securities or other instruments.