Hedge Funds, in my opinion, are a great way to establish the groundwork for a multitude of growth or income based screens. In this article I wanted to examine one of the top five holdings of Litespeed Management, run by Jamie Zimmerman and highlight the variables behind my decision to establish a position in the company. The second, although originally noted as a position of Litespeed's, should still be avoided at present levels.
According to Insider Monkey.com, "Litespeed Management LLC was founded by Jamie Zimmerman in October 2000 and is an event-driven hedge fund focusing on special situations, distressed securities, and bankruptcies".
As of December 31st 2012 the fund's portfolio was valued at $297.3 million and its top five holdings consisted of positions in Tronox Inc. (NYSE:TROX) (2,345,955 shares), Macquarie Infrastructure Co. LLC (NYSE:MIC) (845,276), Avon Products, Inc. (NYSE:AVP) (2,466,862), Diamond Foods, Inc. (NASDAQ:DMND) (2,186,889), Anadarko Petroleum Corp (NYSE:APC) (402,000).
Tanzanian Royalty Exploration Corp: Based in South Surrey, British Columbia, TRX is a mineral resource company, engaging in the acquisition and exploration of natural resource properties. The company primarily explores for gold or other precious metals. It holds a 55% interest in the Buckreef project located in Tanzania. (Yahoo! Finance) Shares of TRX do not carry a P/E ratio or a PEG ratio simply because the company has been unable to post positive earnings over the course of at least the last 12 months.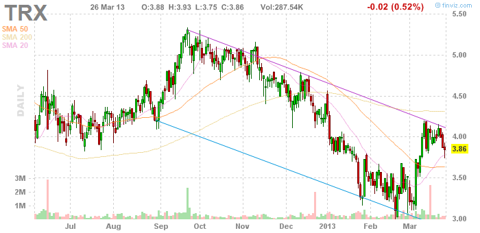 Click to enlarge
(Click to enlarge)
Recent Drilling Activity (Dec. 2012): Although the company's year-over-year earnings performance has been disheartening to shareholders (a $4.376 million decrease in year-over-year assets and the its inability to generate revenue since at least 2010), I happen to think TRX's December 20th drilling results show some upside potential. According to the company's press release, TRX's drill holes BMRC 541,542, and 543 (located within the Eastern Porphyry of the Buckreef project) intersected the following zones of mineralization:
- BMRC 541: 5m grading 1.12 g/t Au from 30m depth, 5m grading 1.12 g/t Au from 30m depth, and 2m grading 0.65 g/t Au from 76m
- BMRC 542: 1m grading 1.44 g/t Au from 31m, and 1m grading 1.44 g/t Au from 31m
- BMRC 543: 9m grading 3.07 g/t Au from 40m; including 4m @ 6.25g/t gold and 1m grading 2.54 g/t Au from 84m
In the wake of these results, the company's Chairman and COO, Mr. Joseph K. Kahama, noted that "the company is pleased to learn that these multiple mineralized zones at Eastern Porphyry extend to the surface, which increases the target's potential for low to medium grade near surface large tonnage. The RC intercepts are being encountered where predicted from the projected DD drill results. The Eastern Porphyry multiple vein system is one of the potentially significant discoveries made this year in terms of gold grade, intercept width, strike length and the potential for extensions with further drilling."
2012 Results from Operations: According to the company's annual report, "Net loss for the year ended August 31, 2012 was $8,897,843 compared to $11,132,371 for the comparable year ended August 31, 2011. For the three month period ended August 31, 2012 and August 31, 2011, the company had net loss of $3,576,139 and a net loss of $7,401,871, respectively". Even though the company's net loss per share improved to a loss of $0.09/share (2012) versus a loss of $0.12/share (2011), the company's total assets decreased 6.47% or $4.376 million to a total of $63.256 million and its long-term financial liabilities increased 17.51% or $1.518 million to a total of $10.187 million.
Conclusion: Even though the Eastern Porphyry could continue to yield significant discoveries in terms of gold grade and strike length, I'd feel much more comfortable if the company were able to demonstrate a continuous series of results at a less expensive cost. The company's assets are diminishing a rapid pace and until better results are announced I'd remain on the sidelines before establishing a position.
Macquarie Infrastructure Co. LLC: Based in New York, New York, and through its subsidiaries, owns, operates, and invests in a diversified group of infrastructure businesses and offers fueling and fuel-related services, aircraft parking, and hangar services to owners/operators of jet aircraft, primarily in the general aviation, commercial, military, freight, and government aviation sectors at 62 airports in the United States. (Yahoo! Finance) Shares of MIC carry a P/E ratio of 182.93 and a PEG ratio of 18.29, making the stock highly unattractive to the traditional value investor. However, the company's current yield of 5.18% ($2.75) has a tendency to attract income investors which are driven by above average yields.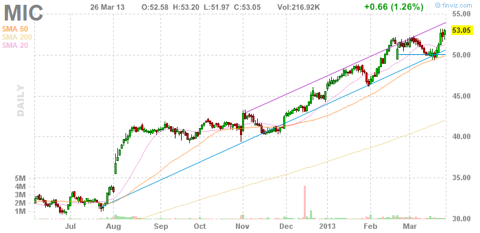 Click to enlarge
(Click to enlarge)
There are two things to consider when it comes to Macquarie and they are the company's recent increase in combined free cash flow per share and the company's dividend behavior since December 2008.
Significant Increase in Combined Free Cash Flow: On Wednesday, February 20th Macquarie Infrastructure announced its 2012 full year results which were highlighted by a 9.3% increase in its combined free cash flow per share. The company reported proportionately combined free cash flow of $3.45 per share which had excluded two items totaling -$0.21/share. The first of these items were costs related to the effects of Hurricane Sandy which totaled -$0.10/share and the second of these items were related to the combination of the company's refinancing of Hawaii Gas and its investment in several solar power generation facilities which totaled -$0.11/share. Although the company's increase of 9.3% is fairly significant, investors should keep in mind that factors such as Hurricane Sandy and the fees associated with refinancing Hawaii Gas are one-time occurrences and therefore shouldn't deter those looking to add additional shares to their pre-established position.
Steady Dividend Growth: Since December 1, 2008, when the company had paid shareholders $0.20/share (which represented a decrease of $0.445/share from the previous quarter), MIC has increased its dividend a total of two times in the last twelve months by an average by an average of $0.244 per increase each time. The total increase equates to $0.488/share or 244% over that period. From an income perspective, the company's current yield of 5.18% could equate into a very viable income option for long-term investors, even though the company did not pay a first quarter dividend in 2013, since it had accelerated that distribution during the fourth quarter of 2012.
Conclusion: If Macquarie can continue to demonstrate a significant increase in its combined free cash flow as well as maintain (or even increase) its current dividend over the next 12-24 months, I see no reason why income investors with a penchant for higher-yielding stocks should avoid establishing a position in MIC. However, one of things that may in fact deter an investor such as myself from establishing a larger position then I would have first liked, is the company's payout ratio which currently stands at 868% according to Yahoo! Finance.
Disclosure: I am long MIC. I wrote this article myself, and it expresses my own opinions. I am not receiving compensation for it (other than from Seeking Alpha). I have no business relationship with any company whose stock is mentioned in this article.