By David Urani
February new-home sales came in at an annual rate of 411k, below the 431k for January, as well as the 425k consensus. One thing to note here is that the January reading had shown an unusually large 13% month-to-month surge that, at the time, we were a little skeptical of (the data can be volatile at times). As it turns out, January's reading probably was a little too good to be true, and still we'd call the February reading a decent one given that we're 8% above the December result. Another thing that may be at play here is the offbeat weather affecting seasonal adjustments.
In the meantime, supply of homes continued to inch along a very low level at 152k outstanding. Both median and average prices ticked higher as well, and although these particular readings on prices tend to jump around, we do note that the average hit the highest since April 2008, at $313,700.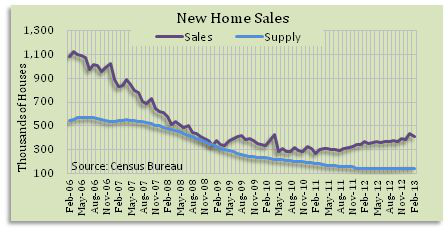 Speaking of home prices, the Case Shiller index of existing home prices tends to be the most reliable albeit backward-looking view of home price trends. The January index came out this morning, showing a 1.0% increase month to month, taking it to an 8.1% increase year over year. This was the eighth monthly increase in a row. All 20 cities in the report increased month to month, and now with New York finally turning the corner all regions are up year over year as well.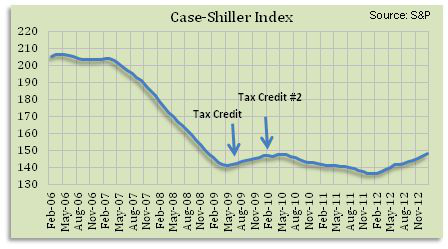 Pending home sales for February showed a decline of 0.4%. That was actually a bit better than the consensus, which called for a decline of 0.7%. All regions were flattish except for the Northeast, which fell by 2.5%. Once again the story from the NAR (who, mind you, tends to be perma-bullish) is that lack of supply is holding back sales.
They went as far as to say that new construction needs to rise by at least 50% from current levels. We're not so sure about that but they do have a point on inventory, which has been dwindling despite increasing housing starts. For builders who aren't big public construction companies, it can be tough to get the necessary credit. That also goes for consumers, who continue to see a relatively tight credit environment.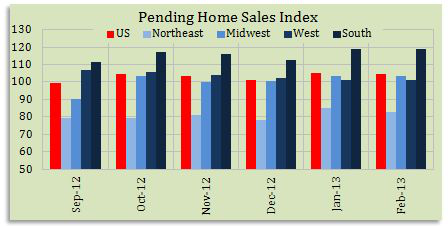 Blackstone Buddies Up With Beazer
Speaking of lack of credit, take for instance the likes of Beazer (NYSE:BZH), which needs to invest capital in new inventory to keep up with the market leaders like D.R. Horton (NYSE:DHI), Lennar (NYSE:LEN) and Pulte (NYSE:PHM), but has been limited due to its ongoing losses and $1.5 billion debt load. Luckily for Beazer, it looks like it'll get a little help from Blackstone Group (NYSE:BX), which happens to be the country's biggest real estate investor, having already bought $3.5 billion worth of homes largely to rent out. It's opening up $150 million for Beazer to help it select land deals, while giving Beazer options to buy.
It's a relief for struggling Beazer (which has bucked a general down day in housing stocks on Wednesday's pending homes report), and in the meantime it goes to show that even the biggest real estate investor, Blackstone, is still hungry for more.