Occidental Petroleum (NYSE:OXY) is a large U.S. oil and gas production/exploration company with a relatively small chlor-alkali chemicals business that accounts for about 7% of earnings. Occidental's oil and gas business operates in three regions; the US accounting for 63% of revenues, Middle East/North Africa accounting for 33% of revenues, and Latin America accounting for 4% of revenues.
Occidental focuses primarily on large legacy assets in the U.S. which are long-lived oil and gas assets in places such as the Permian Basin, Williston Basin, and the Elk Hills of California. We expect Occidental to increase its oil and gas production by 6% in 2013 producing 825 MBOE/d (thousand barrels of oil equivalent per day). Furthermore, we expect Occidental to increase its oil and gas production by about 6% to 8% for the foreseeable future. Much of this production growth is to come from California and the Permian Basin. In fact, Occidental plans to spend 3.4 billion increasing production in their California assets and the Permian Basin in 2013.
We believe Occidental is one of the better, large, U.S. oil companies. Reasons for our opinion are that Occidental has no oil refining business, Occidental is primarily in the oil business (72% of production), and Occidental has a good development pipeline of future projects to drive production growth.
We believe that Occidental Petroleum is a good buy at $78.01 per share (on 3-26-2013) for the following reasons:
Occidental Petroleum is selling at an attractive forward earnings multiple of 10.1 times 2013 projected earnings and just 13.8 times TTM earnings.
Occidental Petroleum has a strong balance sheet with $1.6 billion in cash and relatively little debt (12% of capitalization).
Occidental Petroleum has a 3.3% dividend yield and has recently increased its dividend by 18.5%
S&P has a Buy rating on the stock (4 out of 5 stars) and a 12 month price target of $100.00 per share.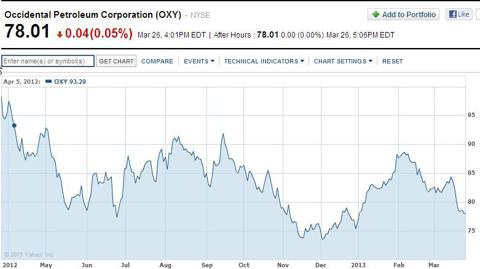 Click to enlarge
Disclaimer: Ulfberht Capital is not an investment advisor. This article is not a recommendation to buy or sell securities. Always consult your investment advisor before making any investment decision.
Disclosure: I have no positions in any stocks mentioned, and no plans to initiate any positions within the next 72 hours. I wrote this article myself, and it expresses my own opinions. I am not receiving compensation for it (other than from Seeking Alpha). I have no business relationship with any company whose stock is mentioned in this article.