A Bearish Prediction For A High-Flying Stock
Buoyed by news this week that its rheumatoid arthritis drug, Xeljanz, was approved for use in Japan, shares of Pfizer, Inc. (NYSE:PFE) hit a new 52-week high intra-day Tuesday (after the close on Tuesday, though, Reuters reported a bit of bad news -- that another Pfizer drug, the lung cancer treatment Xalkori, had been rejected for use by Britain's National Health Service). Over the last 52 weeks, Pfizer has substantially outperformed the S&P 500, as the chart below shows.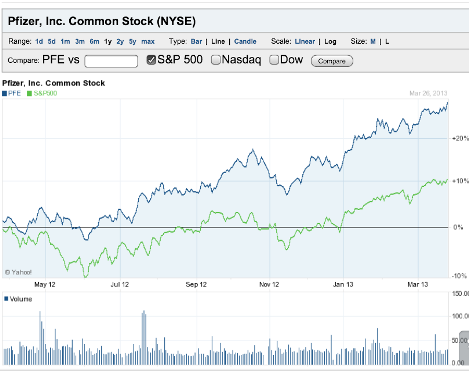 Given Pfizer's significant outperformance over the last year, it was a surprise to see that the quantitative forensic accounting analysis firm GovernanceMetrics International (GMI) had given the company the worst of the five possible ratings on GMI's AGR (Accounting And Governance Risk) Equity Risk Factor, indicating that Pfizer is liable to "substantially underperform" the market. According to GMI, companies given its worst-possible Equity Risk Factor ranking have, as a group, substantially underperformed the market.
Knowing that the AGR Equity Risk Factor is derived from another GMI Metric, the Accounting And Governance Risk Rating, I reviewed GMI's Accounting And Governance Risk Review report on Pfizer (via Fidelity), and saw that GMI gave Pfizer its worst possible ranking on that metric as well, "Very Aggressive". That report also indicated that Pfizer has a higher accounting and governance risk than 95% of the thousands of North American headquartered companies that GMI analyzes. According to GMI, companies rated "Very Aggressive" are 10 times more likely to face SEC enforcement actions than those rated "Conservative" (the best of its four possible Accounting And Governance Risk ratings).
A Prediction At Odds With Current Sentiment
GMI's prediction that Pfizer will substantially underperform the market going forward seems at odds with current sentiment about the company. Other than one tweet sharing news of the rejection of Pfizer's lung cancer drug by Britain's National Institute for Health and Clinical Excellence, most of the tweets that came up on a Twitter search for Pfizer's stock symbol early Wednesday were bullish about the company (bear in mind, if you assume Twitter sentiment is meaningless when it comes to stocks, research suggests it may have some predictive value). A representative example was this tweet by CNBC contributor Pete Najarian, who was bullish on Pfizer in addition to a few of its competitors, Merck & Co., Inc. (NYSE:MRK), Bristol-Myers Squibb Company (NYSE:BMY), and Eli Lilly & Company (NYSE:LLY):
Hey look no need to be complex in Pharma, buy the best BMY, LLY, MRK, PFE, that's it

- petenajarian (@petenajarian) March 26, 2013
For Pfizer longs who are more concerned by GMI's quantitatively-derived bearish assessment than they are encouraged by positive sentiment, or the stock's recent outperformance, below we'll show a couple of ways to limit downside risk over the next several months.
Two Ways Of Hedging Pfizer
In a recent article ("More Reasons To Be Cautious About For-Profit Colleges"), we looked at ways to hedge Apollo Group, Inc. (NASDAQ:APOL) against a greater-than-20% decline over the next several months. Since Pfizer is a much less expensive stock to hedge, we'll use a smaller decline threshold for it. Below are two ways for a Pfizer shareholder to hedge 1000 shares against a greater-than-14% drop between now and September.
1) The first way uses optimal puts*; this way allows uncapped upside, but is more expensive. These were the optimal puts, as of Tuesday's close, for an investor looking to hedge 1000 shares of PFE against a greater-than-20% drop between now and September 20th: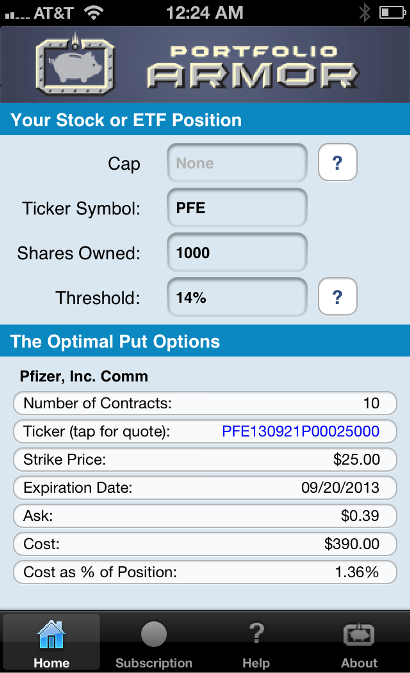 As you can see at the bottom of the screen capture above, the cost of this protection, as a percentage of position value, was 1.36%. By way of comparison, the cost of hedging the SPDR S&P 500 Trust ETF (NYSEARCA:SPY) against the same downside over the same time frame, was 1.26% of position value.
2) A Pfizer investor interested in hedging against the same, greater-than-14% decline between now and September 20th, but also willing to cap his potential upside 11% over that time frame, could have used the optimal collar** below to hedge instead (I've used an 11% cap here, because that was the smallest cap at which there was a significant reduction in the net cost of hedging).

As you can see at the bottom of the screen capture above, the net cost of this collar, as a percentage of position value, was 0.84%.
Note that, to be conservative, the cost of both hedges was calculated using the ask price for the optimal puts and the put leg of the optimal collar, and the bid price of the call leg of the optimal collar; in practice, an investor can often buy puts for some price less than the ask price (i.e., some price between the bid and ask) and sell calls for some price higher than the bid price (i.e., some price between the bid and the ask).
*Optimal puts are the ones that will give you the level of protection you want at the lowest possible cost. Portfolio Armor uses an algorithm developed by a finance Ph.D to sort through and analyze all of the available puts for your stocks and ETFs, scanning for the optimal ones.
**Optimal collars are the ones that will give you the level of protection you want at the lowest net cost, while not limiting your potential upside by more than you specify. The algorithm to scan for optimal collars was developed in conjunction with a post-doctoral fellow in the financial engineering department at Princeton University. The screen captures above come from the Portfolio Armor iOS app.
Disclosure: I have no positions in any stocks mentioned, and no plans to initiate any positions within the next 72 hours. I wrote this article myself, and it expresses my own opinions. I am not receiving compensation for it (other than from Seeking Alpha). I have no business relationship with any company whose stock is mentioned in this article.