JPMorgan Chase & Co. (NYSE:JPM) is in the midst of another round of negative publicity which has become a common occurrence over the past year. The $6.2 billion proprietary trading loss by the infamous London Whale, and new FBI investigations have called into question the bank known for its deft navigation of the financial crises and its outspoken Chairman and CEO Jamie Dimon.
Regardless of the recent downturn in the share price, JPMorgan remains at the head of the pack in terms of potential for dividend growth, valuation and strength of management. JPM represents solid value at current levels and would be even more attractive on a further pullback.
JPM Share Performance since the London Whale Surfaced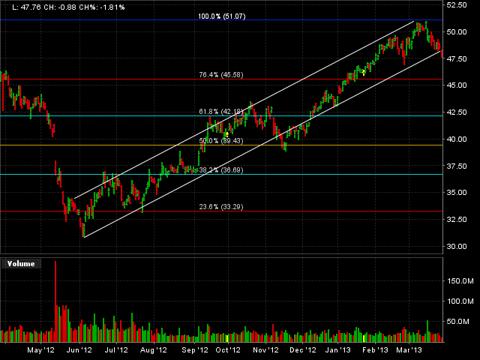 Click to enlarge
(Click to enlarge)
Source: Interactive Brokers
JPM Management Still a Strength
Turnover in the executive ranks at JPMorgan has no doubt been uncomfortable for shareholders in recent quarters, as has the perceived lack of risk oversight. However, two major truths remain consistent: the bank's ability to retain and develop top talent in addition to accountability for poor performance, even if belated, for all employees regardless of rank.
The fiasco that originated in the JPMorgan London CIO office has rightfully lead to the departure of many senior and long time executives. What is impressive however is the depth of the bank's staff, and its ability to shift bankers and traders into new roles while at the same time improving internal controls and risk oversight.
Even at an institution with a balance sheet the size of JPM, a $6.2 trading loss that was hidden for some time is alarming. It does appear, based on public information, that there was indeed a lack of proper ethics, risk controls, and decent judgment demonstrated in this incident.
The questions for investors going forward is have internal issues been addressed? And is poor behavior likely to reoccur in the future?
The answer to both queries seems positive for the future of the firm, even if the aftermath of past transgressions drags on for some time. Several employees involved at the highest level of the firm have not only departed, but they have had significant claw backs in salary totaling tens of millions of dollars. Even Mr. Dimon had his salary halved by the board of directors, a penalty unheard of on Wall St.
The message to employees is clear: incompetence that costs shareholders money will cost you your salary, one way or another. On the always mercurial and often opaque Wall St., a clearer message cannot be delivered.
Banking Valuations Remain Divergent
The management at JPMorgan may not even be the greatest area of strength for the bank relative to its peers. Using basic valuation and growth metrics, JPM still is inexpensive compared to the competition.
Banking, perhaps more so than any other industry, requires extreme diligence in balance sheet evaluation, and sometimes even the extra scrutiny is not sufficient. Changes to FASB 157, such as the ability to mark Level III assets at the banks discretion, mean valuation metrics need to be taken with a grain of salt.
However, a comparison to Bank of America (NYSE:BAC), Citigroup (NYSE:C), Wells Fargo (NYSE:WFC), and the financial sector as a whole demonstrates that on a relative and risk basis, JPM is very attractive.
Big Four Valuation and Growth Metrics
| | | | | | |
| --- | --- | --- | --- | --- | --- |
| | JPM | BAC | C | WFC | INDUSTRY |
| REVENUE GROWTH (yoy) | 19% | -21% | 5% | 8% | 33% |
| OPERATING MARGIN (TTM) | 36% | 11% | 13% | 40% | 37% |
| P/E | 9.16 | 48.88 | 18.21 | 11 | 11.07 |
| FORWARD P/E (2014) | 8.21 | 9.33 | 8.5 | 9.51 | |
| PEG (5y) | 1.28 | 0.67 | 0.83 | 1.06 | 1.05 |
| DIVIDEND YIELD | 3.10% | 0.30% | 0.10% | 2.70% | |
| PAYOUT RATIO | 22.00% | 16.00% | 2.00% | 26.00% | |
| PRICE/BOOK (mrq) | 0.95 | 0.61 | 0.73 | 1.35 | |
Source: Yahoo.com
Although WFC has the potential to increase its dividend, both BAC and C will need to demonstrate balance sheet improvements before initiating further substantial long term buybacks and dividend increases at the pace of JPM. While both BAC and C, having fallen much further since the financial crises, may show more upside for capital appreciation in the coming years, they also come with greater risk if a market downturn occurs.
Dividend Growth and Share Buy Backs on the Horizon
JPMorgan fared very well in the recent round of stress tests conducted by the Federal Reserve, even if one is skeptical of the value of the process in of itself. The company has since indicated that it will buy back $6 billion of shares in 2013, and increased the dividend, which currently sits at just over 3.0%. With the dividend yield already expected to jump in 2014, a reasonable payout ratio, and net income at record levels, consistent improvements in the quarterly payout over the next several years seem possible.
Big Four Net Income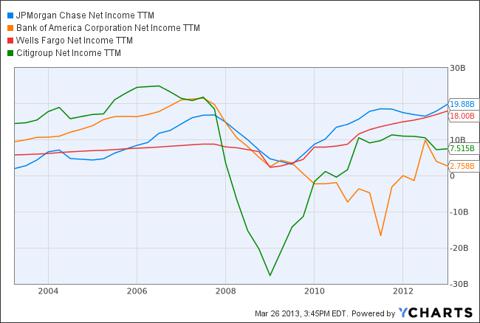 Click to enlarge
(Click to enlarge)
Source: YCharts.com
The reality is that the remaining "Too Big to Fail" banks will likely be able to finance at near zero for the foreseeable future, unless the global economy improves substantially and inflation begins to set in. If this were to occur, the yield curve would steepen and only further improve bank's Net Interest Margin, and thus ability to grow its dividend.
In a banking environment that has seen Net Interest Margins continue to shrink, the ability to allocate capital proficiently while minimizing credit losses is crucial. In this regard both JPM, as well as WFC, have been among the best performers, not only in the United States, but globally.
Net Interest Margin for U.S. Banks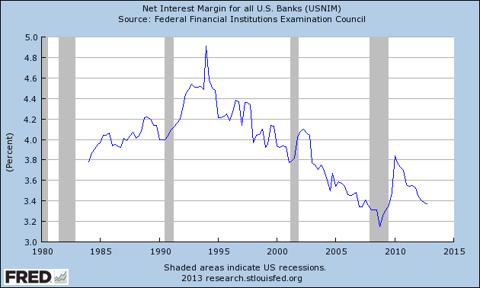 Click to enlarge
(Click to enlarge)
Source: St Louis Federal Reserve
Potential Long Term Portfolio Cornerstone
The risks associated with an investment in JPMorgan are largely the same as any investment in the health of global economy and the financial sector overall. Flare ups, such as the events unfolding in Cyprus, are likely to persist in coming years and will represent challenges to all participants in the banking arena.
This is the cost of investing in today's world, and makes investing in companies adept at crisis management more important than ever. JPM has consistently shown the ability to weather the storms that arise, even those that could, and should have, been avoided all together.
On both a valuation and management basis, and despite recent setbacks, JPMorgan remains a blue chip asset. The further possibility of share buybacks and an increasing dividend make JPM a potential long term allocation for a diversified portfolio.
The current perceived vulnerability at the firm may see shares pull back further to the mid $40's, which could represent an excellent buying opportunity. Although JPM may not be the most exciting ticker in a portfolio, with the banks proven ability to persevere, one is not likely to lose sleep over the name either.
Disclosure: I have no positions in any stocks mentioned, but may initiate a long position in JPM over the next 72 hours. I wrote this article myself, and it expresses my own opinions. I am not receiving compensation for it (other than from Seeking Alpha). I have no business relationship with any company whose stock is mentioned in this article.