By John Spence & Tom Lydon
Vanguard said two of its developed market international ETFs tracking European and Pacific stocks will transition from MSCI indices to FTSE benchmarks on Wednesday.
Vanguard MSCI Europe ETF will become Vanguard FTSE Europe ETF (NYSEARCA:VGK), and Vanguard MSCI Pacific ETF will become Vanguard FTSE Pacific ETF (NYSEARCA:VPL), the asset manager said.
In October 2012, Vanguard announced plans to change the tracking indices for many of its index funds and ETFs. The Valley Forge, Penn.-based firm said the move would affect 22 index funds, including ETFs.
The asset manager said it planned to transition six international stock index funds to FTSE benchmarks and 16 U.S. stock and balanced index funds to new benchmarks developed by the University of Chicago's Center for Research in Security Prices (Pending:CRSP).
The shift is "expected to result in considerable savings for the funds' shareholders," Vanguard said at the time.
In a press release this week, the firm said VGK and VPL reported 2012 expense ratios of 0.12%, a decline of 2 basis points from 2011. "The current expense ratios of the funds will not be immediately affected by the transition, although Vanguard expects that the licensing agreements with FTSE will enable the firm to deliver lower costs over time," Vanguard said.
Vanguard FTSE Europe ETF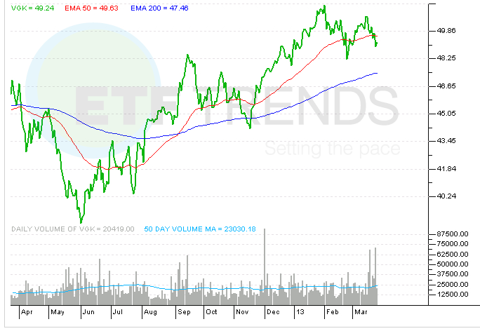 Click to enlarge
Disclosure: I have no positions in any stocks mentioned, and no plans to initiate any positions within the next 72 hours. I wrote this article myself, and it expresses my own opinions. I am not receiving compensation for it. I have no business relationship with any company whose stock is mentioned in this article.