It seems like every time I am on the road I see a groundbreaking for a new bank branch. It is an age-old business model in the banking industry, but would seem to create excessive overhead. However, there are banks building very successful businesses without the need for all of this expensive overhead. One of these banks, First Internet Bancorp (NASDAQ:INBK), was recently listed on the NASDAQ.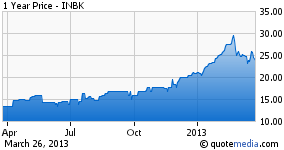 Prior to the listing, the stock had a very good run based on just its performance alone. When I mentioned it in my newsletter, The Scavenger Report, on October 5, 2012 the stock was trading at $17.00 per share. When the company announced that it had applied to list its common stock on the NASDAQ Capital Market on December 4, 2012, the stock closed at $19.25 per share which was up only $0.25 on the day. The company then commenced trading on the NASDAQ on February 22, 2013. By this time the stock had been on a tear, rising 44% to close at $27.74 per share the day prior to the listing. The listing of the stock did give the stock a further boost as it peaked at $29.65.
This was all great news for the long-term shareholders of First Internet. However, since reaching that peak, shares have been on a slide dropping over 13% in just a week and 19% overall. A sell-off of this nature is to be expected after such a significant run that saw the stock rise roughly 115% in the year leading up to its peak. A combination of long-term shareholders and those flipping the stock after buying on news of the listing are most likely taking money off the table. However, this breather may not last long.
The company produced enviable results for its year ended December 31, 2012, and will be closing its first quarter as a listed company at the end of this month. On January 31, 2013, the company reported earnings per share climbed 76% to $2.93 per share for 2012 and fourth quarter earnings were up over 44% to $0.81 per share. The bank also noted that tangible book value at the end of 2012 was $29.46 per share compared to $26.57 per share at the end of 2011. If the company is able to build on the success of last year, larger investors will take note. In addition to its earnings momentum, the stock would appear to be significantly undervalued compared to its peers.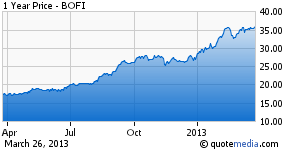 Given the rare business model for this bank, it is not as easy to find a comparable institution. However, there is one that has also experienced fast growth and a stock price that turned in a similar performance to its peak over the last year. Like First Internet, BOFI Holding, Inc. (NASDAQ:BOFI) operates primarily without the high cost of brick and mortar branches. BOFI is much larger than First Internet with a market cap nearly 10 times its size, but a comparison of some basic metrics would indicate that First Internet may still be significantly undervalued if it can continue to execute on its plan.

The table above gives a small picture of how First Internet and BOFI compare and on the surface First Internet looks to be the more undervalued investment. One metric that may explain the current premium enjoyed by BOFI is return on average assets, which is a very important when evaluating a bank. BOFI currently is showing a return on average assets of 1.45%. On the other hand, First Internet is currently showing a return on average assets of 0.91%. However, that is up from 0.59% for First Internet over its previous year as the bank scales up and becomes a more efficient manager of assets. First Internet has a history of being conservatively managed and boasts a high loan quality. The Chairman and CEO of First Internet, David Becker, stated the bank continues to build on its nationwide visibility and anticipates further growth of its national residential mortgage origination business in 2013. Both banks appear to have good prospects, but from a value prospective, the smaller First Internet is my pick in this niche banking sector.
Disclosure: I am long INBK. I wrote this article myself, and it expresses my own opinions. I am not receiving compensation for it (other than from Seeking Alpha). I have no business relationship with any company whose stock is mentioned in this article.