As Q1 comes to an end, window-dressing, a practice where institutional investors dump losers and buy or at least retain winners in order to "look smart" to their investors, has likely almost ended, making it potentially a good time to focus on some of the laggards of late. Given how many stocks bounced back from the dead this quarter, like Netflix (NASDAQ:NFLX), BlackBerry (NASDAQ:BBRY), Best Buy (NYSE:BBY), Sunpower (NASDAQ:SPWR) and SUPERVALU (NYSE:SVU), I thought it might make some sense to focus on stocks that have performed very poorly that could be due for a big bounce.
395 of the Russell 3000 members (>13%) trade at least 30% below their 52-week highs. Given that I am a little concerned about the market's rally being a bit extended, which could lead to a bit of rotation, I decided to screen this universe for a few other signs of a potential resurrection:
>3% return in March
<15% above the 52-week lows
Pretty simple screen. The point was to find big losers (down more than 30% when the rest of the market is at new highs), but that were starting to bounce but not yet up that much. Here are 30 stocks that made the cut: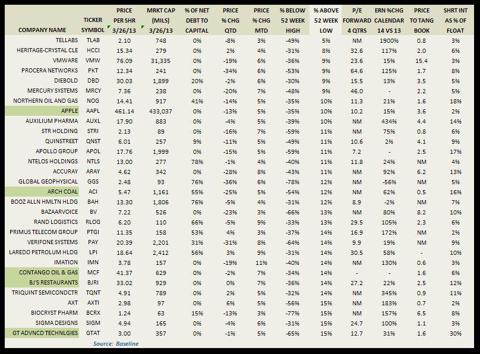 Click to enlarge
Please keep in mind that these aren't recommendations. I am just looking for ideas here. None of these stocks is on my watchlist of 100 stocks, though several are on a secondary list of "prospects" I maintain or are stocks I have investigated for clients in the past couple of years.
Note that the stocks are sorted by how close they are to their 52-week lows. I have included some additional information, including Market Cap and Net Debt to Capital. QTD performance shows that some of the stocks are up, but they are all trailing the S&P 500's return of about 10%. I included forward PE ratios and analyst 2014 EPS growth expectations. I also noted the Price to Tangible Book ratio, which can sometimes indicate potential value. Note that several are below 1X. Finally, several of the stocks have high short-interest ratios. With this in mind, here are 5 names that jump out at me as deserving a closer look.
Apple (NASDAQ:AAPL)
I think things are about to improve for AAPL shareholders. I last wrote about the stock as it was plunging in January, suggesting that the decline "made sense." I had thought that the 450 level might contain the move, and the low near 419 proved to be not too far. At this point, we are a few weeks away from what will be their nastiest earnings report in a long time. The projected EPS change from a year ago is down 17% (on 9% sales growth), but the comparisons start to get better over the second half of the year. The stock recently broke a trend of the declining 10-week moving average: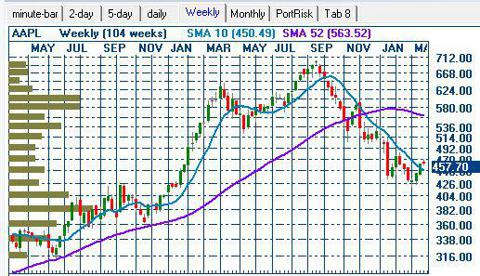 Click to enlarge
The stock is cheap, the "optics" are about to improve, and it looks like a bottom is in.
Arch Coal (ACI)
A lot of people were bullish on coal going into the year, but this has proved to be a very bad bet. With that said, natural gas prices have bounced nicely. I think sentiment has swung too far on the sector, and the stocks are just too cheap. This is an area in which I find it hard to build a great long-term thesis for investment, but I could say the same for NFLX, BBRY and BBY too. Lots of debt here and lots of shorts too.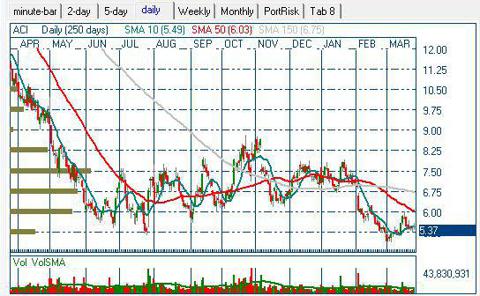 Click to enlarge
This one has just barely bounced. Just getting back to where it was at year-end would be a huge move.
Contango Oil & Gas (NYSEMKT:MCF)
I was quite cautious on MCF last summer when their founder and key employee took a leave of absence due to a medical condition. Not only was I concerned about the interim actions taken, but I also felt that the stock might be incorporating some faulty earnings estimates, as I detailed at the time. Since then, the company has made a permanent CEO hire that seems favorable to me. Plus, natural gas prices have risen a lot. I think that this stock, which isn't widely followed, could bounce back nicely as investors gain confidence in the new CEO.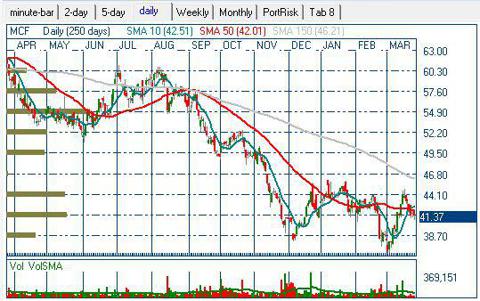 Click to enlarge
BJ's Restaurants (NASDAQ:BJRI)
Restaurants are performing well, but BJRI has struggled with high valuation after a huge rally. If you look into what other authors have shared lately, the common theme has been just that: Too high a valuation as opposed to some sort of fundamental challenge. This is a great regional to national play. I think that 2012 was a really bad year for them from an EPS growth perspective, as new store openings and generally soft restaurant industry conditions hurt them. They made some investments as well that had a near-term negative impact. With that said, I really like their new CEO (this may be another concern for those who haven't fully investigated his background, as CEO Greg Trojan did come in from the outside). The stock is still expensive, but the growth is likely to pick up now.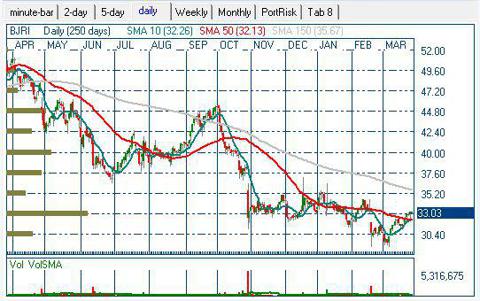 Click to enlarge
The stock has bounced, but it's unchanged YTD. I had called it out (along with MCF at 40) late in 2012 when I ran a screen on companies that have been hammered that I thought might make sense to consider from a contrarian perspective. Many of those stocks, by the way, have soared subsequently.
GT Advanced Technology (GTAT)
Formerly GT Solar, GTAT made a big acquisition a couple of years ago that made it a technology leader in LEDs with its ovens used to make sapphire. Meanwhile, the solar and polysilicon businesses have imploded and have only one way to go from here, seemingly. Note the double-bottom in the chart, the high short-interest, the proximity to tangible book value, the low PE and the reasonably strong balance sheet. I am no longer negative on this one, which I used to include in my watchlist but had booted: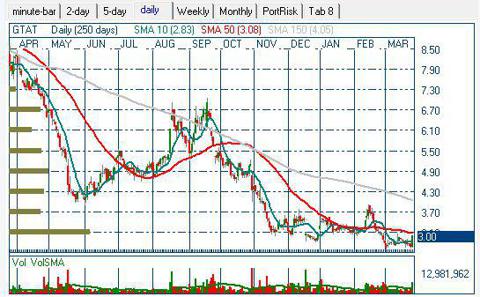 Click to enlarge
We have looked at just a few of the 30 names that made the cut in this contrarian screen. One of the things I appreciate most about sharing my thoughts on Seeking Alpha is the feedback I get from readers. With this in mind, which of these stocks do you think looks like it may have the potential to come back to life?
Disclosure: I have no positions in any stocks mentioned, and no plans to initiate any positions within the next 72 hours. I wrote this article myself, and it expresses my own opinions. I am not receiving compensation for it (other than from Seeking Alpha). I have no business relationship with any company whose stock is mentioned in this article.