The decrease in US gas prices has brought the fertilizer sector in limelight; this is a great opportunity for the investors who are aiming to put some profit in their pockets. Many other factors are favorably affecting the fertilizer sector of USA. To mention a few, in United States crop conditions and area under cultivation are supporting fertilizer demand. Tight stock - to - use ratios, high planting expectations for crops (as shown in the figure below) and attractive returns available to farmers and below-trend fertilizer cost-to-revenue ratio are fueling the higher demand for Fertilizer in US. To avail the opportunity at hand, I am scrutinizing four companies from this sector to identify a pick that benefits most from these favorable factors and presents the highest potential for return. This article will analyze CF industries (NYSE:CF), Agrium Inc. (NYSE:AGU), The Mosaic Company (NYSE:MOS) and Postash Corporation (NYSE:POT).
Fertilizer Overview
Fertilizers play a critical role in world food production. They are currently responsible for between 40 to 60 percent of the world food supply. Fertilizers enrich soil to promote healthy and abundant crops for food production. Fertilizer nutrients are primarily of three types, which are produced and consumed, including Nitrogen, Phosphorus and Potassium. Nitrogen fertilizer is the most rewarding fertilizer among them. The primary raw material for nitrogen production is natural gas, which contributes about 70 to 90 percent to the cost of production. It is currently produced in over 80 countries worldwide.
Demand Drivers
To understand the fertilizer industry, we must understand the factors affecting its demand and supply. The demand and supply of fertilizers depends on number of factors, including natural gas price, crop prices and size of area plotted. As it is mentioned earlier that the key raw material for Nitrogen fertilizer is natural gas, which means fertilizer prices are dependent on natural gas price. If natural gas price increases, then fertilizer price does as well, which results in a decline in local fertilizer demand. This significantly reduces local supply and promotes fertilizer imports. While if natural gas prices decrease, manufacturers produce more fertilizer by re-starting halted production facilities or by investing in new production plants, and that results in a higher local supply.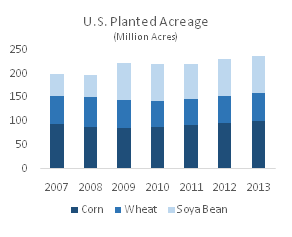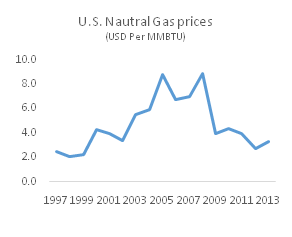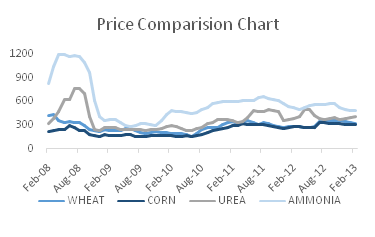 Fertilizer prices are more tied up with crop prices than natural gas prices. This means that correlation between crop prices and fertilizer prices is higher than correlation between natural gas prices and fertilizer prices. As we know, fertilizer prices are critical for farmers because they constitute around 30 to 40 percent of total production costs for farmers. Corn uses more Nitrogen based nutrients compared to Soybeans or Wheat. This shows that if there is an increase in Corn prices, fertilizer prices will also increase, and vice versa.
In this case of higher Corn prices, producers can capture wide margin, due to low production costs and high selling prices. This is the reason that when there are low gas prices and higher crop prices, investors invest in fertilizer sector more.
Overview of the Companies:
Before I get started with the analysis, let me just give a quick overview of the companies. CF Industries Holdings, Inc. is a major manufacturer and distributor of Nitrogen and Phosphate fertilizer products worldwide. It operates in two segments, Nitrogen (83 percent) and Phosphate (17 percent). The company is deploying capital to initiate acquisitions, share repurchase programs and capacity expansions. The company made the following announcement:
Announced CAD 0.9 billion agreement to purchase outstanding interests in Canadian Fertilizers Limited
Authorized USD 3.0 billionshare buyback through 2016
The company capacity expansion projects include:
Authorization of expenditure of USD 3.8 billion including USD 2.1 billion at Donaldsonville and USD 1.7 billion at Port Neal
Tons per Day

Annual Capacity (000 tons)

Typical Product Mix (000 tons)

Donaldsonville, LA

Ammonia

3,640

1,274

184

Urea

3,850

1,348

686

Nitric Acid

1,675

586

-

UAN

5,050

1,768

1,768

Port Neal, IA

Ammonia

2,425

849

81

Urea

3,850

1,348

1,348
Agrium Inc. is a major retail supplier of agricultural products and services in North and South America as well as a leading global wholesale producer and marketer of all three major agricultural nutrients and the premier supplier of specialty fertilizers in North America through its Advanced Technologies business unit. The Mosaic Company produces and markets concentrated Phosphate and Potash crop nutrients for the agriculture industry worldwide. Potash Corporation produces and sells fertilizers and related industrial and feed products primarily in the United States and Canada. It also offers solid and liquid Phosphate fertilizers; animal feed supplements,and purified phosphoric acid.
Excellent Execution:
While analyzing a financial position of the company, gross margin is a very important tool, because it measures company's manufacturing and distribution efficiency during the production process. CF industries' higher gross margin than its competitors shows that it is more efficient. In reviewing the gross margin over the three years, we can see an increasing trend for CF industries over that period of time. Agrium, Mosaic and Potash Corporation saw their gross margins increase in 2011, but then dropped in 2012. (Note: The rapid increase in CF's margins from 2010 to 2011 were due to its acquisition of Terra Industries in 2010) Agrium and Mosaic dropped due to increase in cost of production, and Potash Corp.'s gross margin dropped due to decrease in sales.
EBITDA margin is also an effective tool to measure a company's operating profitability. This is a great tool for comparing companies in an industry to see which company might have the best potential. We can see an upward trend in CF industries' EBITDA margin, which means that operating profitability is increasing with the passage of time.
CF industries' higher ROE in 2012, shows that the company uses its investment funds well to generate earnings growth. The increase in its ROIC also makes CF industries superior among its competitors because this ratio evidently indicates its strength generating cash flow relative to capital invested in the business.
After analyzing financial statements for all four companies, CF industries' financial performance shows excellent execution.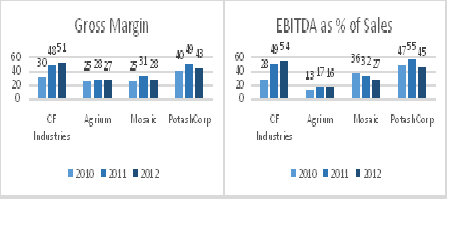 Outperforming peers yet trading at discount:
After financial analysis, I have done a multiple valuation analysis, because it is easy to understand and offers quick comparison. The following table shows different multiples of four selected companies' and there industry average. One can clearly see that CF industries carries the lowest Price-to-earnings, Price-to-Book, Price-to-Cash Flow and EV/EBITDA multiples,as compared to its competitors and industry average.
EPS is a useful measure of profitability, and when compared with EPS of other similar companies, it gives a view of the comparative earning power of the companies. The table below indicates that CF has more earning power than its competitor.
| | | | | | |
| --- | --- | --- | --- | --- | --- |
| | CF | AGU | MOS | POT | Industry |
| EPS | 28.6 | 9.55 | 4.3 | 2.37 | 1.16 |
| Price/Earnings | 6.78 | 10.52 | 13.95 | 16.69 | 16.4 |
| Price/Book | 2.1 | 2.2 | 2 | 3.5 | 3.3 |
| Price/Sales | 2.03 | 0.9 | 2.6 | 4.68 | 3.53 |
| Price/Cash Flow | 5.4 | 7.4 | 11.2 | 10.7 | 10.7 |
| EV/EBITDA Multiple | 3.7 | 9.8 | 7.5 | 10.8 | |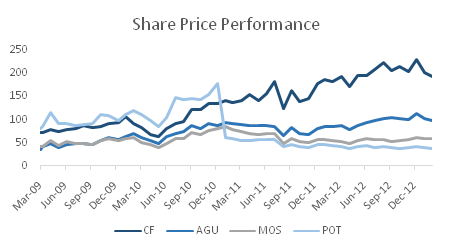 Conclusion:
After analyzing financials and key multiples, it is clear that CF industries is outperforming its competitors and is trading at a discount. The company is trading at lowest multiples with high profit margins. The expansion plans also evidently demonstrate its commitment towards higher growth. Furthermore, the decreasing natural gas prices also favor CF Industries as it currently produces 83 percent of Nitrogen fertilizer. The strong profit margins and an ROE of 35% make CF a great opportunity at hand. CF is currently available at a discounted price in the market. It is not only the low price that is listing CF as a buy on my list, the expansion plans hinting at the prospective growth, that is not yet priced in the stock, makes CF a rare opportunity. All these factors have combined to make CF a perfect Buy for me.
Disclosure: I have no positions in any stocks mentioned, and no plans to initiate any positions within the next 72 hours. I wrote this article myself, and it expresses my own opinions. I am not receiving compensation for it (other than from Seeking Alpha). I have no business relationship with any company whose stock is mentioned in this article.