By Todd McDonald - Event Analyst
Overview
BlackBerry (NASDAQ:BBRY) is scheduled to report 4Q 2013 earnings before the market opens on Thursday, March 28, with a conference call to follow at 8 a.m. EST to accommodate closed markets on Good Friday, March 29. Much of the recent focus has been on the new BlackBerry Z10 release. However, this will have little effect on the upcoming earnings results. The phone was only available for purchase in foreign markets in late February, and the upcoming release is based on the fiscal quarter ending on February 28.

Outliers & Strategy
Adjusted Earnings Per Share: The consensus estimate is a loss of (-$0.29) with a range of (-$0.52) to (-$0.08). Source: MarketWatch.com. Adjusted Earnings Per Share have beaten analyst consensus estimates five of the last eight quarters.
Revenues: Revenues are expected to come in at $2.84 bln, towards the lower end of the projected range of $2.41 bln-$3.42 bln. Revenues have beaten analyst estimates just three out of the last eight quarters.
Implied Volatility: Over the past eight quarters, the average absolute move one day after earnings are released was 14.59%. Using options premiums, traders are expecting approximately an 11.12% absolute move. About 32% of shares are held short.
Recent News
03/25: According to a post on StreetInsider.com, Peter Misek of Jefferies stated that demand for the new BlackBerry Z10 is above the firm's expectations. Jefferies has a $19.50 price target on BlackBerry shares.
03/25: Goldman Sachs downgraded from Buy to Neutral, lowering its price target to $17 from $19, according to a post on Benzinga.com. Analyst Simon Jankowski cites a soft release in the United States and inadequate marketing. Shares fell almost 4% following the downgrade to $14.33.
03/22: According to a post on StreetInsider.com, Deutsche Bank's store checks have shown weak traction in the Canadian and United Kingdom markets. Analyst Brian Modoff notes that some stores have even lowered prices on the Z10, suggesting margin pressures. Deutsche Bank has a price target of $8.00 and maintains a Hold rating.
03/22: BlackBerry launched its brand new Z10 smartphone in the United States.
01/31: Beginning on February 4th, BlackBerry announced it will begin trading under the ticker BBRY (formerly RIMM) on Nasdaq.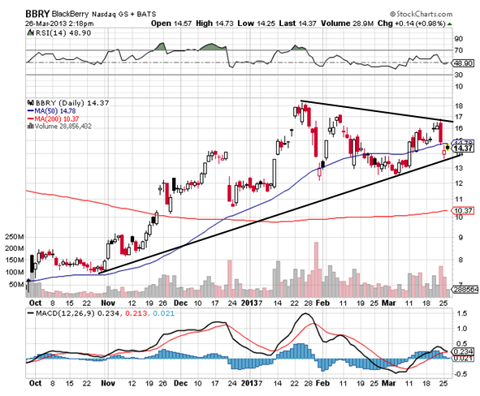 Technical Review
BlackBerry shares have had a solid YTD, rising about 20%, outpacing the S&P 500 by approximately 10%. Should earnings disappoint, look for initial support in the $12.50 area, followed by the $11 area, and ultimately the 200-day SMA near $10.40. Conversely, if earnings surprise to the upside, look for resistance at $16, followed by the $17.25 area. (Chart courtesy of StockCharts.com)
Summary
Optimism over the new BlackBerry Z10 has been a major catalyst for price action since the last earnings release. With a wide variance in sell-side sentiment, a tightening trading range, a high short interest, and uncertainty about BlackBerry's future profitability, the upcoming release has a significant chance to cause a large swing in share prices. Be sure to pay close attention to the conference call and any mention on the adoption of the new Z10 smartphone.
Disclaimer: By using this report, you acknowledge that Selerity, Inc. is in no way liable for losses or gains arising out of commentary, analysis, and or data in this report. Your investment decisions and recommendations are made entirely at your discretion. Selerity does not own securities in companies that they write about, is not an investment adviser, and the content contained herein is not an endorsement to buy or sell any securities. No content published as part of this report constitutes a recommendation that any particular investment, security, portfolio of securities, transaction or investment strategy is suitable for any specific person.
Disclosure: I have no positions in any stocks mentioned, and no plans to initiate any positions within the next 72 hours. I wrote this article myself, and it expresses my own opinions. I am not receiving compensation for it (other than from Seeking Alpha). I have no business relationship with any company whose stock is mentioned in this article.