Facebook (NASDAQ:FB) is still trading at a steep discount. The sad part is that many shareholders seem to know that the stock is trading at a high valuation. However, they seem to justify the current valuation by believing that Facebook could become the next Google (NASDAQ:GOOG).
While Facebook has a user base over a billion, they just haven't been able to monetize it. Companies like Facebook have to give away services to attract users and instead use advertising to make money. It's much easier to build a strong user base through free services.
I believe the company is overvalued and have completed a DCF. The following model shows that even under the most optimistic conditions, Facebook is trading at an expensive valuation.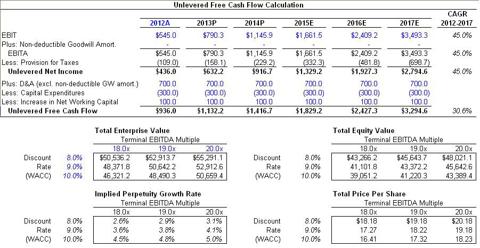 I have used the following assumptions when performing the model:
A 45% annual EBIT growth for the next five years
Constant depreciation of $700M.
Constant CapEx of $300M
An increase in net working capital of a $100M each year
Tax rate of 20%
The highest amount of depreciation in the last 4 years was $649M in 2012. We are using $700M to inflate cash flow. CapEx in 2012 was over $1.2 billion and we are going to use a $100M. Net working capital actually declined by $491M in 2012 and we are assuming an increase of a $100M each year.
While Facebook has grown revenue at an annual rate of 60% in the last three years, the company's EBIT has actually fallen. EBIT is down 47% in the last three years. Knowing this, we have still chosen to assume a 45% annual growth rate.
As you can clearly see, we have made a model that many investors would even find optimistic. So what is the finally per share valuation for the stock?
Assuming an 8% target rate of return by investors and a 20.0x multiple, we get to a $20.18 per share target. Honestly for a company like Facebook, an 8% discount rate is extremely low. Investors in a high growth company like this would typically expect more, but for the sake of being conservative we will use it.
I honestly believe that the stock will decline to $20 over the year and possibly fall even further in 2014, when investors realize speculation has surpassed earnings. Facebook may have a billion users now, but at the end of the day stocks are priced based on earnings. Facebook is clearly not priced on earnings and investors should either sell or consider taking a short position.
Disclosure: I have no positions in any stocks mentioned, and no plans to initiate any positions within the next 72 hours. I wrote this article myself, and it expresses my own opinions. I am not receiving compensation for it (other than from Seeking Alpha). I have no business relationship with any company whose stock is mentioned in this article.