April 20th, 2010 was an infamous day for BP p.l.c. (NYSE:BP) and its shareholders. That was the day of the Macondo blowout, which tragically killed 11 workers and injured another 17. An estimated 4.9 million barrels of oil spilled into the Gulf of Mexico in the following months, while just about each and every day the news was filled with horrible news and outrage directed at the company. It is hard to believe that three years have nearly passed, but the uncertainty about the total damage BP faces is still pervasive. Clearly mistakes were made that had dire consequences, but moving forward I believe the future for BP shareholders is much brighter. Buoyant energy prices allowed the company to divest assets in what predominantly was a sellers' market, while a renewed focus on high-margin projects should lead to a more efficient international oil company. This should enable the company to achieve higher returns on invested capital, pay out larger dividends, and buy back stock when it is accretive.
BP's focus will be primarily on four locations, which have high-margin characteristics, because BP can leverage its technical expertise and experience dealing on projects of significant scale. The core four areas are Angola, Azerbaijan, the Gulf of Mexico and the North Sea. These geographies allow BP to play to its strengths in exploration, deep water, giant fields and gas value chains. By focusing on fewer geographic areas, BP is able to pool its resources to optimize cost and execution efficiency. Most of BP's production is priced off Brent Crude, which has more attractive pricing dynamics currently than WTI, and the liquids heavy exposure of the company is certainly a positive with North American natural gas prices being so low. BP intends to increase investment in exploration with a drilling program that is expected to test 15 new plays from 2012-2015. The company believes that based on its current asset profile, that it can increase its net cash provided by operating activities by 50% in 2014 compared with 2011. Based on BP's 2011 operating cash flow of $22.2 billion, 2014 operating cash flow should be somewhere around $30 billion. BP intends to use half of the incremental operating cash for reinvestment, and the other half for purposes that could certainly include dividends and stock buybacks. BP's net debt ratio at year end was 18.7%, and the company plans to keep that between 10-20% moving forward.


2012 was a year of transition for BP and while the company posted $375.580 billion of revenues, the profit attributable to BP shareholders was $11.582 billion, down from just under $26 billion in 2011. BP posted underlying replacement cost profit of $17.6 billion, and post-tax operating cash flow of $20.4 billion, but I'd expect to see marked improvement moving forward. Recent earnings results are not exceptionally informative due to a vast amount of asset sales and fair value accounting effects. Just in 2012, BP disposed of $11.4 billion of non-core assets. Organic capital expenditure was $23.1 billion in 2012. During the year, the company started off five major projects; Galapagos in the U.S. Gulf of Mexico, Devenick in the UK North Sea, PSVM in Angola, Skarv in the Norwegian Sea, and Clochas Mavacola in Angola where BP has an interest. BP has acquired new acreage in Brazil, Canada, Namibia, Trinidad and Tobago, Uruguay and the United States. Combined, the company acquired twice as much acreage since 2010 than the company did in all of the nine previous years.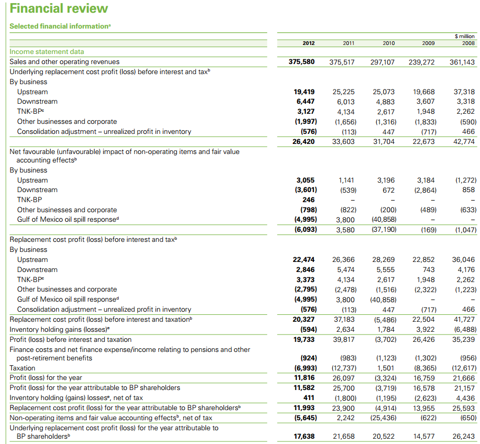 On October 22nd, BP announced the end of its extremely lucrative TNK-BP joint venture in Russia with a sale of its stake to Rosneft. In 2003 BP invested about $8 billion for its 50% stake in the company, and over its 9 year holding period, BP received $19 billion in dividends. Unfortunately, 50/50 partnerships are often problematic, and being partnered with a Russian energy company in the era of Vladimir Putin is a tricky proposition, to say the least. The deal, which just closed on March 21st, provided BP with $16.65 billion in cash, and shares representing 12.84% of Rosneft. BP then used roughly $4.87 billion of the cash proceeds to acquire an additional 5.66% of Rosneft from the Russian government. Because BP already owned 1.25% of Rosneft, BP now owns 19.75% of the company, and will have $12.48 billion in cash left over. Rosneft will now be the largest international oil company in the world in terms of reserves and production. The hope is that BP can share its technological acumen to help Rosneft develop its robust asset base, including in the arctic, which is likely to be one of the last new frontiers for oil exploration.
Based on Russia's history of corruption and expropriation, there is reason for investors to view this partnership with trepidation. I believe BP got the best possible result that it could in a challenging time for the company. The TNK-BP partnership was extremely profitable, BP converted its remaining stake to a significant amount of cash that can further strengthen its financial condition, and it now has a nearly 20% stake as a call option on the largest international oil company in the world. While dividends aren't likely to be as robust as they were from TNK-BP, BP's ownership stake shouldn't be seen as threatening at less than 20%, so I believe that the added value BP can provide to Rosneft should foster a more amicable relationship than BP had with TNK. On March 22nd, BP announced its intention to buy back $8 billion of its own stock, which should more than offset the dilution from in earnings per share from the TNK-BP sale. BP will keep the additional $4.48 billion of cash to maintain financial flexibility moving forward with all of the legal uncertainty. I believe that $8 billion of share buybacks will be highly accretive to the intrinsic value at, or near current prices.
BP ended 2012 with 3.193 billion diluted shares outstanding and based on a recent price of $42.27; the market capitalization is roughly $135 billion. Long-term debt stood at $38.767 billion and the company had cash and investments of $19.867 billion, which puts the enterprise value at roughly $154 billion. For the five years prior to the Macondo oil spill, in a favorable energy price environment, BP was averaging returns on invested capital and equity of greater than 17% and 22%, respectively. BP ended 2012 with shareholders' equity of $118.414 billion, which is its highest total in the last decade, despite the massive expenditures that have been paid out due to the oil spill. Even if we were to assume that BP could just attain a return on equity of 18% on its current shareholders' equity, normalized earnings would be just above $21 billion per annum. That was roughly the earnings power that BP had before the Macondo spill, and it can be explained due to the fact that despite having announced $38 billion of asset sales up to year end 2012, BP has retained 90% of proved reserves and production. BP sold about half of its upstream installations and pipelines, and 1/3rd of its wells.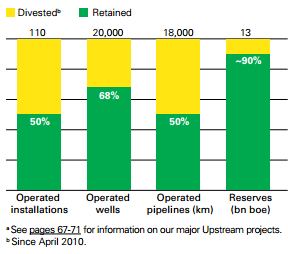 In 2012, BP resolved federal criminal charges with the department of justice and securities claims with the SEC. To date, BP has made $32.8 billion in payments directly related to the oil spill, but unfortunately BP still has substantial liabilities remaining. The most important lawsuit is regarding the Clean Water Act and claims that have been filed by litigious states in the Gulf Coast, that are circling around BP like vultures around a dead carcass. It is very difficult to predict the outcome of these legal issues, but I'd bet that costs will exceed BP's estimates by a few billion, but the removal of the uncertainty will lead to appreciation in the stock price. The market hates nothing more than uncertainty and legal uncertainty is often the worst type for investors, especially when the plaintiffs are so powerful and motivated, but BP is positioned to deal with whatever ramifications come its way.
I believe that BP is worth between $55-$65 depending on the trajectory of energy prices, particularly Brent prices. I'd expect the company to aggressively deploy the $8 billion for buybacks while the stock is trading below $45, and this should be highly accretive to earnings, offsetting the dilution from the disposition of TNK-BP. I believe BP's new management team is extremely focused on growing per share value, and a leaner and more focused operating structure should lead to much greater efficiency and profit margins. Although I am not optimistic about future legal settlements, as I believe they will be more costly than the company expects, I am confident that the removal of uncertainty will be the catalyst that propels the stock higher. Meanwhile at current prices, BP pays a dividend of nearly 5%, so the investors get paid handsomely while waiting.
Disclosure: I am long BP. I wrote this article myself, and it expresses my own opinions. I am not receiving compensation for it (other than from Seeking Alpha). I have no business relationship with any company whose stock is mentioned in this article.