Just two weeks after a bullish article on Visa (NYSE:V), Barron's cover story this week extols the virtues of American Express (NYSE:AXP) - suggesting shares could "at least double" over the next year or two.
American Express is in better shape than investors think. Under CEO Ken Chenault, it boasts a premier brand, lots of liquidity and a less risky business model than competitors. Getting a grip on defaults.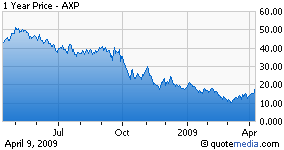 Much of the concern over AmEx stems from a sudden surge in loan charge-offs, far more severe than that of its rivals. To wit, in February, AmEx's charge-offs were 9.31% vs. an industry average of 7.76% - this after the company outperformed for most of 2008.
But Barron's Jonathan Laing says the numbers may be misleading. Early on in the credit crunch, when management realized it had overextended itself - particularly by pushing credit cards to consumers with more than one mortgage - AmEx began reducing outstanding credit with a vengeance by cutting credit lines, raising rates, and even offering high-risk customers cash to close accounts. The move wasn't popular, but AmEx managed to reduce its receivables to $57.8B from $65.9B. Which is great. Except that it magnifies its default rate in comparison to its peers by reducing the denominator (think of charge-off rates as default divided by total debt). Indeed, while charge-offs spiked in February, delinquencies rose just 12 bps and early-stage delinquencies actually fell by 9 bps.
Unlike its peers (Citigroup (NYSE:C), Bank of America (NYSE:BAC), JPMorgan (NYSE:JPM)), AmEx's main source of revenue is from transaction fees, not interest charges - which means it has less credit risk. Its "closed-loop" network, through which AmEx handles all its own transactions from start to finish (while other banks rely on card issuers), means more money stays put.
Some worry about AmEx's liquidity, but a recent analysis shows the firm has about $25B in cash and cash-equivalents (thanks in no small part to the generosity of Uncle Sam) - more than enough to cover its liquidity needs of $20B over the next year. Recently on its website, AmEx noted its ratio of tangible common equity to risk-weighted assets was 8.5% - higher than most bank holding companies and comfortably above the "well-capitalized" thresholds.
While conceding that the waters ahead may still be rough, one analyst warns that, "we never know until after the fact when the inflection point comes, as low valuation finally trumps near-term fundamentals," and adds, "Most people are going to miss the party if they wait for the turn in credit losses."
:::::::::::::::::::::::::::::::::
Tom Lindmark wonders what the impact of "the new American consumer" will be on credit card spending.
Victor Cook has spent some time trying to mathematically predict the likelihood of banks having hidden "hard-to-value" assets in their portfolio. AmEx raises a red flag in his scan.