Investors looking for great values over the longer term may be worried about the latest market rally. Investors are afraid that they might miss further gains, but they don't want to be the one that buys at the top like a few years ago. Today, I'm here to detail a name that has rallied lately, but still offers good long term potential through both growth and dividends. That name is fast food giant McDonald's (NYSE:MCD).
Dividend growth over time:
According to the company's dividend history, the dividend has been raised each and every year since the company started paying a dividend in 1976. For a period of years, the company was only paying a dividend once a year, but in 2008 they returned to a quarterly dividend. The chart below shows the growth in McDonald's quarterly dividend since 2008. Since the company has raised its dividend for the fourth quarter, I'm using the payout that happens three times a year for the "year" below. So for instance, the company paid three dividends of $0.70 in 2012 before the raise to $0.77 at the end of the year. Thus, the $0.70 fits in the "2012" year below.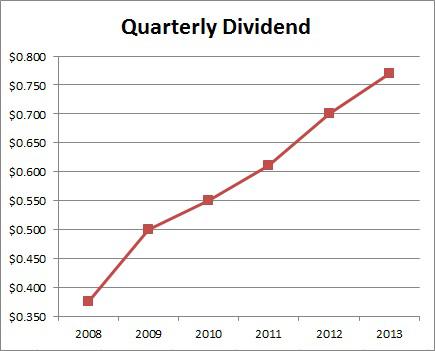 In 2008, the company was paying $0.375 per quarter to shareholders. Since that point, the dividend has more than doubled. Currently, McDonald's is paying $0.77 per quarter. That's $3.08 on an annual basis, which yields 3.11% as of Wednesday's close.
Continued stock buybacks:
McDonald's isn't just paying out large dividends to its shareholders. The company is also buying back a fair amount of stock as well. During the fourth quarter of 2012, the company bought back nearly 4 million shares at an average price of $88.29. That's more than $10 below the close we saw on Wednesday, meaning that the company did well with the buyback during the quarter.
As stated in their 10-K filing, the company's board of directors announced a $10 billion buyback plan on July 19, 2012. At the end of 2012, the company had approximately $9.25 billion left on this plan. The company's market cap was around $90 billion at the end of 2012, so this plan is expected to significantly reduce the share count. You can see that their buybacks have been working. The diluted share count, used to determine earnings per share, went from 1.08 billion in 2010 to 1.045 billion in 2011. That share count continued lower in 2012, with the figure standing at 1.02 billion.
A strong balance sheet:
McDonald's is a very profitable company. Between 2010 and 2012, the company produced profits of nearly $15 billion. A large amount of profits helps with cash flow, and I've shown above that the company is returning a large amount of cash to shareholders.
But producing strong results and returning cash depends on a company's balance sheet. If the company doesn't have any cash or financial flexibility, they can't expand, pay dividends, or buy back stock. McDonald's balance sheet is in good shape, and I've thrown some financial metrics into the table below. Dollar values in millions.

*Liabilities to Assets Ratio.
Some may argue that McDonald's cash balance not growing is a negative. I don't see it that way because they are returning that cash to shareholders. If the cash numbers were like this without a dividend or buyback, I'd be worried. The company has increased their working capital fairly nicely, and the current ratio is definitely in good shape.
One might question the increase in long-term debt. The amount of debt has certainly increased, but over the last two years the company's weighted average interest rate of total debt has declined from 4.3% to 4.0%. The company is certainly taking advantage of low interest rates, and I don't see a debt problem currently. In total, the company only has 56.78 cents of liabilities for every dollar of assets. While the debt (liabilities to assets) ratio has increased over the past few years, it has not grown at a rapid rate and is not at an alarming level. McDonald's balance sheet is in good shape and that will allow the company to continue these great dividend and buyback plans.
A little competitive analysis:
I could go on and on about the greatness of McDonald's, but if the company and stock doesn't size up to its competitors, there's no point in discussing it. Through the following competitor analysis, you'll see why McDonald's is in very good shape. In the following tables, all growth numbers are current analyst estimates. The price to earnings valuations are based off Wednesday's closing prices and the currently expected earnings for that year. All of the companies discussed use calendar fiscal years, so these will all be comparable time periods.
I'm going to do two separate comparisons, and it makes sense to do so here. The first comparison is against Burger King Worldwide (BKW), The Wendy's Company (NYSE:WEN), and YUM! Brands (NYSE:YUM). These names are all fast food operators. Additionally, they are names that are slow growth and dividend payers. Here are the comparisons.

When it comes to revenue growth in 2013, McDonald's is projected to show the most, and the second most in 2014 behind YUM. Burger King is expected to show a huge decline in 2013, followed by another decline in 2014. In terms of earnings per share growth over the two-year period, McDonald's is forecasted to show the 2nd most. Burger King is projected to have the most earnings growth, but a plunge in revenues is not a good sign.
But the most surprising thing to me here is the valuation. McDonald's trades at a much cheaper valuation to these three names, and McDonald's also has a much higher dividend. To me, it's a no brainer here. When you can get a decent amount of growth, at this discount to the industry, this is a name to be in for the long term.
Now the second comparison I'll do is slightly different. In this comparison, I'm looking at McDonald's against two growth oriented fast-food type restaurants, Chipotle Mexican Grill (NYSE:CMG) and Panera Bread (NASDAQ:PNRA). I'm doing this to show what the comparison looks like in this space between growth and value. Here are the comparisons.

Obviously, Chipotle and Panera are growing faster than the more established McDonald's. Chipotle's revenue growth is about three times as fast as McDonald's, with Panera's being about two and a half times that of McDonald's. When it comes to earnings per share growth, Panera is roughly double that of McDonald's, with Chipotle about 10% ahead of Panera. The offset here is that McDonald's pays a dividend yielding 3.11% annually, while Chipotle and Panera do not pay any dividends to their shareholders currently.
When it comes to valuations, you would expect that McDonald's would trade at a lower valuation giving the lesser amount of potential growth. However, I think the valuation for Panera is a little more reasonable than the one for Chipotle. The real interesting item here is that these two growth names carry similar valuations to the names above. The question here is what do you prefer? Growth or dividends? McDonald's certainly provides the best dividend, but would you rather go with all growth? For the prices these six names trade at, I'd rather be in the stock with the cheapest valuation. That's McDonald's, a name that provides some growth but tremendous dividends.
Final Thoughts / Recommendation:
McDonald's is a value investor's dream. In addition to paying a dividend that currently yields more than 3.1% annually, the company is buying back plenty of stock. When it comes to growth, the company offers a decent amount, while trading at a valuation much lower than several other names in the industry.
Like the markets, McDonald's has rallied strongly in recent months, as you can see in the chart below. The stock is less than a dollar from its 52-week high. However, McDonald's still offers plenty of growth and value at a reasonable valuation. I would certainly think long-term investors could enter here, but I wouldn't call you crazy if you wanted to wait for a pullback.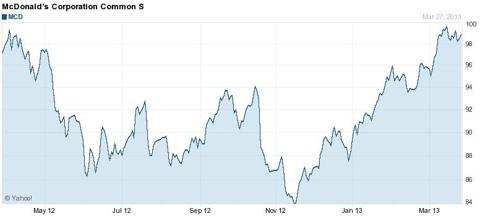 (Source: Yahoo! Finance)
Disclosure: I have no positions in any stocks mentioned, and no plans to initiate any positions within the next 72 hours. I wrote this article myself, and it expresses my own opinions. I am not receiving compensation for it (other than from Seeking Alpha). I have no business relationship with any company whose stock is mentioned in this article.
Additional disclosure: Investors are always reminded that before making any investment, you should do your own proper due diligence on any name directly or indirectly mentioned in this article. Investors should also consider seeking advice from a broker or financial adviser before making any investment decisions. Any material in this article should be considered general information, and not relied on as a formal investment recommendation.