The Office of the Comptroller of the Currency (OCC) just released its report on mortgage performance for the fourth quarter of 2012. It is a story of mortgages that continue to mend within the on-going economic and housing recovery.
The overall good news is that the vast majority of "first-lien mortgages serviced by large national and federal savings banks" remain current and performing: "89.4 percent of mortgages were current and performing at the end of the quarter, compared with 88.6 percent the prior quarter and 88.0 percent a year earlier." The gross number of mortgages in the portfolio fell 2.0% quarter-over-quarter and 6.1% year-over-year. The OCC attributes the improvement to factors that include "strengthening economic conditions, the ongoing effects of both home retention efforts and home forfeiture actions, and servicing transfers to institutions outside the federal banking system." These data cover 57% of all first-lien mortgages in the United States, representing $4.9 trillion in outstanding balances and 29 million first-lien mortgages. The following OCC chart shows the incremental improvements (declines) in the number of delinquent loans:

Click to enlarge
Overall quarterly and year-over-year changes in delinquent mortgages
These numbers are consistent with Lender Processing Services' (NYSE:LPS) Mortgage Monitor report from January showing a steady decline in new problem loans in both judicial and non-judicial states since 2009. LPS defines new problem loans as loans that have gone from current to seriously delinquent in the last 6 months. The majority of these are now loans from the peak of the housing bubble from 2005 to 2007. LPS data show delinquencies peaked January 2010 at 10.6% of active loans, steadily declining to 7.0% three years later. Foreclosures were 3.4% in January 2013 just slightly off the recent peak.
The OCC on foreclosures…
The number of loans in the process of foreclosure at the end of 2012 fell below one million for the first time since the end of June 2009. In the fourth quarter of 2012, servicers initiated 156,773 new foreclosures-the lowest number of new foreclosures since the OCC began reporting mortgage performance in the first quarter of 2008. The number of completed foreclosures fell to 105,875, a 7.7 percent decrease from the previous quarter and an 8.9 percent decrease from a year earlier.
LPS provides a breakdown of what has happened to homes that were in foreclosure in January 2012. Note that 42% of them remain stuck in the foreclosure process.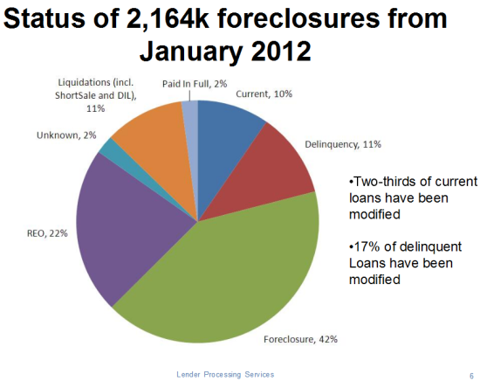 Click to enlarge
Status of Foreclosures from January, 2012 (as of January, 2013)
Source: Lender Processing Services January, 2013 Mortgage Monitor Report
These mortgages add to the evidence of a housing recovery and a likely sustainable bottom. However, this recovery is still in the early stages almost 8 years since the peak and 6 years since the housing bubble's unwind really picked up speed. According to LPS data, delinquencies held steady between 4 and 5% of active loans from 1995 to 2005. The foreclosure rate was also relatively steady over this period at a paltry 0.44% of active loans. The housing recovery still has a long road to travel.
Be careful out there!
Disclosure: I have no positions in any stocks mentioned, but may initiate a long position in LPS over the next 72 hours. I wrote this article myself, and it expresses my own opinions. I am not receiving compensation for it (other than from Seeking Alpha). I have no business relationship with any company whose stock is mentioned in this article.