Fundamentally, I believe Uni-Pixel (NASDAQ:UNXL) is very overvalued. I have done extensive research on the touch screen sector and interviewed many experts on it. Hedge fund managers and the "smart money" seem to be short this stock in droves. They, like myself, plan on holding for the next couple months, when the company will be exposed for what it is.
Statements by management and Seeking Alpha articles, as well as a short squeeze, has caused a very strong uptrend that seems to have cooled off a little. However, keep in mind that this uptrend has been going on a long time, since January, when the stock was in the mid teens. With no new, fundamental news it has rallied to the current price of $32. If this stock reverses and goes on a clear downtrend, I believe it can be equally long and fierce. The true value I believe of UNXL, and this is assuming that it has a successful, useful product, is about $12 per share, or a market cap of $120M.
The best example I have to demonstrate this value is comparing UNXL to Carclo (CAR.L) (OTCPK:CCEGF). The side by side valuation comparisons are very lopsided. One of the people I interviewed was touch screen expert Ivan Jimenez. You can check out his Seeking Alpha articles sharing his valuable touch screen knowledge here. I asked him what he thought about UniPixel and its inflated market cap in comparison to Carclo.
"Honestly Gefvert, I don't get it," said Mr. Jimenez.
UniPixel is a very small company with around thirty something employees, many of whom were working part time. Uni-Pixel has this product very similar to Carclo's but Carclo's is in production and UniPixel says they are close to production.
Both companies produce metal mesh fibers that can be used in touch screens. If an investor is very bullish about the sector, and wants to buy a small cap stock, they should be buying CAR.L instead of UNXL. But most American citizens have trouble buying stocks listed on the London exchange, and so buy UNXL instead. The investment professionals could invest in CAR.L stock if they wanted to but they don't seem to be. That's why this lopsided comparison shows that either UNXL is very overvalued or CAR.L is very undervalued, or both.
Almost Uni-Pixel's entire business is its metal mesh touch screen sensors, called UniBoss. Carclo is in this same metal mesh business, which is called its Conducive Inkjet Technology (CIT) segment. However, it is only one of its four business segments, and the smallest one at that. Carclo is in production through its partner, Atmel (NASDAQ:ATML). Carclo believes Uni-Pixel has copied the technology and is suing for copyright infringement, the details are here.
First, let's compare the fundamental valuations of these two companies, then we can analyze their respective charts.
At $32, UNXL's market cap is $318M. At 390 GBP per share Carclo has a market cap of 254M GBP, the equivalent of $383M. The two companies have similar sized market caps. However, Carclo has four business segments and Uni-Pixel only has one. If UNXL's metal mesh business was valued similarly to Carclo's, then UNXL's market cap would be much less, under $100M.
The following is Carclo's most recent financials from their webpage: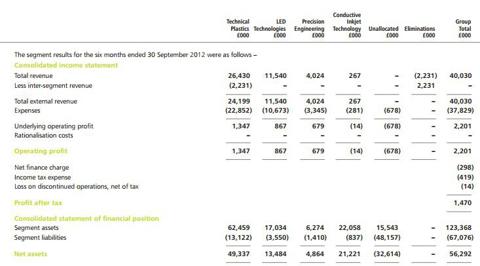 In the above financials, it actually shows four segments. All are in growing technology sectors. The numbers are for the six months ending September 2012 so we can double them for a full year estimate. If you add up the company's three segments that aren't its CIT segment, that comes to total revenues of 84M GBP for the year. If you valuate those three segments at double their revenues, and 2x revenues is conservative for a technology company, then that comes to 168M GBP. This values the CIT segment at 254M GBP - 168M GBP = 86M GBP, or only $129M.
So that effectively compares the value of Carclo's metal mesh technology at $129M compared to UniPixel's of $318M. Should UNXL's UniBoss technology be worth that much more than Carclo's? As I explain further in the article, I think absolutely not. Carclo has a great product, working in tandem with Atmel to make a great, innovative touchscreen. UniPixel hasn't even produced anything yet for sale.
The following is the three month chart comparison between UNXL and CAR.L: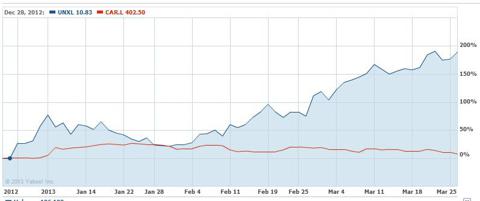 UNXL has almost tripled in the last three months, while CAR.L is flat. Why is this? Is UniPixel's metal mesh technology that much better than Carclo's?
How Good Is UniBoss?
Does UniPixel really have a great product, better than the other metal mesh fiber producers? Ivan Jimenez doesn't think so. The following is his technical knowledge of both company's manufacturing procedures.
"UniPixel is based on their lab samples and we have never seen their production end product. So no one knows, not even UniPixel, what quality issues they might encounter," said Mr. Jimenez.
UniPixel uses an embossing that requires a thicker film than Carclo's, and the process itself might damage the film. I'm not saying that it is impossible but embossing 5 microns lines on film is a very technical process where all the elements would need to work to perfection for it to work. I'm talking about press pressure, speed, ink density, if any of these elements gets out of calibration the process will not work. And even if the process works then you end up with 5 microns lines that need to be protected. These lines are embossed lines at 5 microns and any bump could destroy them. That's why UniPixel is selling the sensor with Diamond Guard installed. They are selling the sensor with Diamond Guard not because Diamond Guard adds value to the sensor but because they need Diamond Guard to protect the embossing.
Carclo's process of photolithography is simple; you just put the film in the machine and let the lasers do the ink transfer.
The metallization step is the same for both UniPixel and Carclo.
I believe that Carclo's process is superior because:
1. Uses a thinner film
2. Is more stable and quality controls are more dependable
3. You can use any screen protection like Gorilla Glass with UniPixel you are stuck with Diamond Guard.
From reading what Mr. Jimenez said above, it's interesting that UniPixel actually requires a thicker film than Carclo does. That's certainly a negative since thinner is better when it comes to touchscreens.
One thing I noticed about UniPixel's product is how primitive it looks in the demonstrations. Look at its demonstrations here. The graphics look like something out of a 1980s Atari game. Now look at Atmel's demonstration of Carclo's product, X-Sense. Much more modern looking.
"That picture from the UniPixel presentation is just showing the old style X and Y grid," said Mr. Jimenez. "So that can't be their sensor. Something that Atmel said in their last conference call is that they designed their sensor to improve transparency and transparency can become a very big distinguishable factor between Carclo and Uni-Pixel."
Uni-Pixel's management makes a big deal about being able to use more than two fingers on the touchscreen, but Carclo's product can also do that.
"Yes, it does look crude, and I was thinking about that," said Mr. Jimenez. "Uni-Pixel creates micro-structures and these micro-structures need to be painted with catalytic ink. How is it that they can apply the ink on these delicate micro-structures with out damaging them? That's why you see the lines are not even."
Don't Always Believe A Company's Management Or The Analysts
I have a saying that with stocks, if management says something good about their company, then you might not want to believe it. However, if they say something bad about their company, then believe it!
UniPixel's CEO Reed Killion has made some very outlandish projections. He said in the Q412 earnings call:
Looking at our manufacturing capacity roadmap, we see limited production in the second quarter and ramp up to volume production in the third quarter. We are on target to hit 45,000 to 60,000 units or square feet per month by the end of April; 200,000 by the end of June, 700,000 by the end of September and then achieving 1.3 million units monthly by January of 2014.
The analysts at Craig-Hallum and Williams Financial have been taken in by management's story, hook, line and sinker with their $30+ price targets. They came up with their projections by believing everything management says and assuming a best case scenario. But they shouldn't do that. It's up to the investor to do the research and evaluate if what the CEO says is believable.
At $20/unit, that means by January 2014, Mr. Killion expects to have $26M per month in revenues. I believe even 60,000 units per month is unrealistic this quickly, that's $120K per month. He might want to have those numbers, but it is extremely unlikely that it will happen in my opinion. It's the "have unattainable goals and even if you miss, you'll still do well" mentality. It is a mistake for investors to take these projections literally. When UniPixel substantially underperforms in the next couple months, long investors will be very unhappy. We won't have to wait very long to see the company's performance. Only until the next month and the next earnings call. I expect there to be delays and excuses.
Mr. Killion also is trying to give the impression that touch screen manufacturers are rushing to stop using ITO. ITO, (Indium tin oxide) is another material to make capacitive sensors. Metal mesh fibers use copper. "With UniBoss we offer the touch ecosystem, a price performance curve that ITO and other ITO replacement solutions can't meet," he said.
Metal mesh fiber technology just simply isn't as great as what UniPixel says it is. If it was, then Carclo would've made a lot more money by now with it. Carclo's CIT unit partnered with Atmel in July 2011 to produce touch sensors. For the six months ending September 30, 2011, Carclo's CIT unit produced only 37K GBP in revenues. For the six months ending September 30, 2012, it produced 267K GBP in revenues. Nowhere near the numbers that UniPixel is projecting for itself.
Lots Of Competition With Touch Sensors
Metal mesh optical filters have been around for over four decades, so it's nothing new. The technology is always getting better as engineers keep working at it, but for it to jump in usefulness and price efficiency as much as what Killion said is a pipe dream. If that were true, then a company like Fuji or Atmel would've bought Uni-Pixel out a long time ago at $10 per share or less, and I'm sure Uni-Pixel would've taken it. The following picture is from the 2012 Society For Information Display (SID) convention in Boston.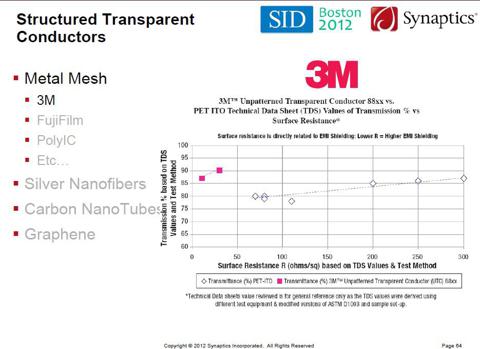 It shows some of the metal mesh wiring companies that compete with UniPixel. UniPixel and Carclo aren't listed, but these are the other major metal mesh fiber competitors.
Disclosure: I am short UNXL. I wrote this article myself, and it expresses my own opinions. I am not receiving compensation for it (other than from Seeking Alpha). I have no business relationship with any company whose stock is mentioned in this article.