Baidu Inc. (NASDAQ:BIDU) was one of the most successful growth stories in the 2006-2011 period. It has managed to grow earnings and revenue at an astounding rate. Earnings rose at an average compounded rate of 90%, from only 10 cents in 2006 to $4.74 in 2012. Revenue increased at an average compounded rate of 79% in the same period, from $106 million to $3.55 billion. Baidu's stock also had a tremendous run, from split adjusted $6 to a 2011 high of $165.96, a 2,500% rise over 5 years. Revenue and earnings growth rate peaked in 2011 and so did the price. Baidu seems to be on its way to the last stage of the earnings maturation cycle.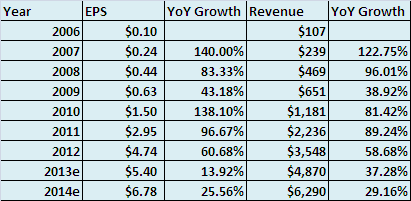 Source for data: Yahoo Finance, Earnings.com, Wikinvest
I have found a good example of an earnings maturation cycle on Mark Minervini's website. It shows the transitional process of one stock from value to growth and back to value. Mark Minervini is one of the famous traders interviewed in Jack Schwager's "Stock Market Wizards: Interviews with America's Top Stock Traders." While he focuses on the stage two of the cycle, where the most superperformers turn out, it was an interesting graph for me to compare it to Baidu's current stage in the earnings maturation cycle.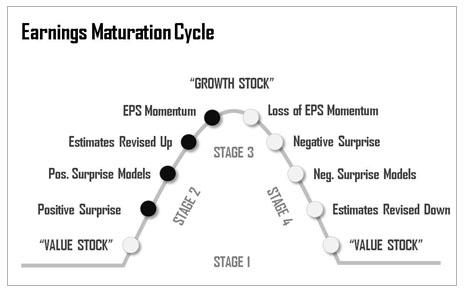 Source: markminervini.com
Looking at the evidence, Baidu seems to be entering the last stage of the earnings maturation cycle. It has experienced all of the "symptoms" of the stage three recently, with a significant loss of EPS momentum, as the growth slowed down significantly, the company reported earnings below estimates in the latest quarter, and there were substantial negative revisions of analyst estimates. In the last 90 days, EPS estimates are down from $6.01 to $5.40 for this year, and 2014 estimates were almost halved, from $12.36 to $6.78.
At the same time, the PE ratio contracted severely, and reached the historical low of 18 recently, and it was above 100 when the price peaked in 2011. The forward PE is 12.69, bringing Baidu slowly down to value territory, as Baidu will certainly grow earnings in the future. The current 5-year earnings growth projection, subject to downward revisions, is 31%, which is still quite a high growth rate, especially if you consider the current valuation.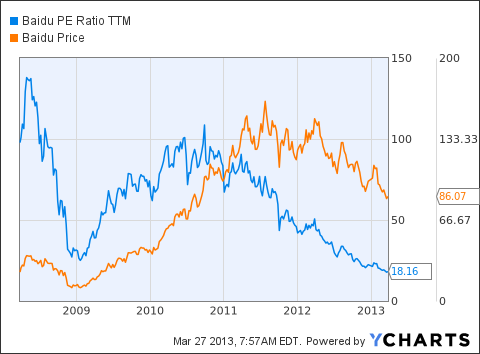 BIDU PE Ratio TTM data by YCharts
There is another interesting graph, from the article "Earnings Life Cycle & the Value Trap," which suggests how to avoid value traps. It presents the earnings momentum and price momentum graph, and divides them in four quadrants. If we put the evidence from Baidu's earnings and price momentum, it would be in the "value trap" quadrant. It suggests Baidu will need a turnaround in the EPS outlook to get out of the value trap, which in turn might give its price positive momentum. That process might probably last for several quarters, and the share price of Baidu might underperform the market in the near term.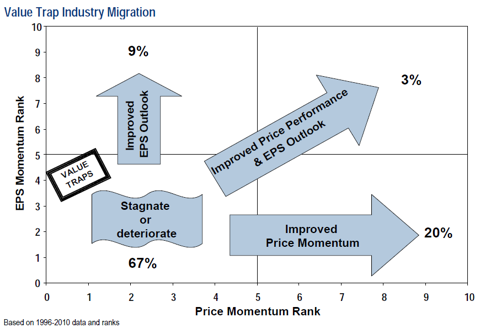 Source: www.ritholtz.com
Baidu's price has been pressured in the last two years by the prolonged bear market in China, new competitors in the China's search market, especially Qihoo 360 (NYSE:QIHU), which made an impact, grabbing a 10% share of the search market. But, as I noted in my previous Baidu article, the market share was primarily taken from Google (NASDAQ:GOOG), and Baidu actually increased its market share from the time Qihoo 360 entered the search market. Qihoo 360 is the most serious threat to Baidu, as Baidu was almost unchallenged in the search market, especially after Google stepped away from China. Qihoo 360 intends to invest heavily to gain share in the Chinese search market.
Conclusion
In order to end its prolonged downtrend, Baidu must enter the new stage of the earnings maturation cycle. It will need an improved EPS outlook, positive earnings surprises and accelerating EPS growth. That would put the stock out of the "value trap" category.
Disclosure: I have no positions in any stocks mentioned, and no plans to initiate any positions within the next 72 hours. I wrote this article myself, and it expresses my own opinions. I am not receiving compensation for it (other than from Seeking Alpha). I have no business relationship with any company whose stock is mentioned in this article.