Pfizer (NYSE:PFE) conducted an advanced study into the effects of its drug Lyrica, demonstrating that it is as effective as levetiracetam, Pfizer's own anti-seizure drug. Levetiracetam has been used to treat epilepsy in adults going through refractory epilepsy. These seizures are found to be common among adults and they are usually prescribed more than one anti seizure medication. Below, I will discuss how Lyrica's new role could boost Pfizer's revenues by treating a whole new market.
An additional drug to control Refractory Epilepsy by Pfizer
Refractory Epilepsy requires more than one dose of antiepileptic treatment. A recent study by Pfizer has demonstrated that Lyrica, a pain drug, can reduce 50% of seizures, when the drug was consumed for 12 weeks.
Lyrica is known to have the same effects as levetiracetam which is taken along with other antiepileptic drugs. Most other medicines are known to cause adverse reactions, but levetiracetam is known to cause mild side effects like drowsiness, dizziness, mild depression or anxiety, whereas Lyrica is reported to cause mild headaches, insomnia, sickness coupled with fatigue. Lyrica is now approved in the US for people with fibromyalgia and neuropathic pain which are associates of diabetic peripheral neuropathy, which are administered in 120 countries.
The combined sales of levetiracetam and Lyrica will help Pfizer to target the global epilepsy market which is very huge. Epilepsy is known to be prevalent in 50 million people across the world, out of which 90% of them are in developing countries. A study by WHO, reveals that 2.4 million new cases emerge every year.
What is Epilepsy?
Epilepsy is a disorder in the brain causing a person to have multiple seizures occurring repeatedly. Permanent modifications in the brain of an epileptic person may cause him to either get too panicky or nervous sending out wrong signals to the brain resulting in seizures. Epilepsy can be controlled, but not completely, even with medication. There are varied forms of epilepsy among which very few are lifelong, while some forms occur only during childhood.
The definition of "refractory epilepsy" is a debated topic, but the most common definition agreed upon is; when a patient fails to respond to treatment taken for over 12 months and more he is diagnosed with "refractory epilepsy" (NYSE:RE). Patients diagnosed with chronic RE are at a higher risk of having mood disorders, physical injuries caused during seizure attacks and even sudden death. The effect of epilepsy on an individual usually results in psychological problems due to the discomfort felt by the patient. A person even undergoing treatment may come across unpredictable seizures causing him great psychological distress.
Epilepsy is a condition of a person who is known to have chronic neurological disorders. Usually the cause for an epileptic attack is unknown, but some of the common factors associated with epilepsy are known to include brain trauma, seizures that are recurrent or even unprovoked, brain cancer and even alcoholic abuse. Cases in which seizures cannot be controlled with treatment are referred to as "refractory/ intractable epilepsy". In about one-third of epilepsy cases, the seizures are uncontrollable even with medicines.
How Lyrica Will Affect Pfizer's Fundamentals
Lyrica is approved in 120 countries to treat fibromyalgia, nerve pain among diabetics, seizures and spinal cord injury. Lyrica's sales hit $1.04 billion in November last year and it is currently Pfizer's top selling drug. While Lyrica has already become the most profitable drug for the company, the added benefits of prescribing it for people with refractory epilepsy and other forms of seizure disorders will help catapult sales figures. 50 million people will now have access to an alternative epileptic drug that will help reduce treatment resistant seizures. In the long-term, Lyrica will continue to be Pfizer's top drug and climb to the ranks of being one of the top 20 drugs sold in the U.S.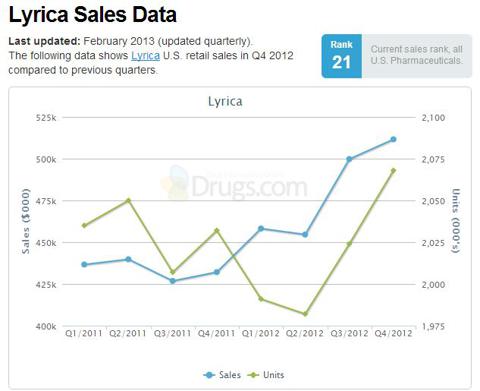 Lyrica currently ranks number 21, according to Drugs.com. Investors should take notice of the fact that a pain killer which also is prescribed for various kinds of epileptic disorders has a greater chance of reaching exponential sales potentials, which will make Pfizer more profitable in the long-term.
Other drugs for Epileptic treatment
Clonazepam by Roche Holding (OTCQX:RHHBY) is a psychoactive drug which helps ease seizures, acts as a muscle relaxant and sedates a person. Though the drug is known have long lasting effects, making it a very effective antiepileptic drug, the drug is also known to cause counter effects. Prolonged usage of the drug can cause immunity to the effects of the drug itself, dependence on the drug and withdrawal symptoms.
Lamictal by GlaxoSmithKline (NYSE:GSK) is an anticonvulsant/antiepileptic drug. It is administered to epileptic people either by itself or with a combination of other drugs. It is most commonly used to alter mood swings and also to people with bipolar disorder. Lamictal is known to cause extreme skin rashes among children and in people who are prescribed with high dose of the drug in the initial stages.
Epilim by Sanofi (NYSE:SNY) is a drug for epileptic people. The drug is a combination of Sodium Valporate and Valproic acid which is prescribed to be consumed once daily for all age groups and all forms of epilepsy. However, recently researches have found that upto 17,500 children in Britain have been affected since 1973. A campaign has been staged by families asking for the withdrawal of the drug. Almost 21,500 pregnant women are known to consume the drug every year in order to avoid or monitor seizures. GP's have been advised not to prescribe the drug for sometime till the study is clarifies, but at the same time, those ladies who are carrying cannot stop the treatment immediately as a seizure can also immediately affect the baby in the womb.
Zonisamide by Dainippon Sumitomo Pharma (OTC:DNPUF) is an anticonvulsant drug prescribed to people along with other antiepileptic drugs to treat multiple seizures and other symptoms that are accompanied with epilepsy. The drug is also prescribed to people with Parkinson's and Obesity.
Conclusion
Mortality due to unrecognized diseases affects more than 50% of the global population. Many of these deaths are easily avoidable as they result from untreated epilepsy. Pfizer is doing its best to fight epilepsy exploring for better and cost effective treatments. The additional benefit found in Lyrica will help people who are sensitive to other epileptic drugs. Pfizer has a market cap of $201 billion and an enterprise value of $206 billion. With a price to book ratio of 2.51 and a price to sales ratio of 3.42, it is in an enviable position compared with its competitors. Pfizer's revenue stood at $59 billion and its total cash was $33 billion. With a profit margin of almost 25%, this is one of the best companies to invest in for long-term returns.
Disclosure: I have no positions in any stocks mentioned, and no plans to initiate any positions within the next 72 hours. I wrote this article myself, and it expresses my own opinions. I am not receiving compensation for it (other than from Seeking Alpha). I have no business relationship with any company whose stock is mentioned in this article.