Introduction
Clearwire's (CLWR) common stock is down about 85% since it went public in March of 2008. The company was a spin-off from Sprint (NYSE:S) and now Sprint is in talks to buy back Clearwire at a fraction of the price it initially divested it at. And since my first article about Clearwire, in June of 2012, Clearwire's price is up over 100% (see graph). However, the drama with this public and massive loss incurring company is not likely to be over in a predictable way. Currently, Sprint and DISH (NASDAQ:DISH) are vying for Clearwire's hand, the former offering $2.97 per share and the latter $3.30, but with more conditions. And finally, a number of prominent hedge funds have placed their bets on the race for Clearwire's assets. Let's take a closer look at Clearwire's recent developments.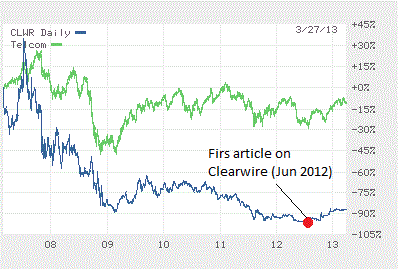 Annual Results
Clearwire has been in the process of launching its 4G network since 2008 and due to the capital requirements for this venture, it has incurred significant losses ever since. For example, the company recorded net losses of $433, $326, $488, $717, and $729 million during 2008, 2009, 2010, 2011, and 2012, respectively. The cash outflow from operating activities through the years is similar, if not worse. During the last five years, Clearwire's cash outflow from operating activities was $3.4 billion.
The business results from these cash spending and loss generating activities are mixed. In 2012, Clearwire's retail subscribers reached 1.36 million, up from 1.29 million at the end of 2011. And its wholesale customers decreased to 8.22 million, down from 9.12 million at the end of 2011. Overall, at the end of 2012, the company had 9.58 million retail and wholesale customers compared to 10.42 million at the end of 2011. At the same time, the population covered by its service increased from 134.16 million to 137.37 million people. The breakdown of retail and wholesale customers could be misleading as retail refers to wireless internet users, while wholesale refers to wireless mobile users. In any event, it seems like Clearwire is able to increase the reach of its service, while at the same time it is experiencing net decrease in customers. Clearly, this is an undesirable situation for any company.
Clearwire's Value
Clearwire has valuable spectrum in the 2.5 GHz band designated by the FCC for broadband radio service [BRS] and educational broadband service [EBS]. According to Clearwire's 2012 annual report BRS and EBS spectrum has the following characteristics:
BRS - Under current FCC rules, we can access BRS spectrum either through outright ownership of a BRS license issued by the FCC or through a leasing arrangement with a BRS license holder; and

EBS - The FCC rules generally limit eligibility to hold EBS licenses to accredited educational institutions and certain governmental, religious and nonprofit entities, but permit those license holders to lease up to 95% of their capacity for non-educational purposes.
Clearwire owns (41%) and leases (59%) over 47 billion MHz-POPs of spectrum in the U.S. In essence, Clearwire owns or has long-term leases for parts of the internet highway and the right to collect the tolls. This is a valuable resource. Most recently, LightSquared failed in obtaining spectrum rights for its broadband plans and it filed for a bankruptcy that was well publicized. Following the LightSquared's unsuccessful attempt to offer nationwide wireless access, Clearwire remains the only company with a viable alternative to the three large wireless companies that have national wireless networks in the country - Verizon (NYSE:V), AT&T (NYSE:T), and T-Mobile. However, Clearwire has been unable to realize value from its spectrum and is currently the target of an acquisition dispute between two other communication companies interested in the company.
The Deal
The current bids of Sprint and DISH are detailed in one of my earlier articles about Clearwire. It seems like Clearwire favors Sprint's proposal. Even the investment banks hired by Clearwire (Evercore Group) and its board of directors (Centerview Partners) believe that the Sprint offer of $2.97 per share is superior to DISH's $3.30 per share offer. According to preliminary merger documents filed with the SEC, Evercore and Centerview concur that the offer made by Sprint is fair from a financial standpoint. While both offers value Clearwire's POPs at about $0.20 per POP, without a doubt Sprint offer has fewer conditions.
The question is, can you value spectrum with different characteristics in the same way? The wireless spectrum, discussed by the investment banks in the merger documents and recently subject to transactions, has different characteristics from the spectrum that Clearwire owns. It seems like valuing spectrum, as well as publicly traded companies in general, is as much art as it is science.
In addition to DISH offering higher price than the $2.97 per share offered by Sprint, a number of hedge funds estimate that Clearwire's shares are worth more than that. For the past several months the number of hedge funds that have taken positions in Clearwire above the price offered by Sprint has risen. This list includes Sirios Capital, Highbridge Capital (a major shareholder in DISH), and Mount Kellett Capital. Also, Crest Financial and a number of other Clearwire shareholders are trying to stop the Sprint acquisition by having filed lawsuits with the court system in opposition to Sprint's proposal. As of this writing, Clearwire's shares trade at a price of $3.25, higher than Sprint's offer and slightly lower than the offer made by DISH.
Conclusion
The opposition to the Sprint-SoftBank deal and ultimately to the Sprint-Cleawire deal is drawing scrutiny from the FCC, the FBI, Department of Homeland Security, Verizon, and even the Consortium for Public Education and the Roman Catholic Diocese of Erie, PA, according to this article. A Sprint-SoftBank deal should not have any national security concerns as Verizon and T-Mobile are both partially owned by foreign companies. In addition, Soft-Bank's capital will allow Sprint to compete better with the other national wireless service providers.
Sprint is already a major customer of and shareholder in Clearwire and taking over the company makes sense. Whether Sprint, DISH, or some combination of both take control of Clearwire's spectrum remains to be seen in the months ahead. Regardless of the outcome, it seems like Clearwire's days as a public company are numbered.
Disclosure: I have no positions in any stocks mentioned, and no plans to initiate any positions within the next 72 hours. I wrote this article myself, and it expresses my own opinions. I am not receiving compensation for it (other than from Seeking Alpha). I have no business relationship with any company whose stock is mentioned in this article.