Being in front of the large group of tech investors when it comes to the "next" big thing can put a lot of dollars in your portfolio pocket. Certainly, the Smart Phone revolution has done just that in the past 3-4 years for many early investors, but where is the next big thing?
Himax (NASDAQ:HIMX) is at the front and center of the emerging wearable computing revolution, but probably not on the radar yet of most investors. To be sure, investing in the small-cap tech sector has major rewards and also risks, but we think Himax is emerging as a leader. Over 400 million in Research and Development over the past several years looks like it is about to pay off for this Taiwanese fabless chip maker and producer of Silicon and Visual Display technology.
However, it's important to lay out a bit of the landscape before we take a tighter look at Himax and the opportunity further along in the article. At StockReversals.com, we feel comfortable that the next big thing in tech investing is wearable computing. Now, this may not come as any surprise to those in the know, but the timing is the key and we think now is the time to start placing a few bets. To wit, the exciting project by Google (NASDAQ:GOOG) called Google Glass is coming in the fourth quarter according to CEO Sergey Brin. Essentially, it's a pair of clear glasses that will have a functioning camera, video, web browser and more with a micro-display. Take a look at this video from Google to get a glimpse and it will really open your eyes to this revolution in the making: Google Glass, How It Feels Video.
There are also rumors of an Apple Inc. (NASDAQ:AAPL) watch, that perhaps will function along with the smartphone in your pocket, doing double duty. Sources indicate a team of over 100 Apple employees are already working on the "I-Watch" product. This I-Watch could be part of an eco-system tying into multiple devices, voice activation and lots more. Perhaps now is a good time to be buying up Apple stock on the cheap?
There are even clothing products in development like a Pilate's shirt that would monitor muscle movement and body positioning. Nike (NYSE:NKE) is pouring significant research and development into this space as well. If you ever read the book, "The Tipping Point" by Malcolm Gladwell, you will know what I am talking about here.
Now to be sure, this is not all going to happen next week or even next month, because there are many challenges left yet to face and overcome. That said, you can be sure within the next few quarters you will see products starting to roll out and now is the time to look for opportunities. We will share one such opportunity with you now that we are looking at and that is Micro-displays. We can't be 100% sure who is going to win the actual product wars, but we can be sure that many of the wearable devices will need micro-display screens with the latest technology to make them work and perform.
A small company (well close to 800 million market cap) out of Taiwan that we have spotted is called Himax Technologies. Himax Technologies, Inc., together with its subsidiaries, designs, develops, and markets semiconductors for flat panel displays. The company offers display drivers for thin film transistor liquid crystal display (TFT-LCD) panels, which are used in desktop monitors, notebook computers, televisions, and mobile handsets applications, as well as consumer electronics products, such as tablet PCs, net book computers, digital cameras, mobile gaming devices, portable DVD players, digital photo frame, and car navigation displays.
Though not confirmed, it is widely believed and has been written about in various articles and websites (Digitimes.com on March 7th) that they have won the exclusive contract to provide the micro-display technology for the Google Glass product. That said, it's not the main reason we like the stock. In addition to the potential strong news with Google, per a recent conference call the CEO remarked that, "We are working with several top tier customers to develop new head-mounted display products using our LCOS panels. We shipped some early volumes for customers pilot runs in the fourth quarter of 2012. We expect early stage shipment in 2013; in addition we are still working with numerous partners to create new types of projector applications using our LCOS micro displays." HIMX has also publicly stated on its earnings call that multiple "large U.S. software companies" have been in discussions with the company for some time now.
LCOS stands for liquid crystal on silicon, and has multiple uses besides a Google Glass type product. These include utilization in video games, ski goggles, automotive heads-up displays (HUDs), point-of-view (POV) videos, etc.
The above conference call statements seem to be enough at least to warrant consideration of a long position. Wall Street estimates currently are for $830M in revenue and 37 cents in EPS. It compares with 2014 estimates, which call for 28% revenue growth and a rise in EPS to 42 cents. The stock at $4.60 per share trades for about 12-13 times 2013 expected earnings and sports just over a 1% dividend yield. Cash on the balance sheet is twice the debt levels, and there is plenty of free cash flow to boot. The CEO mentioned also that the first quarter will be about 7-8 cents per share in earnings fully diluted, and the weakest quarter of the year with strength in the back half.
The chart pattern is also attractive even though it has had a strong run of late; this type of consolidation pattern over the past three weeks usually allows the fundamentals to catch up with the prior stock price movement. A "triangle" of sorts forms during the consolidation and often then leads to a breakout upon new developments that come to light. To wit, an explosion in volume occurred on March 26th with over 6 million shares traded on a 9% move up in price on no news. This indicates to me institutions are learning of the story and money is starting to take positions early. The following day, the stock pulled back slightly on only 1.6 million shares traded, indicating soft profit taking on light volume relative to the prior days push.
Below is a 3-month chart showing the volume spike this week and the light volume pullback today. We can't be 100% sure of anything in Technology in terms of market winners, but Himax seems a reasonable speculation going forward with attractive valuations to boot and potentially strong catalysts ahead.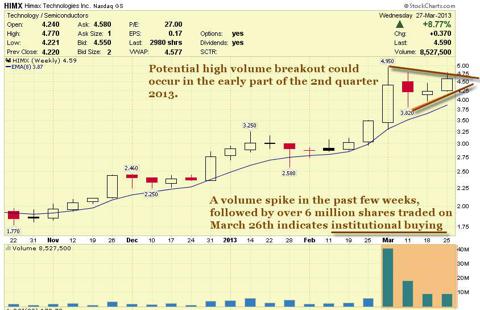 Disclosure: I am long HIMX. I wrote this article myself, and it expresses my own opinions. I am not receiving compensation for it. I have no business relationship with any company whose stock is mentioned in this article.