Cyprus has announced capital controls to keep a run on the banks from happening, however even with these controls one has to believe that this is going to be a long, drawn out event where people will withdraw their deposits as fast as possible. Yes, this buys time to calm depositors but even if it all appears clear in a year and the controls are lifted what would stop the Russian depositors from withdrawing their funds? Why in the world would they, let alone any depositor, want to keep funds in a locale which not only hit them with a tax/levy but also has effectively tied up their liquid assets and kept the door open to another tax upon those assets if need be now. That is scary.
Asian markets were lower this morning but Europe is trading higher, which we will take as a good sign.
Chart of the Day:
Investors' fears regarding the reopening of Cypriot banks appears to have been alleviated early in trading this morning, however the EUR/US$ trade has a long ways to go to get back to even with Pre-Cyprus levels. The chart below is just a five day.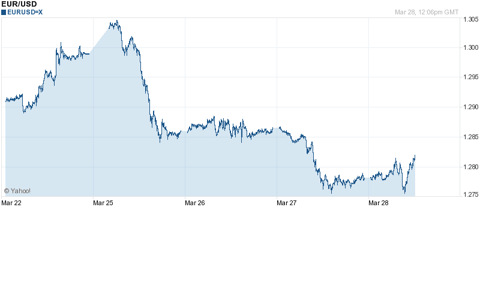 Chart courtesy of Yahoo Finance.
We have economic news due out today, and it is as follows:
Initial Claims (8:30 a.m. ET): 338k
Continuing Claims (8:30 a.m. ET): 3040k
GDP - Third Estimate (8:30 a.m. ET): 0.3%
GDP Deflator - Third Estimate (8:30 a.m. ET): 0.9%
Chicago PMI (9:45 a.m. ET): 56.5
Natural Gas Inventories (10:30 a.m. ET): N/A
Asian markets finished lower today:
All Ordinaries -- down 0.54%
Shanghai Composite -- down 2.82%
Nikkei 225 -- down 1.26%
NZSE 50 -- up 0.24%
Seoul Composite -- up 0.00%
In Europe markets are trading higher this morning:
CAC 40 -- up 0.27%
DAX -- up 0.40%
FTSE 100 -- up 0.57%
OSE -- down 0.17%
Technology
The rumor is that Apple (NASDAQ:AAPL) does in fact have a TV, or iTV as it has been dubbed, but that according to sources within the supply chain it is being held up by screen production. Obviously without enough screens one cannot expect to meet demand and with the reputation that Apple has built over the years their new products are generally greeted with much fanfare. The market wanted a TV, but because of this they shall get a watch which would seem to contradict our earlier statement about new products getting much fanfare because we are left to wonder what market this watch is to serve. In our view, the iPhone 5 in our pocket is an iWatch, it tells us the time and can even come with us on our runs when we put it in its case, so one has to hope the new watch can use a GPS system to map out runs, keep pace on pre-set courses, etc or else investors shall be very disappointed. That is all speculation at this point, however one analyst seems to think that the stock will hit $274/share in six months. It is a bold call, and we have written it down on our calendar and shall watch to see how this progresses. In our opinion it shall be nothing more than an outlier much like the crazy prices thrown out right at the top by bullish analysts.
The six month price target of $274/share for Apple seems pretty absurd, but so too is the downtrend in the shares since the all-time highs were reached...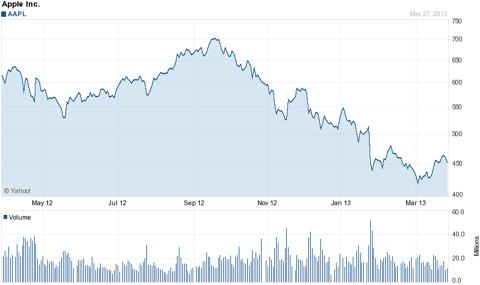 Chart courtesy of Yahoo Finance.
Retail
If we are going to discuss Apple this morning we may as well discuss J.C. Penney (NYSE:JCP) and ex Apple retail head Ron Johnson who is not CEO at Penney's. Shares are back down below the $15/share level and the company is raising prices now in order to allow them to have more sales. Just goes to show you what consumers have to watch out for because this is the company that spent millions on rebranding as the one with everyday low prices and now they are raising them to essentially make these sales they will hold in line with previous prices. The new way did not work, so going back to the old way is perfectly logical and even reasonable, however one has to wonder how many customers they are going to alienate with this move now. This train wreck just keeps on giving, but the real question for those with capital at stake is how long it can continue to be the butt of jokes.
Entertainment
We received an email yesterday from a long-time reader asking us if we were no longer interested and/or bullish on Las Vegas Sands (NYSE:LVS). The answer to that is we are most certainly interested and absolutely bullish, however our bullishness at these prices is a bit less enthusiastic as it was in the mid to high $40s and at this time we would only buy shares on pullbacks. It remains our favorite name in the casino space, however we do recognize that we need to watch valuation here relative to the other players and put everything in perspective. With that note of caution, it must also be pointed out that the company also has more irons in the fire than any other company it seems with exposure across numerous continents and to some of the hottest growth markets. With real estate perking up and the economy doing better this could continue to be a name to perform well.
Investors have had a nice run in the stock since the lows this year and it sure looks like a nice little uptrend has formed over the past five months or so.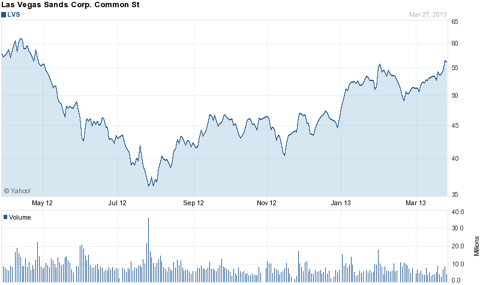 Chart courtesy of Yahoo Finance.
Transportation
The railroads continue their march higher and as we have pointed out in previous articles, many investors look to them based on historical precedent but this rally was in fact sparked by them so that is why we are paying such close attention. They are the so called "generals" in this market and they will feel the economy slowing before others which would force investors to lower the valuation assigned to shares, so as long as we are trending higher with respectable earnings part of our mind is at ease regarding the economy and general market.
Yesterday Norfolk Southern (NYSE:NSC) hit a new 52-week high and closed at $76.28/share. Also hitting a new 52-week high was CSX which closed at $24.35/share on volume of 7.7 million shares. We missed both of these thinking that there would be more time to make our move a few months back and turned out dead wrong on that one. It was actually the last move down before this strong move higher. We learned a valuable lesson there, and even though it all worked out because of where we put our capital instead, we have written this down and hope to have learned from it so as not to repeat the same mistake in the future.
To also clear up another question we received about why we focus on the railroads in particular and not transportation as a whole is because the railroads are the base movers who move the bulk of the goods. Truckers take over from there and in reality the truckers do well when the economy is really moving, while the railroads are able to benefit beforehand due to their lower cost for long hauls and ability to handle all of a big customer's needs with no problem. So we do pay attention to the entire transportation sector and in fact watch the index, however for this exercise we are focusing solely upon the railroads in an attempt to gather insight.
Disclosure: I have no positions in any stocks mentioned, and no plans to initiate any positions within the next 72 hours. I wrote this article myself, and it expresses my own opinions. I am not receiving compensation for it (other than from Seeking Alpha). I have no business relationship with any company whose stock is mentioned in this article.