We have included an interesting chart for our 'Chart of the Day', which we admit we made, that highlights a few of the utility names we follow that are at or very near 52-week highs. We wonder what this tells us. It could be that the economy is improving and energy consumption is going up, or that profit margins are increasing because both coal and natural gas are historically low. Another thought is that this could be the result of capital inflows to the general market and it is that fresh capital seeking out "safe harbors" to venture out from at a later date. Either of those three answers would work for us, and would be bullish for markets in general. Just something to think about this morning.
This morning we continue to be long oil via our positions in the E&P plays and looking to add more when we can find value.
Commodity prices this morning are as follows:
Gold: $1603.30/ounce, down by $3.90/ounce
Silver: $28.64/ounce, up by $0.028/ounce
Oil: $96.80/barrel, up by $0.22/barrel
RBOB Gas: $3.10/gallon, down by $0.0155/gallon
Natural Gas: $4.05/MMbtu, down by $0.018/MMbtu
Chart of the Day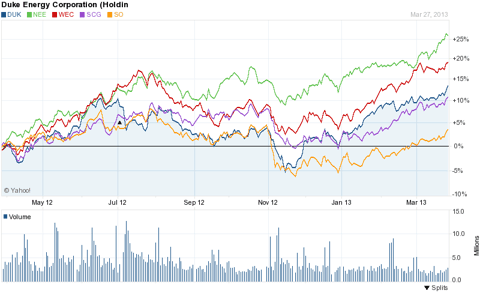 Chart courtesy of Yahoo Finance.
Oil & Natural Gas
We had another big day in shares of Gulfport Energy (NASDAQ:GPOR) yesterday and that is certainly powering the portfolio higher right now as many of our junior miners and explorers simply languish and/or head lower. The stock was weak in early trading but held in there and got stronger throughout the day. It is something which we have noticed recently and it is as if weakness in the morning is to be bought. Shares continue to hit new all-time and 52-week highs on strong volume and we have always been taught to become more bullish as a stock increases on increasing volume. About the only negative thing one could say about yesterday is that by closing at $46.96/share and failing to finish above $47 the stock disappointed from a psychological standpoint...and although we would typically agree, we do feel that one would be off-base with that comment to describe yesterday's move. Still bullish.
Why so bullish? Probably because what we like to refer to as 'The Indicator' is telling us to be so. Cheniere Energy (NYSEMKT:LNG) hit a new 52-week high during the session of $27.37/share before finishing at $27.23. Definitely bullish that it was able to finish that close to the high and above the $27/share threshold. It is always nice to be able to hang onto those dollar amounts when moving on momentum.
Since September of 2012 this has led the S&P 500 higher, obviously a bit more volatile, and since early last year we have used it to gauge risk-on and risk-off in the energy sector. It's impressive really.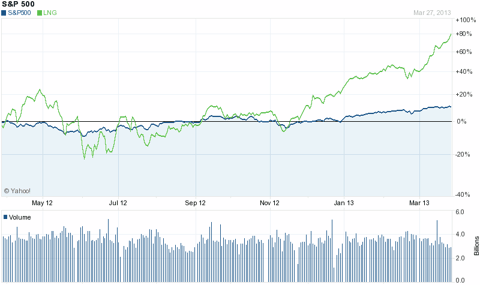 Chart courtesy of Yahoo Finance.
'Cliff Diving'
Yes, Cliffs Natural Resources did take shareholders over yet another cliff, your visual aide follows...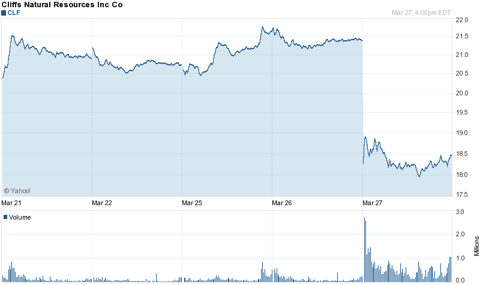 Chart courtesy of Yahoo Finance.
Well it happened, so now we had to call this section 'Cliff Diving' as we update you on the saga over at Cliffs Natural Resources (NYSE:CLF). The shares were hit in early morning trading by over 10% after Morgan Stanley cut its price target to $14/share (Ed Note: Hey! That is awfully close to where we said it could go if things got worse.) due to pricing worries and concerns about the types of volumes that the company is going to be able to do. Morgan Stanley does not like the iron ore market and thus really does not like Cliffs right here with their concentrated production and high cost associated with it. This is probably a 'look out below' stock because this opens the door for other analysts to follow suit, and they usually do (sticking your head out here does not even appear to be a good speculation at this point, so why even try?).
Coal
All was not bad in coal land yesterday as it was mostly just Cliffs down due to the iron ore issues/downgrade. For those who were watching Alpha Natural Resources (ANR) did a fake downwards and caught support and began an uptrend. It was a beautiful thing and for those who were not worried about the move downward or any effect that Cliffs may have had on the stock at the open then some decent money was made. It was a good in-and-out trade. Nothing more, nothing less. We will keep our eyes open for some other opportunities, but we are trying to play it safe with our speculation capital right now.
Rare Earths
We received a question yesterday in the comments section of our article and we wanted to provide some color on our comments. Yes, the chart is broken as it pertains to Molycorp (MCP) and because of that we believe it to be a trade and nothing more. It is not only because of that, but that is a factor. We do not view the stock as an investment right now because we are still waiting to see how the whole ramp up of the plant goes (there are usually problems with this step in the process) and rare earth prices have collapsed. This should be good for the manufacturing side of the business and Molycorp can benefit but to really thrive one would want to see rising demand for rare earths coupled with steady price increases in the rare earths which make up their production. It is a wait and see type of issue here, and the fact that they have a CEO in place now who has run the magnet business is a plus, but he lacks expertise in the most important issue facing the company: bringing a world-class mine on-line and on/under budget. We will trade it, but we will not invest in it.
Disclosure: I am long GPOR. I wrote this article myself, and it expresses my own opinions. I am not receiving compensation for it (other than from Seeking Alpha). I have no business relationship with any company whose stock is mentioned in this article.