After a long, nasty, and very public fight SandRidge Energy's (NYSE:SD) Board of Directors gave in this week and reached a compromise with the main activist shareholder pushing for change.
The four big items in the agreement change the direction of this company because it changes who is controlling that direction:
· Four of the TPG-Axon Group's nominees Stephen C. Beasley, Edward W. Moneypenny, Alan J. Weber and Dan A. Westbrook will be added to the Board of Directors effective immediately.

· The Board of Directors will complete a review by an independent firm of the related-party transactions that have been outlined by TPG-Axon, and expects the results of that review to be completed no later than June 15, 2013. Mr. Ward will remain Chairman and CEO while the Board completes its review.

· The Board of Directors will decide by June 30, 2013, whether or not to terminate Mr. Ward's employment. If the Board does not terminate Mr. Ward by June 30, 2013, three current directors will resign, and one additional TPG-Axon nominee will be elected to the Board, resulting in a majority of the Board being TPG-Axon nominees.

· In the event that Mr. Ward is no longer CEO, James Bennett will be appointed interim CEO, and the Board will conduct a search for a successor CEO. Mr. Bennett has been appointed President and Jeffrey Serota has been appointed lead independent director. In the event Mr. Ward is no longer Chairman of the Board, Mr. Serota will be appointed interim Chairman, for a term of six months.
The activists have achieved much of what they were looking to do. They now have control of the decision-making process at SandRidge.
But with transactions that have transpired in recent months, I have to question how much reward there is going to be for this victory?
Based on recent transactions, it appears that the activists may have significantly overestimated the value of SandRidge's assets.
Activist shareholder Mount Kellett Capital Management released a letter back in November of 2012 suggesting SandRidge could be worth $20 per share.
That valuation today appears to be significantly too high if you consider what Permian Basin and Mississippian assets really appear to be worth.
Permian Basin Assets
Mount Kellett valued SandRidge's Permian assets as being worth $4 billion. The details of that valuation are as follows:
Permian
The Company's Permian assets, pre-royalty trust interests, are worth up to $4 billion, based on Apache's purchase of BP's Permian assets in 2010, at approximately $22/boe when oil was at $75-$80 per barrel. The Company's own reported PV-10 of its Permian assets is approximately $4 billion. Additionally, we believe that if the Company were to continue to monetize portions of its Permian assets through a royalty trust structure, such as the SandRidge Permian Trust ("PER") or a Master Limited Partnership ("MLP") structure, the Company would continue to realize premium valuations for these assets.
On December 19, 2012 that valuation was shown to be too optimistic when Sandridge sold its Permian basin assets to Sheridan Production Partners II for only $2.6 billion.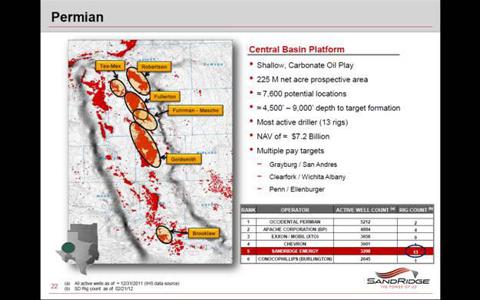 Click to enlarge
That means that Mount Kellett has overvalued SandRidge's Permian Basin assets by $1.4 billion. On a per share basis (SandRidge has 493 million shares outstanding) that is $1.4 billion / 493 million = $2.83.
Mount Kellett's valuation should be reduced from $20 to $17.17 based on this information.
Mississippian
Mount Kellett values SandRidge's Mississippian assets as follows:
In the Company's Mississippian play, we believe the Company's original 750,000 acres to be worth approximately $6,800/acre on a developed basis. Further, we believe the 1,000,000 excess acres in the extension of the Mississippian play into Kansas to be worth approximately $2,500/acre based on comparable transactions. In total, the Company's Mississippian assets could represent an approximate $8 billion asset.
This is SandRidge's biggest asset, so getting the valuation accurate on it is obviously going to be crucial. With a valuation of $8 billion, Mount Kellett is suggesting that the Mississippian is worth $16.22 per share.
Late last month, Chesapeake Energy (NYSE:CHK) threw some cold water on this valuation with a Mississippian Joint Venture with Sinopec (NYSE:SHI) that provided a very useful data point from which we could value SandRidge:
OKLAHOMA CITY--(BUSINESS WIRE)--Feb. 25, 2013-- Chesapeake Energy Corporation and Sinopec International Petroleum Exploration and Production Corporation (Sinopec) today announced the execution of an agreement which provides for Sinopec to purchase a 50% undivided interest in 850,000 of Chesapeake's net oil and natural gas leasehold acres in the Mississippi Lime play in northern Oklahoma (425,000 acres net to Sinopec). The total consideration for the transaction will be $1.02 billion in cash, of which approximately 93% will be received upon closing.
Chesapeake received $1.02 billion for 425,000 acres or $2,352 per acre. This makes Mount Kellett's valuation look very questionable.
Mount Kellett valued SandRidge's original 750,000 acres in Oklahoma as being worth $6,800 per acre. Chesapeake just sold very similar acreage for only $2,352 per acre.
The price Chesapeake received was basically the same as the valuation that Mount Kellett applied to the million acres in the Kansas portion of SandRidge's acreage which is less oily and less developed (and therefore less valuable).
The slide below shows the Chesapeake acreage in Oklahoma and it certainly looks to be near where SandRidge has its prime position: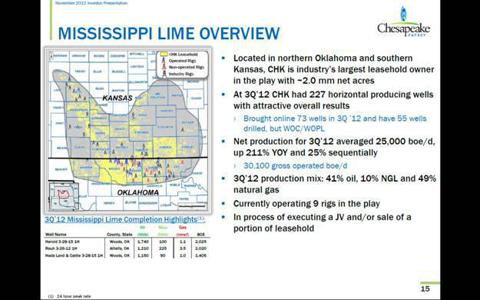 Click to enlarge
Mount Kellett valued SandRidge's Oklahoma acreage as being worth $6,800 per acre. It looks more like it should be $2,352 per acre based on the Chesapeake deal.
Further, Mount Kellett used $2,500 per acre for the less attractive Kansas acreage. That can't be accurate given that the more desirable Oklahoma acreage didn't even attract that price. Perhaps half of that ($1,250 per acre) would be more appropriate.
If I use those lower metrics, I come up with a Mississippian valuation as follows:
- 750,000 Oklahoma acres at $2,352 are worth $1.76 billion.
- 1 million Kansas acres at $1,250 are worth $1.25 billion.
My valuation is roughly $3 billion while Mount Kellett had $8 billion. That means a $5 billion reduction appears to be required to Mount Kellet's original valuation. That is $10.14 per share.
I had already reduced the Mount Kellett valuation from $20 to $17.17 per share because of the Permian asset sale. Now I need to reduce it from $17.17 to $7.03 ($17.17 - $10.14).
Where Mount Kellett had valued the company at $20, it looks (based on the actual Permian deal and the Chesapeake JV) that the value per share is closer to $7.
That is quite a difference and given the amount of debt SandRidge carries it doesn't make the company appear very attractive even at current prices.
It is quite possible that I'm missing something, but the Permian asset sale is not debatable, and I don't know what data point could be more useful than the Chesapeake JV at this point in time.
The $20 per share figure from Mount Kellett without question looks far too high to me. Even half of that figure might be optimistic.
Disclosure: I have no positions in any stocks mentioned, and no plans to initiate any positions within the next 72 hours. I wrote this article myself, and it expresses my own opinions. I am not receiving compensation for it (other than from Seeking Alpha). I have no business relationship with any company whose stock is mentioned in this article.