The Department of Energy released its Monthly Energy Review today for March, with almost all important energy statistics now updated through the end of 2012.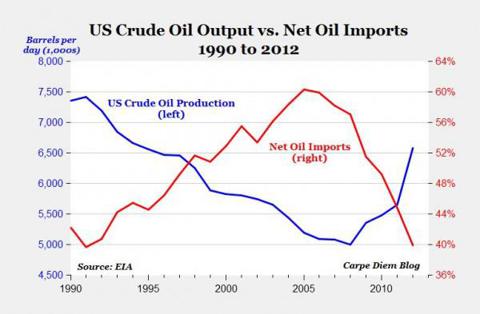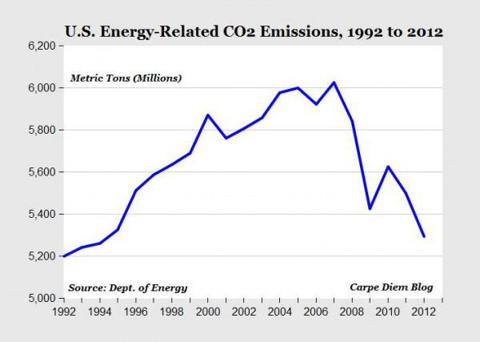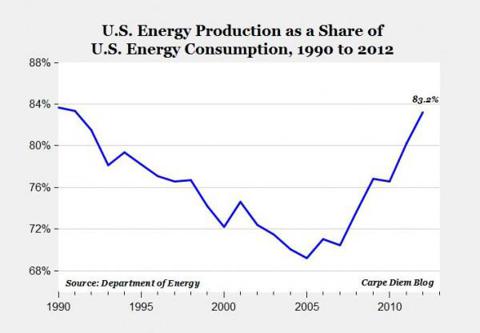 Based on today's updates, here are some highlights of America's amazing energy statistics for 2012:
1. The U.S. produced an average of 6.574 million barrels of oil per day in 2012, which was the highest average annual crude oil output since 1995 (see blue line in top chart above). U.S. oil output has been accelerating, and during the first two months of 2013 crude oil production averaged 7.046 million barrels of oil per day, which is the highest production level since 1992, 20 years ago.
2. In 2012, several states set new production records for crude oil output, including North Dakota, New Mexico, and Colorado. Other states set multi-decade production highs for crude oil output including Oklahoma (highest since 1994), Texas (highest since 1989), Utah (highest since 1988), Wyoming (highest since 1999), and Kansas (highest since 1995).
3. As a result of the boom in shale oil production in the U.S., America produced domestically more than 60% of the oil it consumed last year, and net oil imports fell below 40% in 2012 for the first time since 1991, more than 20 years ago (see red line in top chart above). Just seven years ago, it was exactly the opposite -- America relied on foreign sources of oil for 60% of the oil consumed and produced only 40% domestically, before the oceans of unconventional oil were accessed using the breakthrough technologies of fracking and horizontal drilling.
4. Natural gas production in the U.S. last year reached a new record high of almost 30 trillion cubic feet, an increase of 5% over 2011, following increases of 7.4% in 2011 and 3.4% in 2010.
5. Largely as a result of the surging production of domestic natural gas being substituted for coal to generate America's electricity, carbon dioxide (CO2) emissions fell in 2012 to the lowest level since 1994, 18 years ago (see middle chart above). Since the 2007 peak, greenhouse gas emissions in the U.S. have fallen by more than 12%, which is one of the largest reductions in CO2 recorded over that period by any country in the world.
6. As a result of natural gas production reaching an all-time high and oil production hitting a 17-year high last year, America was more energy self-sufficient in 2012 than in any year since 1991, more than 20 years ago (see bottom chart above). Last year, the U.S. produced domestically 83.2% of the total energy consumed, which was the highest level of energy self-sufficiency since 1991, when the U.S. produced a slightly higher 83.3% of the energy consumed.
America is in the early stages of an amazing energy revolution that represents a seismic shift in the energy landscape that has very rarely happened with such great magnitude in such a short period of time. The new Department of Energy data released today confirms that America is experiencing an amazing, game-changing energy bonanza that is truly revolutionary -- natural gas production is at record levels, crude oil output is the highest in 20 years, CO2 emissions have fallen precipitously to 20-year lows, and America is more energy self-sufficient than at any time since 1991, when George H.W. Bush was president.
In terms of America's energy, we've come a long way in a short period of time, and the energy revolution is just getting started. America's economic future looks much, much brighter because of the shale revolution, which will continue to support and energize the U.S. economy for decades to come.