Apple (NASDAQ:AAPL) continues to suffer from Wall Street's obsession with declining iPhone/iPad margin to the exclusion of higher unit sales in Asia and North America, increased R&D spending, and improving customer performance at Apple stores.
In this article, we will continue our visual guided tour surrounding Apple's performance, in order to gain a broader perspective of Apple's prospects in the near to mid term.
A Note On the Data: Apple adopted the FASVB's amended accounting principles on a retrospective basis during the first quarter of 2010. The new accounting principles significantly changes how Apple accounts for certain items, particularly sales of the iPhone. The chart values have been adjusted accordingly. Also note that the iPod was released in Q1/02 but Apple declared unit sales and revenues beginning with Q4/02. The first three quarters are therefore based on reconstructed values.
Apps Are Still King. Apple's app/ecosystem model is now the dominant paradigm for mobile devices. Note the lift in song downloads due to increased usage.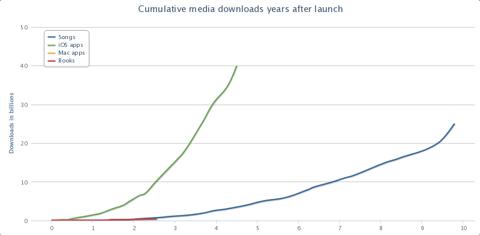 The PC May Be Dead, But The Mac Is Still Kicking. Mac sales have been remarkably consistent, given the prevalence of the PC = Dead meme. PC shipments have actually declined three times since research firms began counting them: In 1985, 2001 and 2012.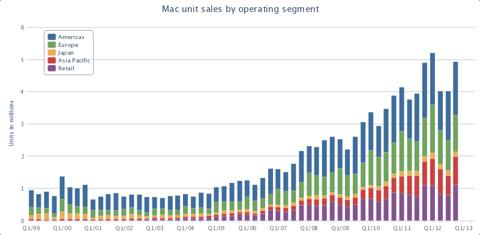 You Give And You Give...A breakdown of Apple's EPS explains the decline of the stock more than esoteric concerns like whether or not the company can match its prior performance without Steve Jobs. (In fact, it took Steve Jobs several years to generate the übermensch level success that Apple investors are currently beating Tim Cook over the head with.)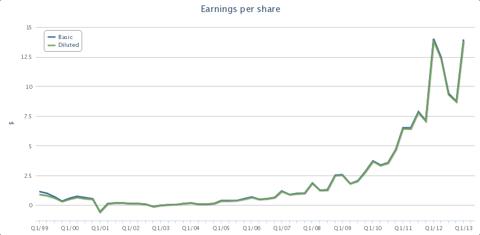 Déjà Vu? Apple's stock performance 2009-2013 is the spitting image of Microsoft's (NASDAQ:MSFT) 1997-2000. Coincidence, or history repeating itself?


(Source: Google Finance)
Apple's Pricing Power Shows No Signs Of Slipping. One thing analysts constantly fret over is whether or not Apple is losing its ability to charge a premium for its devices. While no one knows for certain what the future holds, the data thus far appears to argue against it. The dip in iPad ASPs is almost entirely due to the iPad Mini and Apple's willingness to continue stocking older models at a discount to newer ones.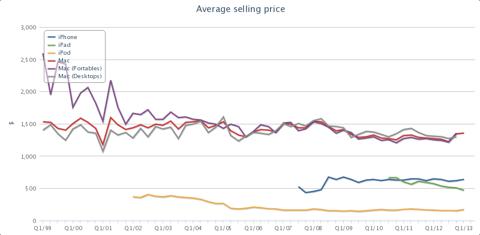 First You Have To Take It. It's important to remember that while Apple may have hit some chop recently, the company isn't just going to drop its crown in the gutter, roll over and die. First, someone has to take it. From a purely bottom-line perspective, Google (NASDAQ:GOOG) doesn't look up to the task quite yet.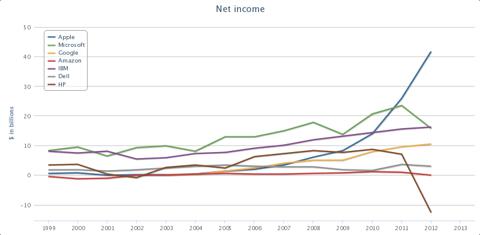 In fact, IBM may very well beat the folks in Mountain View to the punch.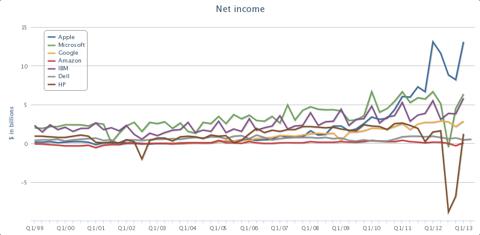 Conclusion
The short-term success and/or failures of a large enterprise is theoretically reversible in most instances. These opinions tend to become more entrenched and extreme with time, as both sides are convinced that they will be vindicated over a long enough timeline.
The last time I gave investors this warning, Apple's stock was closed at $428.35 a share. Since then, the stock has gone on a tear to $468.29 before retreating back to around $452 on March 27th. Needless to say, if you opened a short position against Apple on March 13th (the date Pt. 1 was published), you got slaughtered.
So allow me to reiterate that I would advise bears to practice caution here for two reasons:
If Apple's cost of sales and R&D spend follow the historical pattern, shorts could be crushed between falling input costs and a surge in sales due to new product releases.
With Greenlight's recent challenge still fresh in investors' minds, Tim Cook has every incentive to get the stock up in the near term and virtually unlimited funds to conduct a shock and awe buyback campaign. The high probability outcome in such an event is that Tim Cook can stay long AAPL longer than short sellers can stay solvent.
Whether or not such a buyback is the according-to-Hoyle "right" thing to do is almost irrelevant: Tim Cook is holding that ace, and he can play it if he wants to.
This alters the risk-reward profile for the short thesis substantially. It's like taunting a man with a nuclear weapon and an itchy trigger finger: You stand to lose big even if you're right.
Be careful out there.
Disclosure: I have no positions in any stocks mentioned, and no plans to initiate any positions within the next 72 hours. I wrote this article myself, and it expresses my own opinions. I am not receiving compensation for it (other than from Seeking Alpha). I have no business relationship with any company whose stock is mentioned in this article.