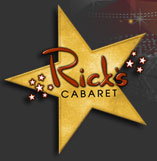 Rick's Cabaret International, Inc., (NASDAQ:RICK) owns and operates upscale adult nightclubs serving primarily businessmen and professionals.
Rick's differentiates themselves by providing an atmosphere where they can offer a unique quality entertainment environment that includes highly experienced and well screened entertainers, high quality managers hired from within the adult entertainment industry, and finally, providing an atmosphere and ambiance, including exclusive VIP rooms, that appeal to upscale clientele.
Rick's also owns and operates several online and offline media properties that produce adult websites as well as cater to owners and operators of intimate apparel and adult retail stores.
Rick's nightclubs offer live adult entertainment, restaurant, and bar operations in Houston, Austin, San Antonio, Minneapolis, Minnesota, New York, Dallas Fort Worth, Charlotte, and other cities under the names Rick's Cabaret, XTC, and Club Onyx.
As of September 30, 2008, Rick's operated 19 adult nightclubs.
Rick's Announces Higher Revenue Than Expected
Same-club sales decline
On Thursday April 9th, Rick's Cabaret pre-announced their Q2/2009 sales in a press release while simultaneously announcing that their same-club sales declined.
First the good news: revenue from Rick's upscale gentlemen's clubs climbed 18.2% to $18.07 million in the quarter ending March 31, 2009.
Analysts were projecting $17.46 million.
The company said the increase was due to contributions from its midtown Manhattan Rick's Cabaret and as a result of branding conversions of clubs in Philadelphia and Dallas.
Now for the bad new: Same-club sales declined by 7.6% to $14.05 million.
The decline in same-club sales was not entirely expected, as Rick's was facing an uphill battle at several of their highest profile clubs, especially the location in Las Vegas, that were going to drag down results utilizing this metric.
What's not clear to me however, and I'll have to do a little digging around to find out, is if these results include the Las Vegas location.
If they do not, you can rest assured that same-club sales will decline markedly in the coming months when these numbers are wrapped into the overall results.
During the quarter the company converted the Rick's Cabaret in Philadelphia to a Club Onyx format catering to African-American gentlemen; converted the Rick's Cabaret in Dallas to its XTC Cabaret all-nude format serving a younger and more blue-collar clientele; and began new marketing initiatives for the Rick's Cabaret/Las Vegas that have resulted in increased market share.
CEO Langan said in a statement:
"Despite the tough economic environment we continue to make gains at our key Rick's Cabaret/New York City club where we had a solid quarter and a particularly strong March."

"While we have seen slippage in some other markets we are pleased with the results of our club rebranding in Dallas and Philadelphia, and our aggressive new marketing program in Las Vegas."
Bottom Line
The top line beat is a pleasant surprise, even though it is only by about 3.5% over expectations, but it's better than 3.5% below expectations.
In addition, to anyone who's been paying attention, Rick's stock has been rocketing up from a low of about $2.50 to now being in the $5-6 range in a little over a month.
This is a critical level for the stock price as $5 per share is often a cut off point for many funds and money managers as far as the price level that their fund is able to own a stock.
I think we've seen the lows in Rick's stock price for now, and are seeing slight signs of a bounce in the overall economic picture, at least as it pertains to Rick's rebranding efforts and efficiencies.
There was no mention of profit, margins, etc., which we already know means that they are going to come in woefully low.
Rick's underperforming clubs are really pulling things down overall, but I am encouraged by the rebranding efforts at their lagging clubs, and the quick turnaround which they have seen.
From what I have been reading, these efforts are paying immediate dividends for Rick's.
It's one thing to struggle in a down economy, it's another to do nothing about it.
Rick's management has taken a very active route towards rebranding underperforming clubs, tightening up operations by laying off some workers, and implementing other cost controls.
Let's see how these play out when Rick's officially announces their Q2/09 earnings in the next few weeks.
New to the Rick's story?