GeoEye (NASDAQ:GEOY) provides space-based, and aerial imagery and geospatial information through high-resolution and low-resolution imagery, imagery-derived products, and image processing services to customers worldwide.
This capability benefits a broad array of industries including national defense and intelligence, online mapping, state and local governments, environmental monitoring and land use management, oil and gas, utilities, disaster management, insurance and others.
GeoEye operates in what in essence is a duopoly with only one other U.S. competitor, DigitalGlobe (NYSE: DGI), and just recently launched and certified their latest satellite, GeoEye-1, which is the most accurate and detailed commercial imagery satellite available today.
U.S. Government Ruling Bodes Well
Outlook clearer, GeoEye-1 Imagery in demand
According to various confirmed news sources late last week, the U.S. government will approve the build-out of a new generation of spy satellites as well as continue purchasing more commercial imagery from the private sector to plug immediate gaps in satellite coverage.
This latest program, dubbed "2-plus-2″, is designed to replace an existing program that failed miserably.
I wrote extensively about that program, and how the cost overruns that were incurred left a bad taste in the Pentagon's mouth for these types of projects, which made what GeoEye has done in getting their GeoEye-1 satellite delivered under budget remarkable.
The previous National Reconnaissance Office program to build a cutting-edge satellite program, called Future Imagery Architecture, was canceled three years ago after it missed deadlines and soared billions of dollars over budget.
You can read all about the government's BASIC program, as well as their previous failed attempts to produce their own satellites by clicking here.
The new program calls for building two sophisticated satellites equal to or better than the huge, high-resolution secret satellites now in orbit, while at the same time, the government would also commit to spend enough money on commercial satellite imagery sufficient to pay for the construction and launch of two new commercial satellites, according to military, intelligence and industry officials familiar with the program.
If I am reading the tea leaves correctly, this means that the National Geospatial-Intelligence Agency (NGA) will be helping to fund 2 new satellites, one for GeoEye, and their only U.S. competitor, DigitalGlobe (NYSE: DGI) in the near future.
The "2-plus-2″ program is meant to avert a potential gap in U.S. satellite imagery coverage around the world, because the sophisticated spy satellites now in orbit are nearing the end of their service life and replacements must be launched in the next decade to prevent blind spots.
I'm hearing different numbers being bandied about, but it looks like in addition to helping to fund 2 new satellites, the government would also continue to support GeoEye and DigitalGlobe to the tune of $750 million each over 5 years, which coincidentally, puts the monthly run rate at exactly the $12.5 million that GeoEye is now getting under their recently signed service level agreement (SLA) with the NGA.
GeoEye Imagery In High Demand for North Korean Threat

In another validation of GeoEye's satellite technology and demand for the services that GeoEye provides, recent events surrounding North Korea's missle launch have been chronicled by the satellite imagery provider as demand for the images showing the launch site has been voracious.
In fact according to a Wall Street Journal article, the imagery that GeoEye and DigitalGlobe have collected have provided a timeline of sorts whereby the government can see exactly the steps leading up to the assembly, test and launch of the rocket.
Here's an image taken by GeoEye with some annotation: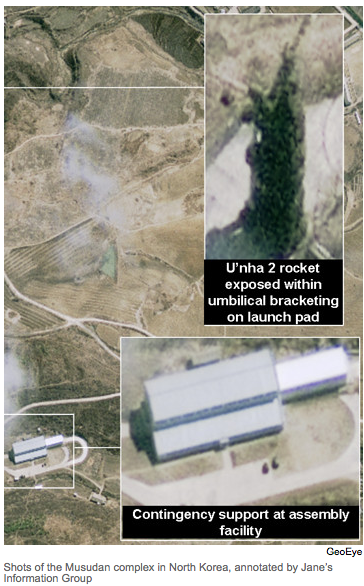 Just another day at the office for GeoEye.
In fact a GeoEye representative was quoted as saying:
"They (US Intelligence) have a huge appetite for this type of technology because even though they have their own imagery-collection systems, commercial satellite imagery is unclassified and can be easily shared with allies and coalition partners, whereas imagery from the national systems is highly classified and very difficult to share."
Bottom Line
From what I am reading, the U.S. government is all but certain to approve the latest satellite imagery program that will entail the government building 2 satellites of their own through Lockheed Martin (NYSE: LMT), and then also putting up the capital to either pay for entirely, or more likely, subsidize the build-out of 2 additional commercial grade satellites, one each for DigitalGlobe, and GeoEye.
In the mean time, the NGA with the blessing of the government, will not only continue to support these commercial imagery programs, but also increase their purchases from these companies and extend those relationships well into the future.
From what I understand the deal is all but done, and will most likely pass muster in the House when it comes up for a vote.
Just another step in GeoEye's steady business model.
At the same time, as the North Korean missile episode is showing us, the demand for the types of images that GeoEye provides are always going to be in demand, and therefore, GeoEye's services, in good economic times or bad, will always be a part of intelligence gathering and provide the company with the business it needs to thrive no matter what's going on in the markets.
New to the GeoEye story?