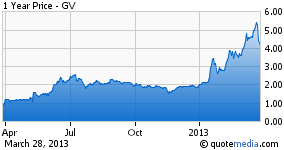 Goldfield Corporation (GV) is an electrical construction and real estate development company. GV's electrical construction segment accounted for 99% of its 2012 revenues. The company is headquartered in Melbourne, FL.
Goldfield first caught my attention this past June (2012). At that time, the company was trading at around $1.50/share with just over $40 million in revenues and $3.5 million in net income. What impressed me most was this company's huge backlog ($77 million as of 02/27/12).
Now, over nine months later, this company trades at $4+/share. GV reported record results with $81.6 million in revenues and $12.0 million in net income. However, these results could pull back if the company fails to secure contracts.
The main indicator that revenues are heading south is a declining backlog. The company's current backlog figure sits at just over $40 million - almost a 50% decrease since February 27, 2012. This declining backlog reflects the completion of outstanding work and the lack of securing more work.
The company has run up its long-term debt, financing new equipment to make possible the massive amount of work that it is doing. Without adequate financial support, this debt (while not a huge issue now) could begin to hinder the company.
Recently, investors have taken notice of the company's shortcomings and the stock price has plummeted 18% from March 25's close to March 27's close. And, it continues to fall today.
There are still some positives to look at with this company. Its current assets-to-liabilities ratio is 2.6, and the company has close to $19 million in working capital with over $7 million in cash.
To tie it all together, GV has seen enormous growth and its stock price has come along with that growth. However, in order to sustain its growth (and stock price) the company needs to support its business with continuing contract wins. An inability to secure future projects could send Goldfield's shares back to the basement. Investors are taking note of this truth, putting the brakes on GV's scorching run.
Disclosure: I have no positions in any stocks mentioned, and no plans to initiate any positions within the next 72 hours. I wrote this article myself, and it expresses my own opinions. I am not receiving compensation for it (other than from Seeking Alpha). I have no business relationship with any company whose stock is mentioned in this article. This article could contain references to previous or future Bowser recommendations. This article is an expression of the author's opinions and is not affiliated with The Bowser Report.