Apollo Residential Mortgage (NYSE:AMTG) is a hybrid mortgage real estate investment trust ("mREIT") that invests in agency and non-agency residential mortgage-backed securities ("RMBS"), residential mortgage loans and other residential mortgage assets. YTD, Apollo's stock has been on fire, gaining about 13% on the back of the improving housing market. In addition to its stock price appreciation, Apollo also offers a compelling quarterly dividend of $0.70 per share. At current prices, Apollo yields about 12.6%.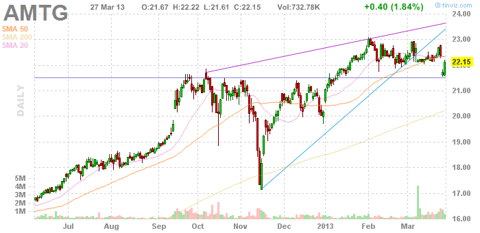 Since December 2011, Apollo has been on a tear, increasing in price by nearly 60%. This can be explained by looking at a chart of home price data. Late 2011 arguably marked the start of the recovering in home prices. This has led to an increase in value to the previously undesirable non-agency "junk" MBS.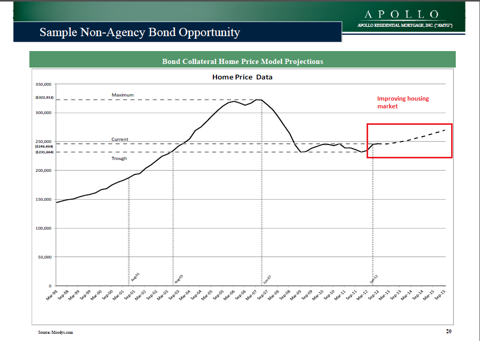 As a hybrid mREIT, Apollo is constantly allocating assets to optimize returns. Apollo has a large levered portfolio of agency RMBS and a smaller portfolio of less levered non-agency RMBS. Apollo generates returns on its agency holdings by deploying leverage, while returns on the non-agency RMBS are generated by buying them at deep discounts. This positions Apollo to benefit from both a neutral and improving housing market.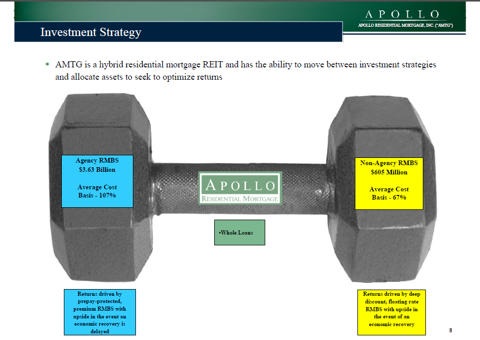 Apollo has a target portfolio equity mix of about 60% agency MBS, 30% non-agency MBS and 10% cash. As of year-end 2012, this mix was about 59% agency MBS, 25% non-agency MBS and 16% cash. Apollo is slightly overweight cash due to it taking some profits from its gains in its non-agency portfolio.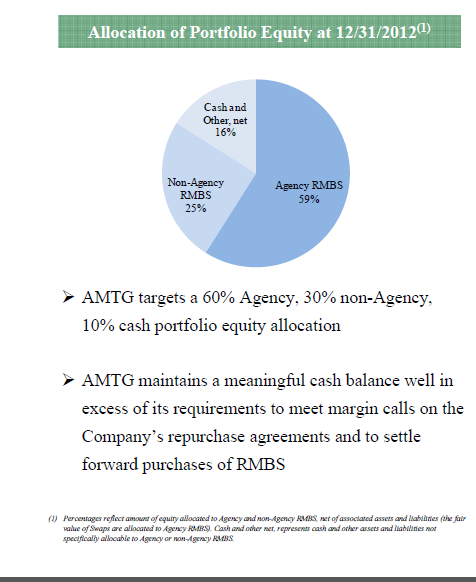 Apollo's non-agency portfolio is heavily tilted towards the lower quality "subprime" loans. These loans were bought at very steep discounts and Apollo has benefited greatly from the market's increase demand for these loans. Apollo strategy is to continue to focus on the subprime assets.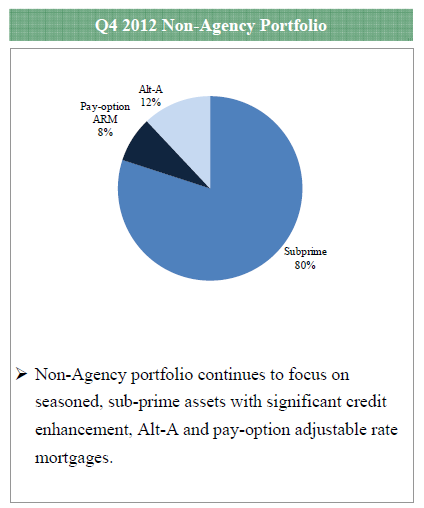 Apollo's focus on the riskier assets has led it to have one of the higher net interest spreads amongst the mREITs. As of Q4 2012, Apollo's portfolio blended net interest spread was 2.70%. To put this into comparison, this is nearly 100 basis points above American Capital Agency's (NASDAQ:AGNC) net spread and 170 basis points above Annaly Capital's (NYSE:NLY) net spread. Apollo was also able to achieve this with relatively little leverage, with a leverage ratio of only 5.1X. Apollo's blended levered asset yield was an incredible 17.3% during Q4 2012.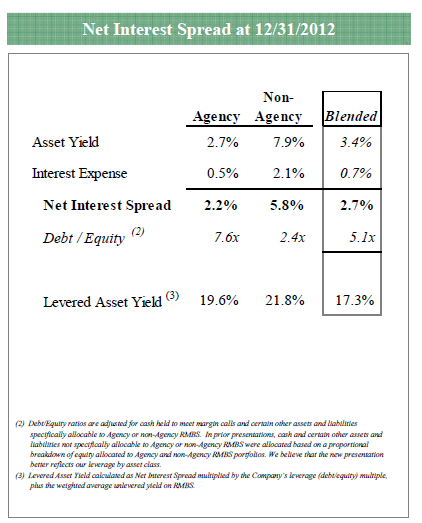 Even with its sky-high margins, Apollo's net interest rate spread may increase this quarter. During the past few months, treasury spreads have widened, and this usually leads to increased profits margins for mREITs such as Apollo.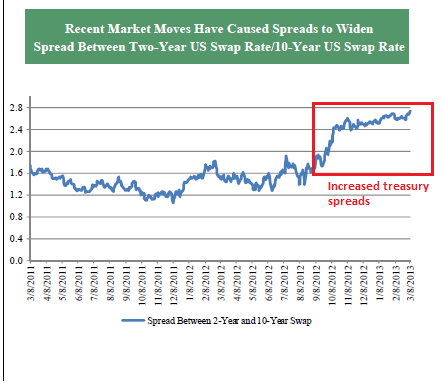 Conclusion
Apollo offers outsized returns, but also outsized risks. Apollo is highly levered to the success and future recovery in home prices. While the current housing outlook does appear rosy, it should be noted that any hiccup would severely adversely affect Apollo. Due to the outsized nature of the risks involved, I would want to own Apollo at a 5-10% discount to its book value, which as of Q4 2012 was $22.49.
Disclaimer: The opinions in this article are for informational purposes only and should not be construed as a recommendation to buy or sell the stocks mentioned. Please do your own due diligence before making any investment decision.
Disclosure: I am long AGNC, CYS. I wrote this article myself, and it expresses my own opinions. I am not receiving compensation for it (other than from Seeking Alpha). I have no business relationship with any company whose stock is mentioned in this article.