The wait is finally over: BlackBerry (NASDAQ:BBRY), formerly known as Research In Motion reported a surprise profit in its Q4 2013 earnings results, reporting a diluted EPS of $0.22 vs $-1.32 consensus on a revenue of 2.68 billion vs 2.84 consensus. BlackBerry shipped 6 million smartphones during the quarter which included an impressive 1 million BB 10 units which does not include BB 10 sales in the US where it was launched almost three weeks after the quarter ended on March 2nd. The results demonstrate that BlackBerry remains in a relatively strong financial position which would disappoint ultra bears who are of the view that BlackBerry has no future. However, the earnings release would also disappoint some of the bulls who believed that strong results would trigger an immediate short squeeze given the high short interest in the stock. In this article I will look at how the earnings results offer hope to bears as well as bulls.
BlackBerry 10 Sales: Bullish
BlackBerry reported that it had shipped 1 million BB 10 devices in Q4. Various analysts were expecting sales ranging from 300k-1.2m BlackBerry 10 units. The reported sales are thus on the higher side of the estimates which should give some confidence to the bulls. CEO Thorsten Heins also had some bullish comments on the earnings call, revealing that BlackBerry had to ramp up the production of Z10 towards the end of Q4 to meet robust demand. In response to a question on the earnings call, Heins also revealed a Z10 sell through of "two thirds to three quarters" of the shipments which is also not bad.
Gross Margin: Bullish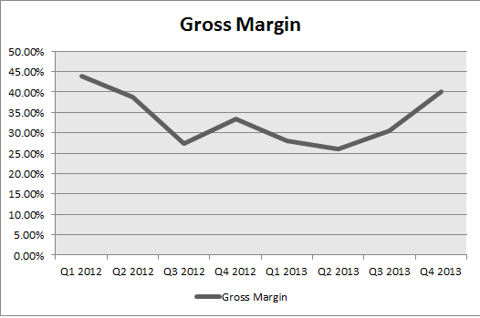 The revival in BlackBerry's gross margin continued; the company reported a gross margin of 40.1% in Q4 2013 vs. 30.4% in Q3, driven by improved margins on hardware revenues due to increased average selling price of the Z10. CFO Brian Bidulka told investors on the earnings call that the higher margin also reflects the success of BlackBerry's CORE restructuring program which has resulted in a lower cost structure overall. The higher margin helped BlackBerry post a surprise Q4 profit despite missing revenue expectations.
Cash Position: Bullish
BlackBerry reported a $219 million in cash flow from operations resulting in a healthy $2.9 billion cash balance at the end of the fiscal year 2013, despite significant structural charges associated with BlackBerry's CORE restructuring program. This shows that BlackBerry has been working efficiently in managing its working capital and converting it to cash. The efficiency in working capital management is also represented in BlackBerry's 7.9 million device sell-through vs. 6 million smartphones shipped, implying an almost 2 million reduction in channel inventory.
Having a good cash position is extremely important at this point because BlackBerry would need that cash for marketing purposes-- BlackBerry anticipates a 50% sequential increase in its marketing spending in its Q1 2014 outlook. BlackBerry would also need this cash to build up inventories for the launch of Q10 as well as upcoming BB10 devices.
Subscriber Base: Bearish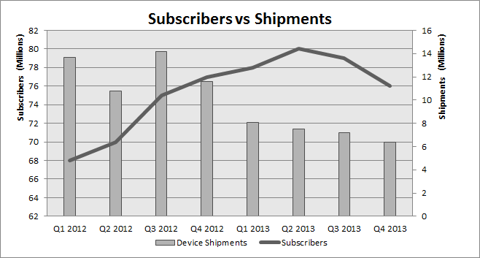 BlackBerry reported that it lost another 3 million subscribers in Q4 after losing 1 million in Q3. Although most analysts were looking for a sequential decline in subscribers, the extent of the decline was always going to be important. In my opinion, the accelerating subscriber loss is not good news because it implies that BlackBerry is rapidly starting to lose out to mid-range Android smartphones in emerging markets where BlackBerry had shown impressive resilience in the past couple of years. This means that BlackBerry will also have to focus on the mid-range market as soon as possible in order to arrest the accelerating subscriber losses. BlackBerry would also face a dilemma whether to release a lower priced BB10 phone first or continue with an upgrade to its BB7 lineup which are still popular in emerging markets. Heins told us in the conference call that mid-range BB10 devices were expected to be launched by the middle of the fiscal year which means around August or September at best. However, bears would rightly ask: will that be too little, too late?
Service Revenues: Bearish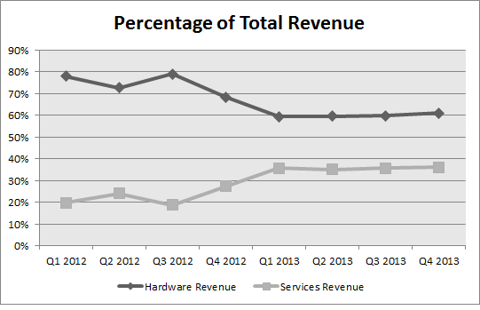 BlackBerry reported that service revenues accounted for approximately 36% of BlackBerry's $2.678 billion dollar overall revenue for the quarter, implying a dollar figure of $964 million vs. $974 million service revenue in Q3 2013. While bulls will be happy with the relatively small QoQ decline, bears will point to comments CEO Heins made in the earnings call suggesting that the service revenues are expected to record a "single digit decline" in Q1 2014. Heins has been consistently calming down analysts and investors by insisting that the services revenues are not going to end and the service revenue model is simply evolving in response to market dynamics; he said that in the Q3 earnings call and he said it again today. However, what is telling is that when pressed on the specifics as to where the service revenues will come from, Heins is still only able to give out general details such as "value added services" for enterprises. To bears this means that there is still a lot of uncertainty about future growth in service revenues from enterprises, whereas it is already quiet certain that service revenues from consumers will drop hard.
Conclusion
In my view, it is very difficult to draw any meaningful long term conclusions about BlackBerry's future prospects based on the Q4 2013 earnings results, and so far the price action reflects that. After rising as much as 8% pre-market, the stock went 3% into the red before recouping the losses and going green again. Those who have read my views earlier know that I have been generally bullish about BlackBerry's prospects, and I still remain long after the earnings because I think that Q4 represented another step in the right direction for the company's turnaround. For me the only real concern for now is the accelerating loss in subscribers; I was expecting the number to be around 1.5-2 million at most which would have been very bullish and scared the shorts into covering. Despite that, for now I believe that the battle between the bulls and the bears is slightly tilted in the bulls' favor due to the management's strong focus on cost-cutting and BlackBerry's healthy cash position. But my fear is that ultimately, the real numbers will be put into the background, and it will be the comments from the sell side analysts that will drive the stock price in the short term.
Disclosure: I am long BBRY.
Business relationship disclosure: This article was written by Dividend Pros' analyst covering technology.
Additional disclosure: Data for charts taken from BlackBerry earnings reports.