The market is about to close out the best first quarter since the 90s. The overall market had better than a 10% rise despite escalating worries about Europe. The market was able to ignore these noises coming from the European continent on the back of significant fund inflows into stocks from retail investors, much better domestic growth in Q12013 than in Q42012, a continuing housing market recovery and better than expected earnings reports.
Investors should not get complacent based on the performance of the first quarter. My own personal opinion is our market has provided most if not all of the gains it is likely to see in 2013. I expect a decent pullback in our market sometime during the second quarter as fund flows slow down and as Europe demands more attention from investors.
Let's start with the basics around Europe. Growth is expected to be negative again during 2013 for the European continent. Despite pledges from the ECB to "do whatever it takes" to maintain liquidity and support bank lending, loan growth is abysmal so far in 2013 (See Chart). Unemployment is already over 25% in Spain and Greece as well as approaching 20% in Portugal. Given what is happening in Cyprus, unemployment will probably approach similar levels over the next few years as the country is predicting to go through a contraction akin to Greece. Given the 2% GDP growth usually acknowledged as needed for hiring to start again, how long can these unemployment levels be maintained or exceeded before a significant increase in social unrest?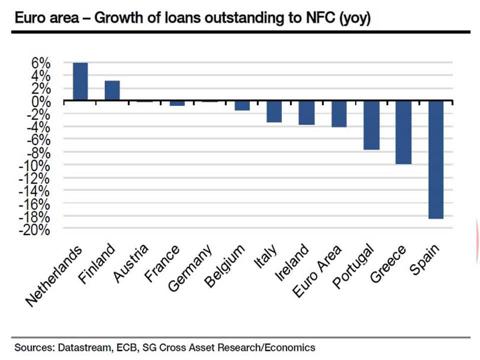 It appears at first glance that Cyprus is being well-behaved as their banks reopen today. However, taxing depositors is likely to have longer term unintended consequences that no pundit can reasonably predict right now. After all, it was the "safe" Greek sovereign debt that Cypriot banks held in quantity that finally pushed them over the edge into insolvency. Does anyone believe Cyprus will be the last domino to fall in Europe?
The drumbeat of respected analysts and fund managers calling for Europe to eventually default and/or devalue their currency continues to grow. Noted investment manager Mark Mobius just being one of the latest to predict this eventual outcome. In addition, European breakup fears are growing as well. One of the under the radar stories right now is that European banks have fallen some 20% this month on this latest flare up in Cyprus. Something to think about given the calls that the situation is a "one off" or "contained" seem to be norm right now, much like subprime was at one time.
I think it speaks volumes that the continent's third largest economy (Italy) cannot form a government and the man tasked with forming a coalition government calls anyone that wants to govern his country right now "insane." German taxpayers also are growing increasingly wary about bailing out their more profligate neighbors. Bailing out Russian depositors in Cypriot banks turned out to be a bridge too far. Will Germans be there for the next inevitable bailout? Finally, we are approaching the time of the year where Europe has taken center stage over the past few years starting with Greece, which kicked off this crisis in May 2010. Any bets that this will not occur again this year?
So what should investors do as Europe prepares to take more of the headlines in coming months?
A. Be happy. The market has already provided double digit returns normally associated with a good year let alone one quarter. No one ever went broke booking some profits and cash on hand could prove handy for redeployment at lower entry points in the months ahead.
B. Focus on firms/stocks that get the vast majority of their revenues domestically. Any firm that gets a good portion of sales from Europe is likely to very challenged in the year ahead.
C. For more aggressive investors, shorting the euro is likely to be a winning trade for the rest of the year. It recently hit a four month low and given the eventual need to devalue the currency probably has further losses ahead. My own target is below $1.20 by end of the year as previously stated.
D. Finally, get ready for more volatility in the markets during the second quarter. The deteriorating condition in the world's largest economic bloc will not pass without some major bumps in the road.
Be careful out there.
Disclosure: I have no positions in any stocks mentioned, and no plans to initiate any positions within the next 72 hours. I wrote this article myself, and it expresses my own opinions. I am not receiving compensation for it (other than from Seeking Alpha). I have no business relationship with any company whose stock is mentioned in this article.