As stated in my previous article: "A Closer Look At MusclePharm," the company develops, markets and sells athlete-focused, high quality nutritional supplements primarily to specialty resellers. In this article you'll find new information why MusclePharm is leading the way.
Another successful financing
On March 27, MusclePharm entered into subscription agreements with three accredited investors whereby it sold 705,882 restricted shares of its common stock at $8.50 per share.
Commenting on the announcement, MusclePharm Founder and CEO, Brad Pyatt, stated, "The closing of this financing will increase both our working capital and shareholders' equity. Strengthening our balance sheet at this time is advantageous as we continue to grow our business. Earlier this year we filed a listing application with NASDAQ and we also believe the additional capital may help expedite the up-listing to a National Exchange."
The NASDAQ-listing is coming your way soon, which will attract institutional investors.
MusclePharm's sports nutrition the buzz word
Recent research of Euromonitor states that retailers look to capitalize on protein supplements and sports nutrition.
Driven by a global obesity crisis and increasingly proactive consumer fitness trends, sports nutrition witnessed phenomenal growth during the period (2007 to 2012). Averaging 7% constant value growth, sport nutrition outperformed any other category of consumer health globally. Eager to capitalize on the category's rising prominence, MusclePharm has done a terrific job to promote its products and has created a stable and reliable brand. Given the importance of innovation the company announced last week the launch of FitMiss, a new and innovative branded line of fitness supplements which is designed, dosed and formulated specifically for women with active lifestyles.
FitMiss is a full line of six distinct products, each of which having specific attributes designed to help active women achieve their health and fitness goals. The FitMiss taglines "Strong is the New Sexy" and "Be Lean, Be Fit, Be Healthy" help drive the brand's message to active women.
The line of products is available at retail locations of GNC and Vitamin World, as well as online retailers BodyBuilding.com, VitaCost.com, and ProSource.net.
A compelling growth story
Until recently, sports nutrition existed on the far fringe of consumer health. The association with the niche bodybuilding world lent a negative image, revolving largely around concerns over suspect formulations, including steroids and other banned substances. While concern over illegal ingredients persists sports nutrition has taken massive strides toward transparency and embracing average consumers.
Transparency in regard to ingredients in sports nutrition has become very important in this business and is now embracing average consumers.
One of the companies that benefited from this trend is MusclePharm. MusclePharm's dedication to bringing its customers reliable, innovative and advanced products has served them well.
Especially at a time when obesity and awareness of aging in a healthy way is a growing concern. Consumers are more open minded towards sports nutrition supplements. Therefore many producers try to attract and retain non-traditional users to sports nutrition supplements. Focusing on worry-free formulations (including third-party banned-substance-free certification), convenience formats, a greater emphasis on a general fitness message and, perhaps most importantly, greater accessibility in grocery stores and other popular mass retail channels.
Although the industry is definitely expanding distribution, and individual brands like MusclePharm have performed strongly in specific markets, the mainstream retail landscape in general remains under-developed. Mass merchandisers, hypermarkets and supermarkets, which account for nearly a quarter of all retail sales globally, however, accounted for less than 10% of global sports nutrition sales in 2012. However, large retailers in these channels are increasingly warming to consumer health's fastest-growing category.
I think MuslePharm can have a piece of the pie in the mainstream retail landscape. The question of course is - do they want their products being sold at Wal-Mart stores?
Sports nutrition: a global growth story
Sports nutrition is expected to increase by 40% through 2017. Along with the industry's push to broaden user demographics, this outsized growth might influence the willingness of large retailers to sell sports nutrition products as well.
2012-2017 % CAGR for Consumer Health and Other Fitness-Relevant Categories
Source: Euromonitor International
GNC Holdings (NYSE:GNC), Vitamine Shoppe (NYSE:VSI), Vitamine World and of course other non-traditional channels were the first ones to embrace the growing sports nutrition trend.
Recently, more traditional retailing outlets, such as mass merchandisers, parapharmacies/drugstores, and grocery retailers, have moved to capitalize on the category's growing appeal among average consumers.
In the United States, the world's largest drugstore chain Walgreen (WAG) provides an interesting example of how mass retailers could gain traction in sports nutrition. The company's larger stores now feature separate sports nutrition sections in the supplement aisles, where Walgreens' two separate lines of protein powders (one under the generic Walgreen's banner, and a higher-priced version under its up-market private label brand Finest Nutrition) can be found. These types of cross-over sports nutrition/vitamins and dietary supplements could prove alluring to consumers.
I think this is positive for MusclePharm going forward.
Targeting new consumer types
The legions of fitness-interested, lifestyle consumers who are less familiar with sports nutrition can be reached with new product lines. The recently introduced FitMiss products will also be appealing for lifestyle consumers. The line's sleek design, with an eye-catching black and hot pink product label accentuated and with an image of an active woman is an excellent example of successful lifestyle branding.
Its manageable array of formulations lend the line credibility to women consumers focused as much on presentation as efficacy.
Crossover, general fitness/wellness positioning like those used by Walgreen could prove a significant draw for MusclePharm going forward.
Final Note
MusclePharm's explosive growth story will continue. The company has grown rapidly over the past few years, producing expected 2012 revenue of $78 million, up from $17 million in 2011 and $4 million in 2010.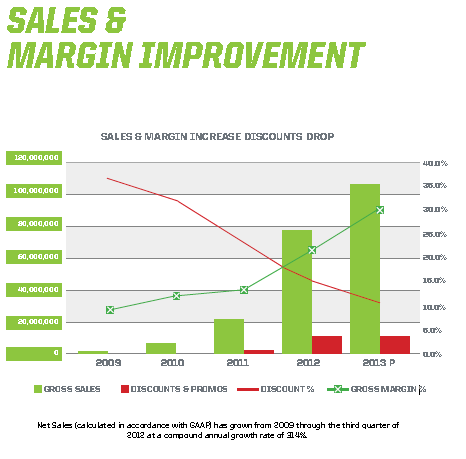 Growth is expected to continue in 2013, with sales expected to reach over $100 million. An increased domestic and international retail presence and a number of new product lines, such as FitMiss, will lead the way to revenues above $100 million.
Also this is the year of margin improvement and profitability. Over the past few months, the company has taken a number of actions to improve its capital structure and long-term profitability. The recently completed $12.0 million registered offering has been used to pay off the MusclePharm's mezzanine and short-term debt. Additionally, warrant conversions and extinguishments of derivative liabilities have reduced derivative liabilities to nearly zero and prevented possible warrant derivative liability expenses from occurring. Operationally, the company has renegotiated terms with its manufacturers and refined its distribution model. This should lead to a more streamlined process and increased gross margins going forward.
Compared to competitors the stock price has performed quite well. I think announcements about new product lines, distribution agreements and the upcoming NASDAQ listing will drive the stock price even further.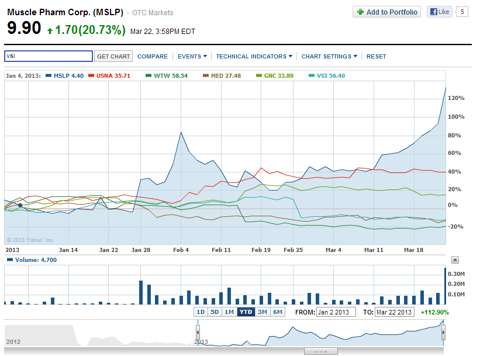 The main risks
MusclePharm is highly dependent upon positive consumer perceptions of the safety and quality of the company's products as well as similar products distributed by other sports nutrition supplement companies. Consumer perception of sports nutrition supplements can be substantially influenced by scientific research or findings, national media attention and other publicity about product use. Adverse publicity from these sources regarding the safety, quality or efficacy of nutritional supplements could harm MusclePharm's reputation and results of operations.
Disclosure: I am long OTCQB:MSLP. I wrote this article myself, and it expresses my own opinions. I am not receiving compensation for it (other than from Seeking Alpha). I have no business relationship with any company whose stock is mentioned in this article.