If U.S. commercial banks are as weak as many allege – insolvent, filled to the brim with "toxic" assets, over-leveraged, etc. – why is it that just released 1Q09 lending data reveal no particular capital or other constraint on the banks' lending abilities?
Overall last quarter, outstanding commercial bank loans and leases declined 1.37% to $7.1 trillion, reasonably robust in an economy that shrank an estimated 3.0%. And while commercial and industrial loans declined 2.5%, real estate and consumer lending grew 0.1% and 1.3%, respectively, with the largest gains in revolving home equity (up 1.8%) and credit cards (+1.9%). Impressively, since the recession began in December 2007, U.S. commercial bank loans and leases have increased 4.0%. Of the largest categories, commercial and industrial lending rose 7.8%, real estate lending increased 6.2%, and consumer lending soared 10.6%.
Of particular note, the quarter showed an especially welcome recovery in interbank lending, up nearly 24% over 2008's last quarter. On the liabilities side of the balance sheet, U.S. commercial deposits were a record $7.38 trillion, up 7.2% in the year-ended March 2009.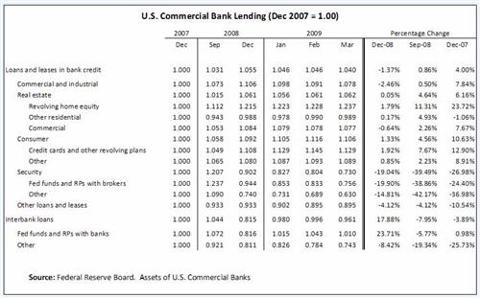 Click to enlarge
So what's behind the false perception that the banks aren't lending? The Federal Reserve's consumer credit reports continue to show contraction in non-bank finance company credit outstanding. Securitized asset pools shrank again this past quarter.
Capital constrained? Nonsense. The better analysis is that U.S. commercial banks are not only able to lend, but that they're taking ample market share from non-bank financiers and the shadow banking system.