As much as I would - as an Intel (NASDAQ:INTC) shareholder - love to see Apple (NASDAQ:AAPL) do what it did with its Mac product line and put Intel Inside of each iPhone and iPad in existence, the truth is that the conditions today are so vastly different than they were all of those years ago. Back then, Apple hadn't seen the wild financial success of the iPhone/iPad, so it made financial sense to get chips from the best in the business - Intel.
Fast forwarding today, while Intel still has the best transistor technology on the planet and I believe will soon hold the performance per watt crown with its upcoming "Merrifield" and "Bay Trail" smartphone and tablet platforms, it just doesn't matter as much anymore. Apple's own ARM (NASDAQ:ARMH) compatible (but please know that it's a custom Apple design that just happens to run ARM compatible code) A-series processors built at either Taiwan Semiconductor (NYSE:TSM) or Samsung (OTC:SSNLF) will do the job just fine.
Would it be nice for Apple to have access to the smaller geometries, lower leakage, and higher performance characteristics of Intel's transistors? Absolutely - who doesn't want more performance at lower power? However, it's not as though Apple would be particularly crippled without having the best chips around! Apple's iPhone has never been about having the fastest processor, but has instead been about a harmony of the software and the hardware. Apple can design its chips to be optimized for precisely the workloads that it expects to be run on the devices, which could arguably bring to the table more than winning the broadly used benchmarks out there today. With better transistors, this could be even better, but it's not as crippling for Apple as it would be for a processor merchant vendor trying to score design wins across an eclectic bunch of devices.
I don't expect Apple to outsource the design of processors to Intel unless Intel can provide both a cost savings as well as a dramatically better SoC than Apple's internal efforts can. I think that the latter is very likely by the 14nm generation, if not by the 22nm generation, but the economics of such a deal (porting over iOS and all of the applications, paying Intel's design + foundry margin, and being locked into a single source for compatible chips) may not be so favorable.
To further support this thesis, I poked around Apple's job board and, to no surprise, found that Apple is still hiring SoC/CPU design personnel: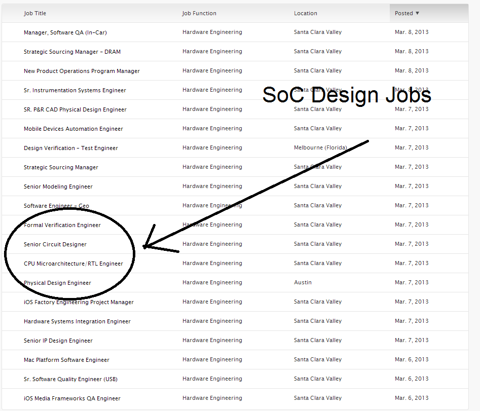 Apple wouldn't continue hiring SoC/CPU design personnel if it were even thinking about moving to Intel supplied chips. It's just not going to happen anytime soon.
Conclusion
Apple seems to be showing no intention of slowing down its own processor design efforts, and severance packages are costly. Sorry, folks, but Apple's too big, too cash rich, and too in control of its own destiny to rely on a third party for its processors. At this point, the odds of Apple simply cutting a favorable deal with Taiwan Semiconductor are just so much better than those of Apple buying Intel chips.
Disclosure: I am long INTC and short ARMH. I may add to, reduce, or exit these positions at any time. I wrote this article myself, and it expresses my own opinions. I am not receiving compensation for it (other than from Seeking Alpha). I have no business relationship with any company whose stock is mentioned in this article.