South Florida's hidden gem in the cruise line industry debuted with style on the NASDAQ National Market in February. The smallest of the trio of North American cruise giants, Norwegian Cruise Line, subsidiary of Norwegian Cruise Line Holdings Ltd. (NASDAQ:NCLH) holds an 11% market share, compared to the combined 73% market share of its leading rivals Royal Caribbean (NYSE:RCL) and Carnival Cruise Line (NYSE:CCL). NCL is a global cruise line operator, offering cruise experiences for travelers with a wide variety of itineraries in North America, the Mediterranean, the Baltic, Central America, Bermuda and the Caribbean.
NCL and its majority owners launched an IPO of 23,529,412 ordinary shares with a 30 day option to purchase up to 3.5 million additional ordinary shares. At $19 per share, it was priced slightly over the originally agreed $16-$18. Amidst a challenging economic environment in Europe and strong competition in the United States, Norwegian was able to raise just over $447 million [$150 million more than when originally filed on October 2010] after consolidating their choice of lead underwriters to UBS & Barclays.
In 2012, the worldwide cruise market was estimated at $34.1 Billion, an increase of 5.6% from 2011 in total passengers carried, and a surge in traveler spending at Ports-of-Call. On the heels of several new ships introduced to the market in the next 3 years and demand outstripping supply despite difficult market conditions, this trend is forecast to continue. IPOHome.com noted that Norwegian is a well-established company with a track record of growth, profitability and strong cash flow. So what is next for NCL?
Room for Growth
In an era distinguished by variety and in fact demanded by the 'New Age' traveler; the cruise industry has a promising upside compared to alternative travel options: trips to the beach and sitting in the sun for a weekend just no longer appeals to many as in decades past. Increasing fuel costs proved overbearing to the road trip rave of the 1990's and 2000's, and vacationers today are focusing on all-inclusive, low variable cost vacation options with minimal planning, good value for the money, variety of amenities and locations to explore, safety, and last but not least, hassle free travel (no airports). The cruise lines and their destination partners are gambling and thriving on said demands. According to the Florida-Caribbean Cruise Association, hundreds of millions of dollars are spent annually to continually develop 3 aspects of cruise travel that will mutually benefit the passenger, the cruise lines and the communities to which they sail:
-Port Improvements: Technical advances for the development of port expansions, port and pier design, and new locations and attractions.
-Research: Efforts to create a better understanding of cruise passengers and improve product quality and delivery.
-Outreach Programs: Continuous training provided to destination partners increase basic knowledge of passenger wants, needs and habits - emphasizing the importance of service excellence (courtesy, professionalism, marketing, rules and safety). The economic impact of a happy customer enables the production of greater profits and converting the passengers into return stay-over guests.
Ratios Relative to Recreational Activities Industry
Valuation Ratios- Greater than 75% of companies
Price/Earnings (NYSE:TTM) 32.34
Price/Sales 2.73
Price/Book (MRQ) 0.32
Price/Cashflow 17.36
Per Share Data- EPS growth rate is greater than 68% of its peers
Earnings 0.94
Sales 12.71
Book Value (MRQ) 96.13
Cash Flow 2.00
Cash (MRQ) 2.17
Profitability Ratios (%)
Gross Margin 35.05 - Less than 61% of other companies
Operating Margin 15.69 - Controls its costs and expenses better than 85% of its peers
Net Profit Margin 7.41
Management Effectiveness (%)
Return on Equity 8.73
Return on Assets 2.93
Return on Investment 3.46
The Return on Equity for NCLH shows that it is able to reinvest its earnings more efficiently than 74% of its competitors in the Recreational Activities industry. Typically, companies that have higher return on equity values are more attractive to investors.
Financial Strength
Quick Ratio (MRQ) 0.13
Current Ratio (MRQ) 0.17
LT Debt/Equity (MRQ) 1.37
Total Debt/Equity (MRQ) 1.48
NCLH's debt to equity ratio indicates that it has been more aggressive with using debt to finance growth than 76% of its peers in the Recreational Activities industry. The resultant effect on earnings would be more volatile than related companies.
Fund & Institutional Owners by Style - Notable
Clear buying trend in recent response to IPO and bullish outlook in comparison to competition.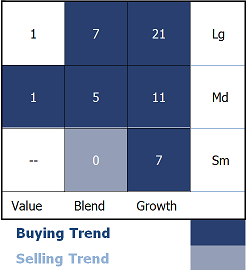 All Aboard!
Since 2000, when NCL launched the "Freestyle Cruising" when a passenger could select what they wanted to do, when they wanted to do it, Norwegian has pushed the lines of innovation. The cruise line enjoys the shortest average age of its ships with 7.9 years. This also grants it the safest cruise line of the industry leaders. In addition, NCL selected Genesis Gaming Solutions' BRAVO Pit to manage the casino table games in the newest ships, Norwegian Breakaway and Norwegian Getaway, both of which are currently under construction. BRAVO Pit allows for easy input and tracking of all ratings and management functions. Players are rated electronically and given credit for play immediately, thus providing a more enjoyable gambling experience whilst reducing operational costs for the cruise liner.
My outlook for NCLH is bullish overall. Although it is carrying large amounts of debt and is facing a soon-to-come declining trend in firm ratings, I see NCLH earnings growing between 60-70% over the next calendar year and an estimated stock price at a range between $34-38 per share. However, this I see NCLH as an attractive buy after a pullback to the $24-25 range.
Disclosure: I have no positions in any stocks mentioned, and no plans to initiate any positions within the next 72 hours. I wrote this article myself, and it expresses my own opinions. I am not receiving compensation for it (other than from Seeking Alpha). I have no business relationship with any company whose stock is mentioned in this article.