I like stocks that pay reliable, growing dividends, and McDonald's (NYSE:MCD) is one of the best in this category. Over the years, MCD has returned huge amounts of cash to its shareholders. In this article, I will be looking at MCD's performance over the last years. At certain points, I will use Yum!Brands (NYSE:YUM) and Domino's Pizza (NYSE:DPZ) for comparison. The graphs in this article were all made by me, using Microsoft Excel.
McDonald's has seen amazing growth over recent years, increasing its sales by over 10 billion dollars in the 2003-2012 period. Sales were at $27.6 billion in 2012, giving it an average growth rate of 5.4%. Net income has grown at a far higher pace, thanks to an increase in margins. The 2012 net income of $5.47 billion is more than three times as high as the $1.47 billion that was earned in 2003. Annual net income growth is at a respectable 15.7%.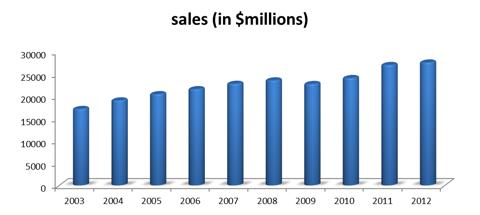 Click to enlarge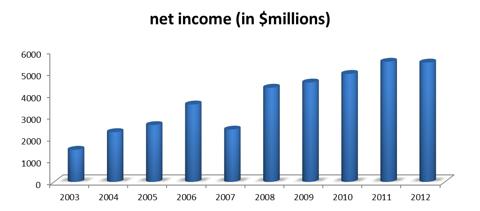 Click to enlarge
The earnings per share have gone up even faster than the net income, going from only $1.15 in 2003 to $5.36 in 2012, an average annual increase of 18.6%. EPS has grown at a higher pace than net income due to the decrease in the number of shares. Dividends have gone up from 40 cents per share in 2003 to $2.87 in 2012, giving it a dividend growth rate of 24.5%. McDonald's recently announced it would increase its dividend to $0.77/quarter, giving it a yield of 3.1% at the current $99.60 price per share.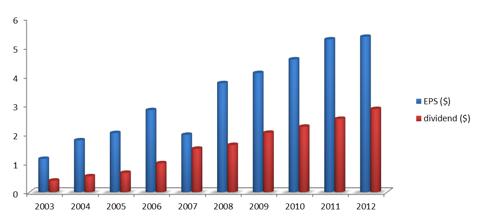 Click to enlarge
The next graph shows MCD's growth in EPS compared to that of Yum!Brands and Domino's Pizza. It shows us McDonald's is clearly growing faster than its competitors.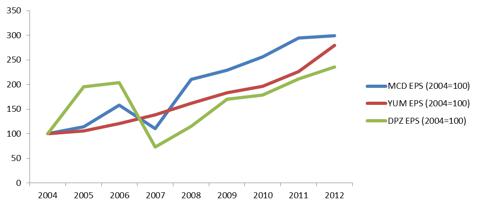 Click to enlarge
Sales in the United States and Europe haven't increased too much, while APMEA (Asia Pacific, Middle East, Africa) has seen some amazing growth. Between 2008 and 2012, APMEA sales increased by more than 50%, which is a lot more than the 9% increase in the United States and Europe.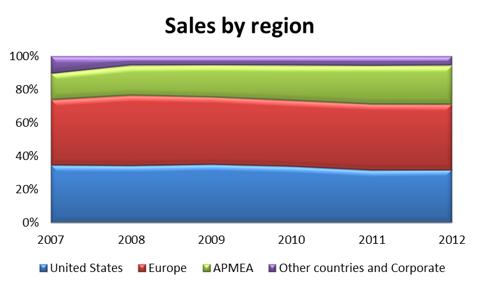 Click to enlarge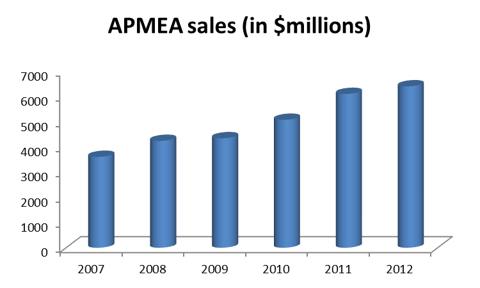 Click to enlarge
I believe the growth outside of the United States and Europe is what will drive the company for years to come. One of the things that makes MCD such an impressive company is its ability to change the menus based on local preferences. For example, McDonald's has recently announced vegetarian restaurants in India. MCD currently has only 271 stores in India, so there's plenty of room to expand. Long term, I could see India,with its 1billion+ population, becoming a major market for McDonald's.
McDonald's is currently trading close to its 52-week high of $99.72, giving it a price-to-earnings ratio of 18.6. While this is cheap when compared to its competitors (see chart below), it is still high when compared to its historical p/e ratios.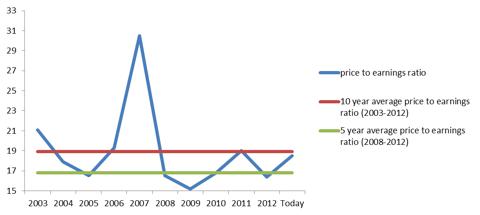 Click to enlarge
MCD's 5-year average price-to-earnings ratio is at 16.8, while the 10-year average is 18.9. Earnings are still growing fast but not as fast as in the 2003-2008 period, which leads me to believe a good buying point would be below the 5-year average p/e. Considering the EPS in 2012 was $5.36, I would buy MCD at 16.8*5.36= $90.04 or below.
I'd love to hear your opinions on MCD, YUM and DPZ, so please take the time to leave a comment below!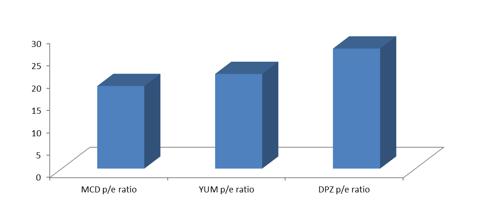 Click to enlarge
Disclosure: I have no positions in any stocks mentioned, but may initiate a long position in MCD over the next 72 hours. I wrote this article myself, and it expresses my own opinions. I am not receiving compensation for it (other than from Seeking Alpha). I have no business relationship with any company whose stock is mentioned in this article.