If you've followed the action in Ulta Cosmetics (NASDAQ:ULTA), you will see happening exactly what I predicted only 15 days ago here on Seeking Alpha. Ulta Cosmetics is a heavy institutional favorite. The big boys own virtually all of the float.
Here is the pricing action as of the last few weeks: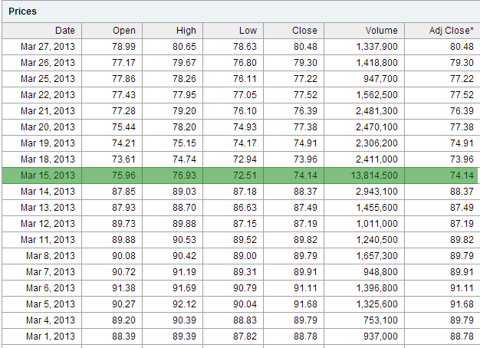 Before the March 15th sell off, the stock was trading between $89 and $92 per share.
In my previous article, I predicted a recovery to as high as $90/share in the short run. So far, 13 days out, the stock has been trending exactly that way. The stock continues setting higher lows and higher highs each trading day. This is of particular importance because it shows additional accumulation with almost no selling pressure. In fact, each sell back has been met by expedited accumulation, ultimately sending the stock to new 14 day closing highs.
Short interest in ULTA stands around 2 million shares but pricing action could further drive those positions out of market. The stock still has room for $10-$15 of additional recovery to be back at the 50, 100 and 200 day moving averages depicted here: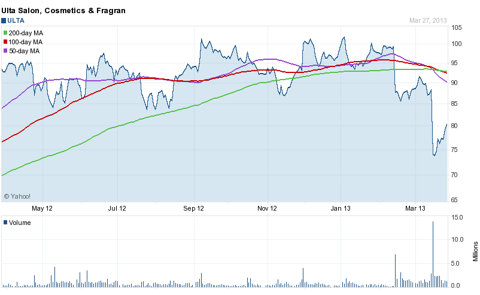 A quick check of Google trends show the growth story continuing through 2013:

From a purely technical and fundamental sense, the stock is still an incredible buying opportunity with plenty of short-term upside. The company is continuing its growth both with existing stores and new stores. I'm adding to my position before it's fully realized just how cheap Ulta Cosmetics really is.
Disclosure: I am long ULTA. I wrote this article myself, and it expresses my own opinions. I am not receiving compensation for it (other than from Seeking Alpha). I have no business relationship with any company whose stock is mentioned in this article.